By Katie Atkins

Soft morning sun settles over the painted blue picnic table outside Dandelion Organic's red barn. There's a stacked tower of drying blue and gray totes sitting beside us and faint music can be heard from the dish room through the propped open window. The ricochet of water hitting thick plastic blends in with the radio, as Maria and I sit down in the warmth of the day. Maria is the owner and co-founder of Dandelion Organic Delivery along with her husband Jonny. They deliver fresh fruits and vegetables to the greater Bellingham area and have been doing so for the last eight years.
Maria shares about the roots of their steadily growing business, a business that has expanded immensely since its beginning in May 2007.
They worked with and were customers of a similar business in Seattle which is where the origin of their business model began.  They realized they had a different idea for the direction of their business. And so began their journey to Bellingham, where undiscovered opportunities awaited them. A door opened for the couple to move to Bellingham, and as Maria described, "sight unseen, we moved ventured out, not sure what to expect."
They decided to let Bellingham be the grounds on which to start their new business. Before settling into their new home however, they agreed to stay the better part of three years at Goldmyer Hot springs as caretakers. Nestled in the foothills of the Cascade Mountains, Maria and Jonny, in a small secluded cabin began dreaming and organizing the future of Dandelion Organic Delivery. Their produce delivery company is the first in Bellingham, offering door to door delivery of an assortment of produce.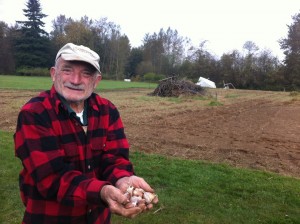 The joy that Maria shows as she talks about her passion for cooking, family and caring for the environment is evident in her voice. The door to their red warehouse opens and Tanner, one of Dandelion's four employees steps out to add more clean totes to the tower. Maria introduces Tanner before turning to continue sharing her story.
The direction of our conversation changes course as I ask her where her inspiration comes from. She shares about her sweet grandmother from Greece and how the roots of her company's name, "Dandelion," originated from her childhood. She would pick dandelions with her mother and grandmother, cook them up and enjoy the taste and health from this plant that most people assume is simply a weed. Maria grew up on the East Coast and spent most of her time at the family owned restaurant. She was surrounded by the sounds and smells of a bustling business with all the right combinations – food and family.
The roots of this company go much deeper than Maria and Jonny, but stretch all the way over to Greece, where Maria's family originates from. Her extended family still lives in Greece and owns their own olive grove (olive oil from the heart of Greece can be purchased with your weekly or bi-weekly tote).
The beautiful history of Dandelion Organic Delivery is now scribbled in my yellow notepad, as Maria and I stand up to take a walk around their property off Marine Drive.
At this point, I am already fully convinced their company has the perfect idea, as gravel crunches under our feet. The convenient and affordable services save time and money – perfect for a family of seven or a small house of college girls. You have the ability to choose what you prefer in your bin and how often you'd like it delivered as well as decide if you want all fruit, all vegetables or a little of both.
The Dandelion Organic staff is dedicated to providing beautiful, fresh and delicious organic produce directly to people's homes. They strive to be environmentally friendly and aware and are eager to support the local community. Their vision is to create a viable business that is in harmony with the environment, community and their shared desire for well being.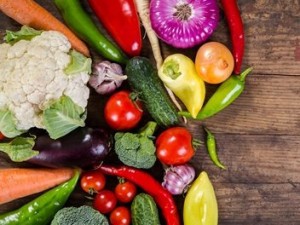 Here is what a few people are saying about Dandelion Organic: "Hi Jonny and Maria, I just received the veggie bin. The produce looks amazing! I just wanted to say that I have been really enjoying your vegetable delivery. The vegetables and fruits are fresh and delicious. I love the quality you put in the bin and love that they come from our local growers. Thank you so much for doing this business." –Kagari.
"I also wanted to say how much I appreciate getting our Dandelion box every week. It has made my life so much easier as far as shopping and keeping fresh fruits and vegetables in the house, and our meals have been much better because of it. Thank you for the service you provide!" –Keturah.
To start your organic produce delivery by Dandelion Organic, simply go online or call (360) 933-1130. Fresh bins are headed your way!