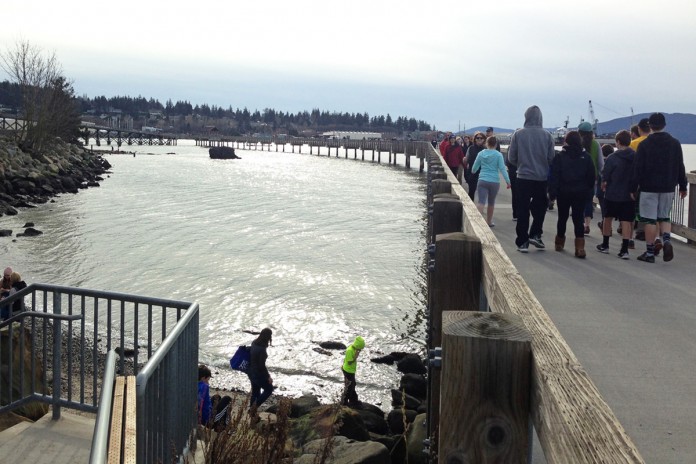 One of the (many) beautiful things about living in Whatcom County is its weather. Now, hear me out – I really mean that.
Yes, we get a slew of gray days, but the average low temperature in the winter is just 32 degrees – not uncomfortable at all, if you layer up a bit. The truth is, it's rarely too cold to comfortably walk or hike outdoors. And if it's raining? Well, that's what rain gear is for.
Summers, of course, are glorious – but we don't like too many folks who live elsewhere to know that, so let's all just keep using the "it's so gray and dreary and awful here" line…
And Whatcom County is full of fabulous walks and hikes that even the youngest family members can enjoy. Here is a list of some of our favorites.
Whatcom Falls Park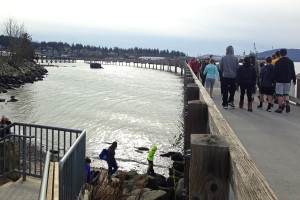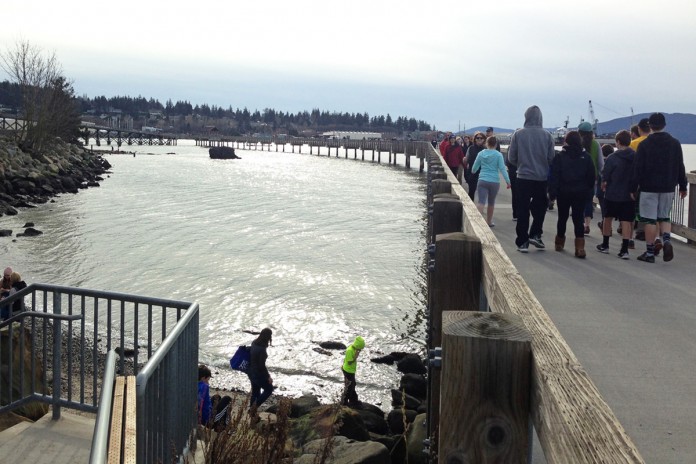 Whatcom Falls Park is a favorite of my family, since the waterfall has an automatic "ooo" and "aah" factor for little ones. But there is a lot more to see and do as well, from the fish hatchery and playgrounds, basketball and tennis courts. But the trails are what beckon walkers and joggers. Several different trails lead visitors through the park in all directions and can provide hours of exploration and exertion. There are even a couple of dog off-leash trails, to satisfy your furrier friends.
Fairhaven to Boulevard to downtown
In my family, the South Bay Trail is known as the "donuts to pizza" trek. We can begin in Fairhaven, at Rocket Donuts, and end at La Fiamma, with pizza to sustain us for the return walk. (To be honest, we don't always stop for food – no need to negate the health benefits of an entire walk! But sometimes the enticement of one or the other is enough to get a six-year-old to keep going.) In between is gorgeous Bellingham Bay and Boulevard Park, reached by Taylor Dock and an always-fantastic stroll along the boardwalk (with a stop or two for throwing rocks into the water). The entire trail stretches 2.3 miles, but you can hop on at several different points and make it as long or as short of a stroll as you like. What's guaranteed is that you'll be surrounded by beauty.
Lake Padden
The 2.6-mile loop around Lake Padden includes a couple of inclines, but nothing too strenuous. The dirt trail winds around the lovely lake through open and wooded areas. Jog around once or twice for a nice workout or leisurely amble along with the kids or grandkids. You can also stop and rest on a dock or bench and take in the view, or take a break and let the kids enjoy the playground, basketball court, and softball fields.
North Lake Whatcom Park
On a recent sunny Sunday, we drove visiting Seattle friends and their young son to the North Lake Whatcom Trailhead, where we strolled off Hertz Trail and into the lush forest. We spent a couple of fantastic hours enjoying expansive views of Lake Whatcom on one side and Stewart Mountain on the other, complete with myriad old Douglas fir trees, waterfalls, surrounding hills, and impressive rock faces. We walked to the 1.5-mile marker (you can go 3.1 miles before turning and making your way back), then turned around and stopped at several beaches on the way back, to let the little ones happily throw rocks into the water.
North Ridge Park Trails
Bellingham's North Ridge Park, in the Mount Baker neighborhood south of McLeod Road and north of Barkley Boulevard, is yet another nature retreat found smack dab in the middle of our fair city. Park on a nearby neighborhood street and explore the area through a series of trails that wend for over a mile through the park's 36 acres. And definitely stop at Big Rock Garden, to take in the array of sculptures tucked alongside its paths.
Hovander Park
Ferndale's Hovander Homestead Park is chock full of both natural and historical delights. It preserves the area's rich pioneer farming history while also offering recreation for all ages. The park is comprised of nearly 350 acres, with a mile of river frontage. Three separate trails offer different experiences, from river walk to marsh to barnyard animals, with its River Dike Trail, Hovander/Tennant Lake Trail, and Tennant Lake Marsh Boardwalk.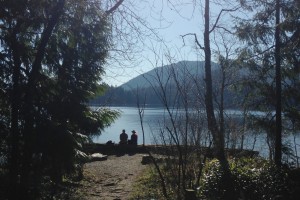 Stimpson Family Nature Reserve
Head east out of Bellingham on Lakeway Drive and then watch for signs to Lake Louise – you'll know you're almost there. Donated by the seven children of Edward and Catharine Stimpson, this nature reserve is now jointly owned by the City of Bellingham and Whatcom County, and is a well-maintained example of low-elevation old-growth forest. The reserve includes an active beaver pond and offers a 3-mile loop of trails through dense trees and wetlands and, as well as a shorter, 1.2-mile loop around Geneva Pond. No bicycles or pets are allowed.
Sehome Hill Arboretum
The Sehome Hill Arboretum rests above Western Washington University's campus, offering six miles of trails and an observation tower with stunning views of Bellingham Bay. Moderately steep in parts, the trail system includes wider paved trails, as well as more narrow dirt trails and footpaths. Parking is available at the top of the hill inside the park, accessed from Bill McDonald Parkway.
Birch Bay
Birch Bay State Park offers one of the few remaining saltwater/freshwater estuaries in the area, with the half-mile Terrell Marsh Loop through the forest and 1.5 miles of trails along the saltwater shoreline, where you'll enjoy panoramic views of the stunning Cascade Mountains and Canadian Gulf Islands. Don't forget your Discover Pass – or visit on one of the days when Washington State Parks are free for all.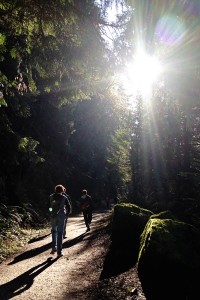 Samish Park
Choose an easy or challenging path at Samish Park. Its Lakeshore Trail is fun for the whole family, looping for 0.7 miles along the Lake Samish shoreline. Want to get your heart pumping? The Hillside Trail offers 1.3 miles of switchbacks up through the trees, with a lovely view down to the lake.
Semiahmoo Park
Take in stunning views across Drayton Harbor to Mount Baker from Semiahmoo Park in Blaine, on the Coast Millennium and Semiahmoo Spit Trails, an easy 0.8-mile one way traipse that spans the length of Semiahmoo Park up to Semiahmoo Resort. For a full-on beach walk in the same area, it's hard to beat Semiahmoo Park's beach walk, a moderate 1.6-mile loop that includes an extensive area of public tidelands, as well as boardwalks out to beach overlooks.
Chuckanut Mountain Park
A plethora of walking and hiking options open up in the Chuckanut Mountains just south of Bellingham. Chuckanut Mountain Park offers a long list of options with interconnecting trails throughout its 8,000 acres, from easy to strenuous.
These 12 suggested walks don't even touch on the amazing opportunities for quality trail time found up at Mount Baker – weather permitting. Due to high altitude, the hiking season is limited. From Heliotrope Ridge to Skyline Divide – and many others in between – you can take in spectacular views and the freshest mountain air, just be sure to check road and trail conditions first and make sure the areas you want to explore are actually open. And don't forget that there is a fee to park at National Forest trailheads if you don't already have an annual pass.