Rosewood Villa is home to a variety of seniors, and accommodate a wide range of support needs. Some residents live independently, but Rosewood also offers care for those who require assistance, and those living with memory loss. Recently, the Rosewood Villa team went above and beyond their ongoing mission, when they provided the time and place for two people to find each other—and to find love.
Renee Lily took her time arriving in Bellingham. Her mother was born in Berlin, and Renee herself was born in Munich, in what was then West Germany. She was 18 months old when her family relocated to the United States, but her travels continued until she ultimately owned a used furniture store in Montana. She was there when the time came to finally make Bellingham her home. "My kids moved here, and I knew it was close to the time that they would be getting married and having children," she says.
Bruce Likkel didn't have to travel quite as far. Born and raised in Lynden, he's been happy to make his life in and around the local area. If you ask him what he likes most about his home, there's no hesitation in his answer: "How green it is," he says. He lists hunting, fishing and hiking as his favorite reasons to get out into nature. Like Renee, Bruce was also self-employed before they met. "I owned a custom cabinet business, but closed shop at the start of the 2008 recession," he says.
As fate would have it, Bruce became disabled around the time he retired, and Renee experienced a massive stroke, and now uses a wheelchair to get around. Each of them recognized that they could use some help getting back up on their feet, both literally and figuratively. So despite the fact that they are only in their early 60s, they both moved into Rosewood within a few months of each other, and set about creating the next chapters of their lives.
And then, just like in a storybook romance, they began to catch each other's eye. Down a hallway, or from across a room, they felt an attraction that has effortlessly developed into a relationship. As soon as they met, they started to spend time together during meals or while taking part in activities. "I would sit down, and move the chair next to me out of the way so she had a place for her wheelchair," says Bruce. From there, they discovered how much they have in common, and how much they enjoy each other's company.
Any time the subject of Rosewood comes up, Renee and Bruce both mention the activities offered. They rave about the activities director and the lineup of diversions offered. There are the bingo and movie nights one might expect to find in a group residence, but Bruce mentions other activities that not only pass the time, but help keep the residents sharp. A favorite is word games that are offered to everybody every morning. And now Renee and Bruce have become a part of the activities crew themselves, and spend time organizing a Bible study that takes place every other week.
Not only do they share each other's values, but they also have much in common, which makes spending time together both easy and rewarding. "We both love cooking, so we watch lots of cooking shows, and lots of renovation shows," Renee says. And if it seems like they're getting pretty domestic with each other, you're certainly on the right track: Bruce and Renee are looking into sharing a space with each other. In addition to individual rooms, Rosewood offers larger suites, and the couple has got their eye on one of those for themselves.
Not only do they have a goal of moving in together, they've also set a longer term goal to move out together. Once they have recovered enough from their physical setbacks, the two would love to make their own home together. Rosewood Executive Director Melinda Herrera says that she would love to see the couple doing well enough that they could move on. But it's also clear that she, along with other staff and residents, would miss their presence.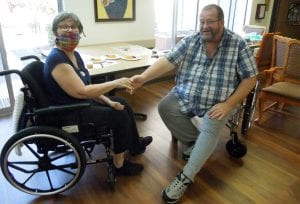 Herrera explains that Renee has been through a divorce, and that Bruce has cared for a girlfriend during an illness, and that they could both use a little sweetness after those trials. "Neither had known love like this before," she says.
She describes the couple as loving others, as well. "We call them our troublemakers. They're our whippersnappers," Herrera says. "Many of the residents here are old enough to be their parents, but they don't treat them that way—they see them more as neighbors. They're always looking out for each other, and for everyone around them."
Sponsored