At PeaceHealth, healthcare has always been viewed as so much more than just what happens in hospitals and clinics; it's dedicated organizations and people throughout our community working together in caring ways that directly, and indirectly, promote health outside of the traditional healthcare setting. Investing in these caring organizations is critically important, and PeaceHealth continues to heed the call by growing its community health partnerships to meet today's growing needs.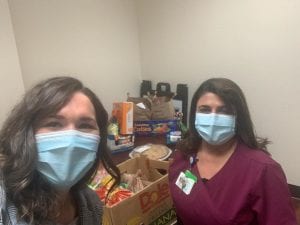 Nourish. Hope. Care. Home. These are four areas that focus PeaceHealth's community health collaborations with its essential community partner organizations. Working together, PeaceHealth partners on efforts that address food insecurity, mental health, housing needs, and increased access to community health workers. This last year, PeaceHealth awarded $500,000 in direct funds to community partners working tirelessly and innovatively to improve local health and wellbeing.
In Whatcom County, PeaceHealth's relationships with organizations like Bellingham Food Bank, Brigid Collins Family Support Center, Lydia Place, and Northwest Youth Services (NWYS) Queer Youth Project are expanding access to local health services and making a difference.
As an example, Rachel Lucy, Director of Community Health for PeaceHealth, speaks about a growing relationship with the Bellingham Food Bank. "The alignment of our core values was clear from our first conversation," says Lucy. "We both want to find ways to reach those most in need and we're both up for the challenge of asking about inequities in access and how we can do better." Lucy noted that one in five Whatcom County households face hunger and use the food bank on a regular basis.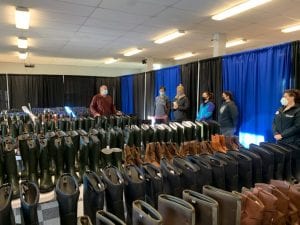 This relationship has resulted in a $50,000 award to help support the food bank's expanded mobile sites and core services. In addition to the financial support, PeaceHealth is allowing the food bank to use a parking lot of one of its currently unoccupied buildings as a mobile distribution site. The food bank has drive-up distribution on Tuesdays and Thursdays from 1:00 p.m. to 4:00 p.m. at 175 Jersey Street.
Mike Cohen, Bellingham Food Bank's Executive Director, says that PeaceHealth and the food bank share similar values and beliefs that make for a powerful collaboration. "We both view food insecurity and hunger as public health issues," Cohen says. "Through partnerships with healthcare, I hope we're able to help the broader community understand that it's not just a food issue, it's a health issue. And it disproportionately affects low-income folks and people of color."
He hopes that Whatcom County becomes a healthy and thriving community for all people, and that the links between structural racism and food insecurity are acknowledged and addressed. PeaceHealth's support helps make this vision more of a reality.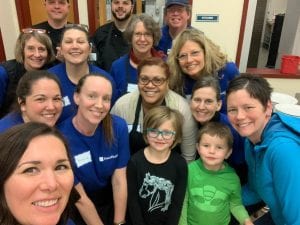 PeaceHealth also has a long tradition of supporting the Brigid Collins Family Support Center, an organization that works to end child abuse by building strong families and protecting children. "We have always believed in the work of Brigid Collins and when we learned they have trouble funding program access for parents with a history of jail time, we knew that was an area we wanted to support," Lucy says. "We wanted to ensure these parents and their children, especially, had access to much-needed parenting. We believe so strongly in this that we've committed $50,000 for the next three years to ensure this continues."
Brigid Collins' Executive Director Byron Manering attests to the strength of the PeaceHealth partnership."Since 1990, our collaboration has had the great fortune to be grounded in a common vision for the future well-being of our community and doing what it takes to make it happen."
PeaceHealth is intentional about shifting their decision-making towards identifying and closing gaps in health equity. "The shift is starting to happen everywhere," Lucy says. "We must be leaders in changing the way we have conversations in our own boardroom and with our community partners. That means getting outside of our four walls to listen and understand the need."
That shift has tangible impacts for the most vulnerable in our society. PeaceHealth also partners with Lydia Place, an organization that serves families experiencing homelessness. "We have to look at why so many families are facing homelessness in the first place," Lucy says. "Partners like Lydia Place are challenging us to explore difficult questions around housing, like why is there a disproportionate number of families of color experiencing homelessness." PeaceHealth awarded $25,000 annually for the next three years to support Lydia Place's expanded mental health services.
These difficult discussions are leading to subtle but important shifts in how funds are awarded. For example, PeaceHealth has historically supported Northwest Youth Services with much-needed building projects; this year, it opted to support the Queer Youth Project.
"So many of our homeless youth in the county identify as LGBTQ," says Lucy. "We granted $35,000 of direct support to the program with leeway on how to use it if they need to be more flexible because of COVID-19. We trust that our partners are investing where it makes the most difference."
PeaceHealth, along with their community partners, find hope in working together to realize a healthier, more equitable Whatcom County for all.
Sponsored