With two state titles and a state player of the year award on her resume, Lynden Christian's Riley Dykstra could have chosen from a variety of places to continue her basketball career at the collegiate level.
As it turns out, she didn't have to look too far.
Dykstra, who led the Lyncs to the Class 1A state girls' basketball championship this past season, will stay local and join her older sister, Avery, at Western Washington University.
"There's so many reasons that played into this decision, but ultimately to play close to home and along with my sister was a big part of why I signed with Western Washington University," says Dykstra.
The 5-foot-10 guard was named the Washington State Girls Basketball Coaches Association 1A Player of the Year during the 2020 season, leading Lynden Christian to a 27-1 record and the program's 13th state championship all-time.
"I'm excited to play for a great program with great coaches and awesome teammates. I'm also excited to be close to home so my friends and family can come and support the Vikings," says Dykstra, who plans to major in education at WWU. "It was super important to have them be able to attend home games because they've always been my number one supporters."
Dykstra capped her outstanding high school career by scoring 10 points and grabbing five rebounds in the Lyncs' 58-55 victory in the state title game against previously undefeated and top-ranked Cashmere. She averaged 12 points, 4.6 rebounds and 2.3 assists per contest during her senior season in which she was also named the Northwest Conference Player of the year.
"Western is getting a tough, versatile player that can help her team in a variety of ways," says Lynden Christian girls basketball coach Brady Bomber. "She can defend multiple positions, score from inside and outside, and is a tremendous rebounder."
The Vikings are also getting a winner as during Dykstra's four-year high school basketball career Lynden Christian went a combined 103-7, marking the best record over a four-year stretch in school history. In addition to winning state titles in 2020 and 2018, the Lyncs also placed third during her junior year in 2019 and fourth during her freshman season in 2017.
"Riley has always played her best in the biggest moments," Bomber says. "Her sophomore year in the state semifinals she hit five 3s in the first half and went toe-to-toe with University of Washington commit Jayda Noble, leading us to victory against an undefeated Medical Lake team."
Bomber points out another big moment that occurred during Dykstra's senior season when the Lyncs played a road game in front of 2,500 fans at rival Lynden. Despite the potential nerve-wrecking environment, Dykstra calmly knocked down a late 3 to give Lynden Christian the lead for good. It was Lynden's only loss on the season as the Lions went on to capture the 2A state championship.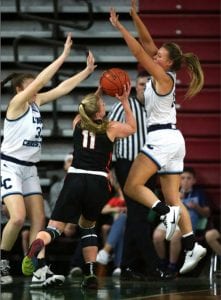 However, according to Bomber, Dykstra's biggest strength might be all the off-the-court intangibles the standout brings to a team.
"I'm most impressed by how Riley cares for others," Bomber says. "Whether it's on the court or off, she's someone who puts others' interests before hers. She's one of the best teammates we've coached at Lynden Christian. Riley is a servant leader and her teammates all adore her because of it."
Dykstra joins a WWU team that went 22-9 during the 2019-20 season. The Vikings advanced to the Great Northwest Athletic Conference Championship and were selected to play in the NCAA Division II Championships as the No. 7 seed in the West Regional before the tournament was cancelled due to the COVID-19 pandemic.
Older sister, Avery, will be an incoming junior at Western this season. The 5-10 guard appeared in 28 games last year, making 19 starts and averaging 5.4 points a game.
The last time the two appeared on the basketball court together they led Lynden Christian to a perfect 27-0 record, capped by a 50-48 victory over Cashmere in the 2018 Class 1A state title.
"I am definitely super close with my sister," Dykstra says. "As we started summer workouts it's been so nice to have her as a partner."
Dykstra's older sister, however, is not her only close family tie to Vikings' athletics.
"When I was a little girl, I grew up watching my uncle Grant Dykstra, who played for the men's team, and my aunt Kelly Collard Dykstra, and these past few years I've been watching my sister," says Dykstra. "So, I've always been a Vikings fan."
Grant Dykstra ended his WWU career in 2006 as the Vikings all-time leading scorer in points (1,844) and fourth in assists (404).
"Coming into the (Western Washington) women's basketball program I think I bring a good work ethnic and also a good attitude. Something I'm really trying to improve on right now would be probably becoming more of a consistent shooter," Dykstra says. "Through the recruiting process I really got to know the coaches and the players, and they all made me feel really comfortable and excited to be a part of the team."