If you've ever crossed the border in Blaine, you've seen it – a massive 67-foot monument on the boundary of Canada and the United States, both country's flags waving high on its crown.
Coming from the United States, one sees an inscription on top of the arch: CHILDREN OF A COMMON MOTHER. On the Canadian side: BRETHEREN DWELLING TOGETHER IN UNITY. Each side has iron gates, symbolizing an open-gated future, mounted on either end with another inscription: "May these gates never be closed."
The Peace Arch monument is one of the few landmarks in the world that's listed on the National Historic Registries of two different countries. It's a symbol of long-standing peace between Canada and the United States, a commemoration of the 1814 signing of the Treaty of Ghent, ending the War of 1812. The park surrounding it, Peace Arch Park, is unique, as visitors do not require a passport or visa to cross the boundary, as long as they stay within park limits.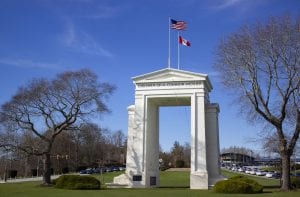 As a representation of friendship between the two countries, the Peace Arch celebrates its unguarded (meaning, not protected by a wall or military) border. It was the first monument in the United States devoted to peace. It was completed and dedicated on September 6, 1921.
It also serves as a beacon of hope for the future, in turmoiled times or otherwise. In Sam Hill's Peace Arch: Remembrance of Dream's Past by Richard Clark, Clark described the Arch:
"Architecturally, it is a commentary on peace. Here the observer sees strength harmonizing with serenity, and symmetry attuned to simplicity. … International peace of the highest order is doubtless composed of such qualities."
Samuel Hill spearheaded the project in the early 1900s. A Quaker, lawyer and railroad executive, Hill was responsible for the Stonehenge replica in Maryhill, Washington; the Maryhill Museum of Art; and was part of the building of a golf course and restaurant in Semiahmoo.
Hill was also a relentless advocate for modern roads in Washington and Oregon, persuading state legislature to create the Washington State Department of Transportation in 1905.
Hill was dedicated to promoting peace and wanted a connection between Canada and the United States. Soon enough, the idea of a Peace Arch was born.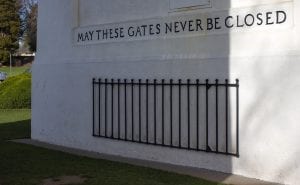 The Arch was built by an international volunteer force in 1920. Though individuals aren't well known, a few stand out. Canadian schoolgirls Irene Thrift Krienke and Eva Wix, interviewed in a 1993 issue of the Westside Record-Journal when they were in their 90s, were among them. When labor was in short supply after WWI, the pair walked a three-mile stretch to volunteer for the cause. Though the man in charge of construction laughed them off, they were given the job of hoisting and pouring mortar on the roof 67 feet up. They would spend three to four hours volunteering after school.
The Arch has had hundreds of uses in the past near-100 years. It's been the gathering site for picnics, celebrations, weddings and more. An international memorial service for John F. Kennedy was held there three days after his assassination, as well as a candlelight vigil after September 11, 2001. It's also been a site of activism. African-American singer and activist Paul Robeson put on a defiant concert from a flatbed truck in 1952 after being banned from international travel during the Red Scares. In the 1970s, anti-war demonstrations were common; Jane Fonda and Tom Hayden once stood on park grounds, calling for peace and amnesty.
The Peace Arch is coming up on its 100th birthday, and the idea of peace has been challenged several times. War and uncertainty is as prevalent today as it was nearly a century ago, and peace can seem far away.
"The Peace Arch speaks in a hidden fashion, but it suggests viable peace is no simplistic 'process,' as commonly assumed and regularly disproved," Clark wrote. "… Peace must relentlessly move like a strong vessel holds its course in high seas, while salty breakers, leaping against its hull with diabolical force, finally pounds themselves to death upon the rocky shores far away."
Clark insisted that faith in peace never dies. Think of the Arch as both a symbol and a challenge: a consistent symbol of peace, and a challenge to do better.
"The struggle for peace, discouraging as it may be for now, isn't over," he wrote. "The sky hasn't fallen, and the clock hasn't stopped. Before us remains a rendezvous with destiny."
Today, events around the Peace Arch celebrate international friendship, such as Hands Across the Border, the International Concert Series, the Peace Arch Park International Sculpture Exhibition, and more. This friendship, celebrated still, isn't without struggle. But it's still our vessel, still moving relentlessly, preserving what the Arch stands for.
To learn more about the Peace Arch, visit the International Peace Arch Association. Richard Clark's book, Sam Hill's Peace Arch, is available online and at the Whatcom County Library.