Kyle Roberts, chief engineer at Belligham's Holiday Inn Express, is proud to be a long-term employee, recently reaching his 20-year anniversary with the company. He is honored to work for a business that has long-lasting ties and relationships in the community
"We're more established and one of the more experienced hotels in town, in the center of the shopping district," he says. The hotel is located on Meridian Street, but tucked away from the hustle and bustle. Many locals may not know about this hidden oasis for travelers.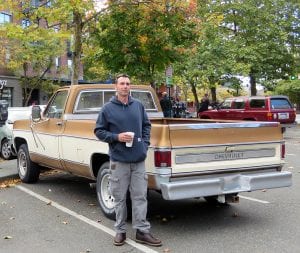 You can find Roberts hard at work in the hotel – often during odd hours. "I've had a guest locked out of their room at 5:00 in the morning [because of a lock fail] who needed to catch a flight," says Roberts, who was roused out of bed to drill out the door and save the day. Roberts is the go-to guy, not only for the Holiday Inn Express, but for all the businesses encompassed in the five acres of commercial space surrounding it.
Roberts began his career at a young age. "I got an opportunity out of high school and went to Orcas Island for a year," he says. From there, he had a friend whose mother worked at the Holiday Inn Express, and she gave him a job in Bellingham. "I had an opportunity to learn under someone else and get paid for it." He learned the business and became a Jack-of-all-trades, maintaining day-to-day operations of the hotel.
As chief engineer, Robert's job is to "make sure all safety criteria are met, everything is functioning correctly, and in good working order." He's also responsible for maintaining all State Health Department requirements. "And those lists are long."
Roberts says it's the relationships that keep him happy in his work at the hotel. "I've worked with my general manager for 18 years, and my front desk manager has been there 15 or 16 years." He's worked with two other employees for 20 years. In other words: It's a tight-knit group. They've all grown together professionally, creating a familial environment while taking care of traveler and tenant needs.
The variety of businesses held on the property keep Roberts busy – and entertained. He enjoys learning about the different types of companies, while making sure they're all running properly and up to code. Just off Meridian Street, this five-acre commercial space has nearly everything one could need: shopping, eateries, a great place to work out, and more.
Roberts has been with the hotel almost since its inception and has seen it through a lot of changes and renovations. "We've retrofitted every light down to the lights in the refrigerators," he says. "Everything is LED. We've done things to save the environment and energy."
The hotel is modern and up to date, boasting a large, peaceful, indoor pool surrounded by floor-to-ceiling windows on three sides. It's encircled by a lovely green space oasis, with dining tables, flowers in the summer, and relaxing lounge chairs. It's a hidden garden tucked away from the noise and chaos of the Guide Meridian, giving weary shoppers a place to comfortably rest and relax.
"We have a lot of different travelers come through," Roberts says. "Business, Canadian and folks traveling to Canada, government workers, and some for Mount Baker."
Close relationships between tenants and staff working together create partnerships that benefit everyone – while adding fantastic amenities for hotel guests within easy walking distance of the hotel.
Extreme Sports Grill and Pizzeria has been in business for over ten years, a delicious dining option for hotel guests. And the Holiday Inn Express doesn't house a typical cramped gym space; instead, neighboring City Gym is available for guests who want to work out. They partner together, allowing travelers access to a full gym, spa, sauna and tanning booths.
Community partnerships are a win-win for the hotel, business owners and employees who enjoy getting to know each other. For Roberts, job security, close relationships, and familiarity are the perfect recipe for happiness.
"I'm comfortable with what I'm doing," he says. "I know the ins and outs and have a lot of relationships surrounding [the hotel]. I have some great standing relationships with folks with different backgrounds, from engineering to nurseries, restaurants, [and] vendors I've worked with. Some of our vendors [have become] friends outside of work."
In a culture of quick movers, job hoppers and company lay-offs, it's good to know there are still businesses like Bellingham's Holiday Inn Express that appreciate community relationships and longevity.
Book Holiday Inn Express for your next meetings or out of town guests and see for yourself why they have almost perfect five-star ratings from over 1,000 guest reviews.
Sponsored