A total of 14 wrestlers from nine local high schools capped their seasons by placing at Mat Classic XXXII.

Held at the Tacoma Dome on February 21-22, the state championships saw four Whatcom County athletes take home third-place medals in Ferndale's Jake Broselle, Lynden's Hailie Holestine and Nooksack Valley's Cameron Bauman and Levi Harlan, while Mount Baker had the most state placers locally with three wrestlers visiting the podium.
Few state tournament runs towards a top 3 finish were as thrilling as Broselle's, as the senior nearly upset the state champion en route to his third-place finish in the 3A 170-pound bracket.
After opening the tournament by pinning Ballard's Eli Nicholson in 40 seconds, Broselle lost a 6-5 match in the quarterfinals to Shadle Park's Juan Escobar.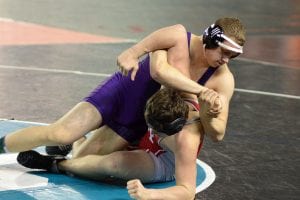 Broselle led 4-3 in the third period before Escobar followed up an escape with a two-point takedown with 31 seconds remaining to take the lead. An escape by Broselle moments following the takedown cut the deficit to a single point for the Ferndale senior, but he was unable to score again the rest of the way, sending him to the consolation bracket.
Neither wrestler would lose the rest of the tournament. Escobar, ranked No. 3 in the division entering the state meet, cruised to a state championship, defeating Kelso's Shale Webb, 10-2, in the semifinals and top-ranked Riley Van Scoy of Stanwood, 15-7, in the finals.
Broselle rallied from the setback to win four consecutive matches. He pinned Saul Hernandez of Meadowdale (2:18) in a loser-out match before defeating Shorecrest's Ian Mortensen (9-7) and O'Dea's Dayne Camacho (12-2). Broselle ended his year by handing Peninsula senior Luke Golden a 6-4 loss in the placing round to take home third.
Remarkably, Broselle—whose older brother, Ben, won two state titles for the Golden Eagles—was ranked outside the top 10 prior to arriving in Tacoma. In addition to losing by a point to the eventual state titlist, he registered tournament wins over the state's No. 4, No. 5, No. 6 and No. 9 ranked wrestlers.
Squalicum's Bryson Lamb finished fifth at the 195-pound 3A state tournament. The sophomore advanced to the semifinals before losing to runner-up Logan Platt of Yelm.
At the 2A tournament, Bellingham had a pair of state placers in Elijah Marquez and Julian Donohue. Marquez, a senior and four-time state participant, became a two-time state placer after finishing fourth at 145 pounds, while Donohue ended his high school wrestling career by capturing eighth place in the 285-pound division.
Marquez, who placed eighth at 132 pounds last year, notched pins in his first two matches before falling to top-ranked and eventual state champion Seth Hawkins of Orting in the semifinals, 13-7.
Blaine senior Gavino Rodriguez was fourth at 182 and Sehome junior Roman Schroyer advanced to the semifinals in the 132-pound division before finishing sixth.
Nooksack Valley's Bauman and Harlan ended their senior campaigns in spectacular fashion. Bauman was third among 1A wrestlers at 195 pounds, while Harlan was third in the 220-pound division.
Bauman shutout his first two opponents, besting Highland's Jorge Villafan (9-0) in the first round and King's Way Christian's Tayler Shega (6-0) in the quarterfinals. After suffering his first setback in a 16-8 loss to Chimacum's Kyle Caldwell in the semifinals, Bauman defeated Goldendale's Blake Waddell (10-2) before posing a 6-0 win over Shega in the placing round.
Harlan, who is a three-time state participant, headed to the consolation bracket after losing to Granger's Gage Cook, the division's top-ranked wrestler, in the quarterfinals. Harlan responded to the loss by winning his next four matches, including a 4-0 decision over Sultan senior Cody Deason in a match for third place.
Mount Baker had two wrestlers place at the 1A boys' tournament in Nico Johnson, who finished seventh at 106 and Kilian Cronk, who placed seventh in the 145-pound weight division. The Mountaineers also received a sixth-place finish from junior Ebonney Bowhay in the girls' tournament at 125 pounds. Bowhay has placed in all three of her years at Mount Baker, finishing fourth at last year's 125-pound tournament to go with her sixth-place finish in 2018.
Lynden's Holestine was the highest placing local at the girls' tournament after securing third in the 130-pound division.
The junior pinned Lincoln's Jessalyn Murphy in the first round (:50) and Shadle Park's Alicia Stewart in the quarterfinals (2:26). Holestine, who was seventh in the division as a sophomore, lost to two-time state champion London Houston of Federal Way in the semifinals.
She followed up that setback with consecutive pins. She beat Eatonville's Kayla Trujillo (4:20) before closing out her tournament by pinning Arlington's Tailer Cochran in :32 seconds in the placing round.
Meridian's Tenley Swope was fourth at 145, while Ferndale's Alex Brulotte finished fourth at 170.