Blissed-out. Humbling. Challenging. Profound. These are just some of the words that local mothers use to describe their parenting journey, one they certainly don't take alone. It takes a village to raise a child, or so the saying goes. And perhaps nowhere is that better seen than in Bellingham, where new mothers create resilient networks of support.

Jenna Bean Veatch, mother to three-month-old Sebastian, describes it as a "web." The other morning, she returned home after running errands to find someone she didn't know, a friend of friends, in her living room. As it turns out, this kind-hearted woman had heard there were new mamas in the house, so she came to share food and good wishes.
"Bellingham is community oriented in a way that I feel in my daily life," Jenna says. "That was true before I had him [Sebastian, outfitted in avocado-printed booties and a bonnet], but it's extra true now." That community extends to her housemates and friends, as well as organizations and groups that are unique to Bellingham.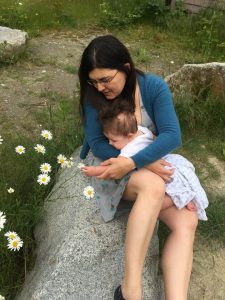 For example, the Bellingham Center for Healthy Motherhood offers many services Jenna has used, ranging from lactation consultations to phone discussions. Daniella Ruth Lorincz Vingelen, mother to six-month-old Maven Joy, also considers the Center a valuable resource. She has attended Village Circle Groups and Mama Cafes, both free events for mothers to connect and swap stories and advice. Daniella shares how the community has shown up for her and her growing family: "We received sweet material and time gifts from new neighbors, colleagues, and old friends we hadn't seen in so long." These colleagues include board members and staff at Wild Whatcom, who welcome Maven at board retreats and meetings. And it's not just local folks supporting Daniella: "I also belong to several online Facebook groups that help me in the middle of the night—Moms With Careers Making It All Work, Moms Who Can't Even, etc."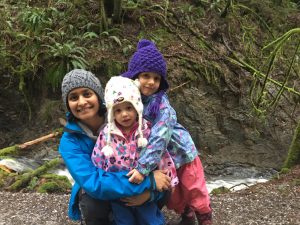 Teizeen Mohamedali, mother to three-and-a-half year old Sanna and six-year-old Aalyah, also uses online resources for support. "Janet Lansbury has a blog about respectful parenting. Kids and Race is a blog from Seattle, and I worked with another parent to bring a Kids and Race workshop here," she says.
Bellingham itself can be a special kind of support. "It's a beautiful place from an environmental standpoint and offers a lot of outdoor opportunities for active families," Teizeen says. Even if you don't want to do something extreme, it's easy to get somewhere where your kids can appreciate nature. Not just a lawn, but places like Larrabee State Park."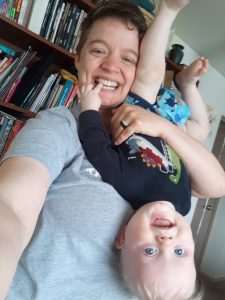 Rachael Weasley, mother to eleven-month-old Zeke, also knows how important a beautiful environment can be for raising kids. "My eight-year-old niece came to visit and we went to Marine Park. We were exploring under the train tracks and saw tons of sea life in a tidepool and it made me so happy to live here," she says.
But she also knows that Bellingham has room to grow as an inclusive community for families of all kinds, so she started the Bellingham Radical Parenting group. "I was needing a space that was less conventional," Rachael says. "A place where I could talk about patriarchy and racism and capitalism, and integrate my identity as a community organizer and activist into my identity as a parent."
These mothers hope for worlds in which their children can be, as Jenna puts it, "happy, healthy, and safe. I guess that sounds trite, but not when I'm thinking about my child." For Teizeen, she dreams of a world where "everyone knows about everybody's religions and are not just respectful but actually knowledgeable…where people are inclusive in specific ways that are important to children. I don't care that somebody doesn't know about my holiday, but my kid does."
As for Rachael? "I want free health care and free higher education. I don't want to wreck our wilderness for him [Zeke]. I want the Earth to still be able to feed us. I want urban planning that fosters community instead of isolating us…I want to stroller to third places from where I live."
Daniella's choice of name for her daughter speaks to how she wants Maven to live: "Maven means 'one who understands' and I'm hopeful that she lives this meaning…I'm hopeful she shares her understanding and joy with others, especially those who need a voice."
Maven, Zeke, Sanna, Aalyah, Sebastian, their mothers, and our whole community are ushering in a new generation of Washingtonians, raised with compassion, inclusion, and spirits of adventure. The future is exciting, and there's nothing subdued about it.