It started with a call from Joy Moore. "I just got a dog from Old Dog Haven; can you come over and meet her?" Tomasa came from a Spanish-speaking home and Joy wanted friends who speak un poquito de español to come over and let the pup hear some familiar sounds while adjusting to her new home.
I learned that Tomasa, a beautiful Scottie mix, had bladder cancer and wasn't expected to live more than a few months. Her family could no longer care for her, so Old Dog Haven found her an end-of-life foster home with Joy. That's what they do—they find last-refuge homes for dogs over eight years old who have been abandoned.
Joy's home was essentially Tomasa's doggie hospice, a place for her to be loved and enjoy quality of life until she couldn't anymore. Joy was given a list of symptoms to watch for, because death from this type of cancer is especially painful and at a certain point, euthanasia would be necessary.
Before I met Tomasa, I knew about Old Dog Haven, but it was just one more in the dizzying number of animal rescue organizations with which Joy is active. As I watched Tomasa blossom under Joy's care and then leave us too quickly, I wanted to learn more about Old Dog Haven.
Judith Piper, Director of Veterinary Services and Dog Manager, was happy to fill me in. Old Dog Haven just celebrated its 15th anniversary. They've grown from a small group of fosters to the largest senior dog rescue organization in the country. Since 2005, they've placed 2,833 senior dogs into final care, and helped over 3,000 senior dogs get adopted from shelters and other rescue organizations. In 2018, there were 313 senior dogs in 239 Old Dog Haven foster homes in Western Washington.
Dogs come to Old Dog Haven from shelters or directly from owners, for a variety of reasons. Often the owners are seniors, too, and when they die, their dogs are left behind. Senior dogs need lots of time and attention, and sometimes their people aren't able to provide enough care, or the dog can't continue living in a home with stairs or children. These good dogs don't deserve to be abandoned at the end of their lives, and Old Dog Haven helps by ensuring a stable, loving home for their final days.
It's not easy to become an Old Dog Haven foster. Piper emphasizes that it "requires a situation that will work for neglected old dogs abandoned late in life, [who are] often stressed by the experience." This typically means a home with lots of dog experience and patience, where someone can be home most of the time and other pets in the home for company when no humans are around. It's important to have access to veterinary care and the ability to make it to frequent appointments. Above all, everyone in the home must be emotionally prepared to lose the dog.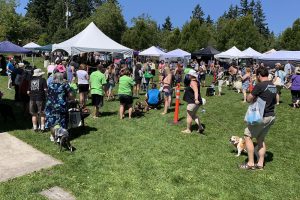 Old Dog Haven covers vet bills and prescription food, if needed, and one initial grooming session. Fosters often have to give medication at home. It's important that fosters be comfortable with Old Dog Haven's philosophy of end-of-life care:
We will do as much as we can to ensure quality of life, to make the dog content, safe and comfortable for as long as he is with us. When the bad days are outnumbering the good ones, when his life is not comfortable or he begins to feel vulnerable, we avoid heroic measures to prolong life and we believe in euthanasia as the most important gift we can give at that point. We will help you with this decision (and will support your choice), or you can speak with a staff member who does a great deal of counseling about these issues.
Why would one subject themself to such loss over and over again? For Joy, she started fostering cats for the Whatcom Humane Society shortly after her husband, Holly, was killed in an auto accident in 2004. She outfitted her home as a miniature shelter she called the "Kitty Kollege," equipped to handle a dozen or more cats at a time, and fostered over 300 felines as they waited for permanent homes. When Joy's two dogs, Sunny and Thoreau, got older and Thoreau's time came to go, Joy promised him she'd rescue an old dog in his honor, to live out its days in love and comfort.
She prepared her home to receive a Last Refuge dog from Old Dog Haven and called Piper. In 2015, she received Jonesy, a small 13-year-old mixed breed whose person had gone to jail. Jonesy is still with her, at a happy and healthy 17.
When Joy's dog Sunny passed, she took in Tomasa, who was with her for four "glorious" months, and was featured in local author Gaye Green's book, Don't Poop on the Pansies. After Tomasa passed, Joy wanted a bigger dog who wouldn't easily get through the kitty door to her cat area, and she took in Lady, an elderly stray from Tacoma.
Jason and Jennifer Sonker, longtime supporters of the Whatcom Humane Society, were drawn to Old Dog Haven by their friend, Amy Freeman, who does home hospice care for very old dogs. The Sonkers currently have three small dogs: Gizmo and Gustav from the Whatcom Humane Society, and Zoe, adopted through Old Dog Haven. (When a senior dog is healthy enough to reasonably expect a few years of good life, they can be adopted outright rather than fostered for end-of-life care.)
Years ago, the Sonkers adopted Shadow, a dog who was damaged by abuse and neglect; she could barely stand to be handled by Jennifer, and couldn't cope with Jason at all because of her previous experiences with men.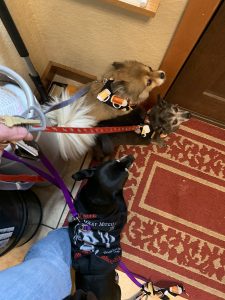 Along with their existing dog, Pedro, they worked tirelessly with her, and gradually she became a loving pet dog who adored hiking with her people. She lived happily with them for three years until she died in a tragic accident. They honor her memory by organizing a hiking event every year and donating the proceeds to rescue organizations.
The Sonkers raised over $40,000 for the Whatcom Humane Society in the event's first seven years, and made Old Dog Haven the beneficiary for the last two years, raising over $30,000. In the beginning, the North Fork Brewery sponsored and participated in the event; now 12 other pubs and breweries sponsor the event, including Bellingham's Elizabeth Station and Paws For a Beer. Old Dog Haven holds an annual Walk for Old Dogs in Shoreline, for a less physically daunting fundraiser.
There are lots of ways to help, even if you're not able to foster, Piper says. "Many people have the heart for old dogs, but not the right situation"—and the organization needs help from those folks, too.
That first time I met and held Tomasa in my lap, I murmured, "Perra bonita, perra buena." She burrowed her big black Scottie head into my chest at the sound of the familiar words. This precious moment of bonding warmed my heart, and I understood exactly why Joy would take on this sweet dog for such a short time. Giving Tomasa some comfort made my world a better place.
If you think end-of-life care for dogs might be for you, or you want to support their work, please contact Old Dog Haven.