Submitted by: PeaceHealth
In appreciation of employed and visiting mothers, PeaceHealth St. Joseph Medical Center has brought a Mamava lactation pod to its facility. The Mamava pod is a free-standing structure that offers a clean, comfortable and private spot for breastfeeding mothers to nurse or pump. It is the first in Whatcom County.
The Mamava pod was made possible by the generous support of donors of the PeaceHealth St. Joseph Medical Center Foundation. Anne Rasmussen, chief development officer of the foundation's Northwest network, shared that bringing the Mamava pod to life was an important step in supporting all mothers at the medical center—whether working in its units, visiting loved ones or attending to their own medical needs.
"The PeaceHealth St. Joseph Medical Center Foundation committed to bringing a Mamava pod to our hospital because we are fully invested in supporting moms," Rasmussen said. "We see it as one way that we can tangibly reduce some of the challenges that breastfeeding mothers face in balancing everything on their full plates."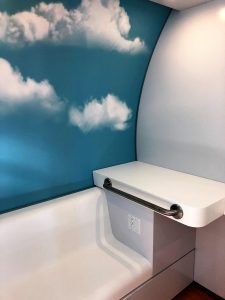 The lactation pod can be found on the third floor of PeaceHealth St. Joseph Medical Center's North Tower, near stairwell 3. Mothers who wish to use it must first download the Mamava app, either via the app store for iPhones or via Google Play for Androids.
The pod features bright, specially designed sunflower artwork. It's ADA compliant and includes "smart" features to allow each user to adjust its lights and air flow as needed. It's available for use in its permanent home at PeaceHealth St. Joseph Medical Center 24/7.
The Mamava pod is just one of PeaceHealth's ongoing efforts to support breastfeeding in our community. Find out more about its other projects to promote and encourage breastfeeding and take its breastfeeding support pledge throughout the month of August here: www.peacehealth.org/breastfeedingpledge.
About PeaceHealth: Based in Vancouver, Washington, PeaceHealth is a not-for-profit Catholic health system offering care to communities in Washington, Oregon and Alaska. In 1890, the Sisters of St. Joseph of Peace founded what has become PeaceHealth. PeaceHealth St. Joseph Medical Center provides quality care for northwest Washington with its full-service 253-bed hospital and PeaceHealth Medical Group clinics. Key services in Bellingham include comprehensive cardiology, oncology, orthopedic and rehabilitation services and a joint venture outpatient imaging service. Visit us online at peacehealth.org