My husband loves the woods. There's nothing he enjoys more than tromping along a trail through the evergreens, watching wildlife and experiencing that foresty kind of nature.
I like the woods too, but my heart really belongs to the sea. I'm in heaven strolling along a sandy shoreline, watching the waves dance back and forth in seamless rhythm. There's something calming about the grandiosity of the ocean. And I've been fascinated with sea creatures since childhood. The seaside is my happy place.
As such, it can be difficult to find the ideal vacation spot – beach or backwoods? Fortunately, I recently discovered a place that's perfect for us both: Blaine.
This small town in northern Whatcom County is the perfect place to explore the seashore and the woods – all in the same day. Finally, the quintessential place for my inter-environmental relationship. And there are plenty of fun things to keep the kids happy, too.
Blaine is chock full of options for hiking, boating, playing, exploring, wading, kite flying and much more. Here are some of our favorite highlights from this best-of-both-worlds town:
Boating
Blaine Harbor has 629 state-of-the-art boat slips for commercial and pleasure boats. The harbor is a 5-star EnviroStar and a Certified Clean Marina. And you'll love the views of the Peace Arch at the U.S./Canadian border from the water.
Blaine Harbor's amenities include:
Generous slip width and fairways for easy maneuvering
Free parking
Public boat launch that you can use anytime
Showers, restrooms and laundry facilities
Dinghy racks, dock boxes and carts
Year-round potable water with individual hose bibs
Telephone/DSL available
Portable holding tank pump-outs
Recycling (oil, anti-freeze, etc.)
Waterfront trails leading into historic downtown Blaine
Marine Park
Marine Park has an excellent trail system, plus access to the water's edge via a restored shoreline. Its new nautical-themed playground is always a highlight for my family and the lighthouse slide tower and sailing ship play structure are fun for all ages.
Semiahmoo Spit
This long, thin stretch of land offers extensive beach access on both sides. I especially like the area at the end, which has some great sandy pocket beaches, wonderful for a lazy afternoon of wading and exploring.
Kayaking
There's nothing like gliding through the water in a kayak. We like to launch at the mouth of Dakota Creek and paddle upstream on high tides, or paddle out to the mouth and explore the Drayton Harbor shoreline. On high tide, you can take a detour under a bridge and explore the California Creek estuary.
Walking Trails
Blaine's system of walking trails is a great way to enjoy the area and connect to downtown. Plus, nothing beats fresh air and plenty of space for the kids to run.
A Vibrant Downtown
Downtown Blaine is flourishing. Check out the lovely new lighthouse-themed Starbucks and don't miss Edaleen Dairy's delicious ice cream. Grab a cone and enjoy a stroll along downtown's picturesque streets. You'll love the local cafés and restaurants. They have everything from fine dining to casual eateries and don't miss Drayton Harbor Oyster Company for fresh local oysters grown right in Drayton Harbor.
You'll also want to take in downtown Blaine's open plazas, which provide great views of the marina and Drayton Harbor.
Play a Game of Disc Golf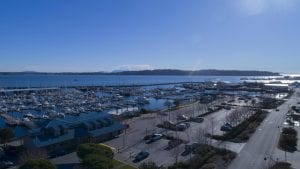 What better way to enjoy the woods than with an invigorating game of disc golf? It's great fun for the whole family.
Peruse the Pier
Take a break from the kiddos with a romantic stroll down the pier at the end of Marine Drive. Watch the seagulls paddle in the water while eagles soar overhead, hunting for their next meal. This is a nice place to see harbor seals and sea lions, as well. And you can't beat the sunrise views over Mount Baker to the east and sunsets over the Straits of Georgia to the west.
In the summer, the Blaine Harbor public pier – known locally as the end-pier – is an apt spot to try your luck catching fresh Dungeness crab. In the winter, it's just right for storm watching, as big foaming waves wash right under the pier.
History buffs will love this area, which hearkens back to the 1880s, a time of tremendous growth. Fishing and canning start-ups quickly became massive enterprises, laying the groundwork for the Blaine we know and love today. Brothers John and James Milhollin arrived on the scene in 1886 after hearing rumors that the booming town needed a wharf. With funding from local real estate developer Jasper Lindsey, the two cleared the land around E Street and used the logs to build the E Street Wharf. That location is still in use today as Blaine Harbor, and E Street has become Marine Drive.
That's just the beginning of what you'll find in Blaine. Don't miss Birch Bay State Park and the Land Trust Trail at Point Whitehorn. And don't forget to take a little time for rest and relaxation. After all, Blaine has it all – from beach to forest, and everything in between.
Sponsored