It's easy to overlook a used book store in the digital age. With thousands of options available at our fingertips, why bother with a dusty old bookstore at all?

"The book has a lot of characteristics you just don't find in a digital reader," says Chris Callow, owner of Cozy Corners Books and Coffee. "It's got paper smell, it's got the different inks. It's just fun going down the aisle and reading the titles. Maybe it's just the color you grab the book for. And there's one other characteristic. If you don't like the book—and you really hate it—you can just throw it away!" He literally tosses one of his used books down the aisle. It's a horror – not one of his personal favorites.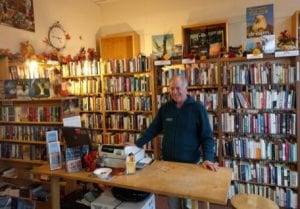 Chris wears wide, gold-rimmed glasses on his kindly face, a Cozy Corners name tag pinned to his green sweater. We chat about our mutual fondness for used book stores. I enjoy the space; its warm layout and design has truly earned its name.
"With my trade credit system, it's a dollar credit per book that I take," Chris says. "When a person with trade credit goes to buy a book, they pay half of the marked price. I also do a lot of recommending. I know the customer's likes and dislikes. If I don't, I ask them and try to learn for next time. And if they don't like the book, I say they can trade it across for something else. I truly believe that's the way it should be."
Personally, I'd trust one of Chris' recommendations over a digital reader's algorithms any day.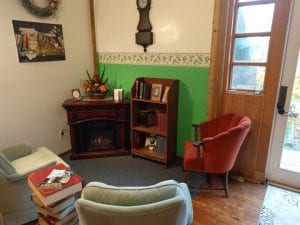 And of course, there's the complimentary Agri Bay coffee.
"I also sell it by the pound," Chris says. "The bags are still warm when it's delivered. It's that fresh."
The name of this small business may sound familiar. While Chris has owned it since 2011, Cozy Corners has been passed around Whatcom County from one small business owner to another for nearly 20 years.
Now located on the corner of Washington Street and 2nd Avenue in Ferndale, Cozy Corners has resided in several Bellingham neighborhoods. Chris moved the store to Birchwood in 2011, where he offered espresso and cookies he baked himself, which his customers affectionately dubbed, "Bookie's Cookies."
Soon after, Chris opened the second location in Ferndale.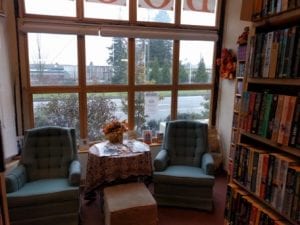 "For about four and a half years, it limped along, kind of like a flat tire. But I hung with it. It wasn't until we closed the Bellingham store, and I expanded this place, that suddenly I started getting a lot of my old customers from Bellingham. And for whatever reason, we started getting more customers from the greater Ferndale and Northern Whatcom County area. So it's been a good move."
Part of what makes Cozy Corners so inviting are the complimentary bookmarks for every customer, handmade by Chris' wife, Cindy, who is the reason that Chris moved to Bellingham 38 years ago, and purchased the Bellingham bookstore at all.
I ask Chris how he's changed during that time, and how the store has changed him. He says that he's more contemplative. He reflects on how the way that people consume books is changing.
"I've had a couple of kids walk into the store over the years and ask, 'What is this?' I say, 'Well, it's a bookstore.' They say, 'Like a library?' I say, 'No, you gotta buy them,'" Chris says with a laugh. "They say, 'You do?' There's just no concept. When I was growing up, there were bookstores everywhere. So, times have changed."
Chris finds that customers are coming back to books from digital readers more and more. He hears this comment just about every day, and relays a conversation he had with a customer earlier that afternoon.
"She was saying about how she could read in bed for hours, how she was up until 3 in the morning because she had to finish the book. She said 'I've always done that,' and I said, 'Well, I did too as a teenager, I remember staying up until 3:00 in the morning reading a book.' That's the difference with a lot of people now, I think."
With all of the changes in how people read, the mixed bag of emotions it brings to Chris and so many others, I ask about the most rewarding part of his job.
"There are a few kids in the neighborhood who come in every couple of weeks and get a bunch of books," he says. "They pay for it with their own money, and they have trade credit so they get good prices. And I just like to see that. It just makes my heart feel good."