Over a decade ago, Mike Hill sat on a bench near Hill's Chevron and looked around. What he saw was possibility; the possibility of what Blaine's downtown – a yet-to-be-polished jewel – could one day become.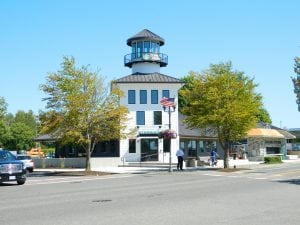 Now his vision has become a reality. A brand new visitor center and Starbucks are open next to the Chevron station he's operated since 1992. The new Starbucks is built to resemble a lighthouse. The building features high wood-paneled ceilings, decorative spiral staircases and a 48-foot-high lighthouse spire that will light up at night.
"I like to do things kind of grandiose," Hill says. "It's not just your normal Starbucks."
Everything Fell into Place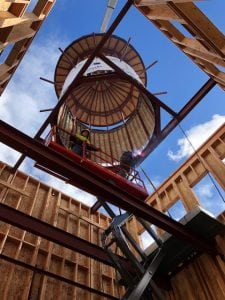 Hill was born in Blaine and, with the exception of his high school years in Lynden, has lived here his entire life. Hill's father hitchhiked from Tennessee to Texas to join the Navy, then moved to Washington State where he was stationed on Whidbey Island. Here he met Hill's mother.
After settling in Blaine, Hill's father owned multiple local bars over the years, including the Pastime Tavern, which remained in the family for over 50 years.
"Our family's always kind of gathered people in this town," Hill says.
The elder Hill also helped his son get started in the gas-selling business, and today it's clear Mike Hill isn't your typical gas station owner. Stop in to refuel at his Chevron, and you're more likely to hear Frank Sinatra on the outside speakers than Top 40 hits.
Building his dream project took Hill several years, but this isn't his first foray into the coffee business. From 1992 to 2004, Hill owned two Stop 'n' Go Espresso locations in Bellingham, which he eventually sold to employees.
The land next to Hill's Chevron originally contained three competing gas stations. Gas stations once sprang up like weeds in Blaine. According to Hill, there were 17 gas stations within a three-mile radius at one point. Over the years, the stations surrounding Hill's Chevron closed. He told the owners he'd buy the land if they ever sold, but he figured they'd never call. Then, one day, his phone rang.
"The main reason I wanted this property was to develop it into something other than a gas station," Hill says. "Something for the city; something for the community."
Unfortunately, the recession hit soon after Hill acquired the land, shelving any plans for development. In 2010, the late Ken Imus – a prominent Bellingham-area developer – asked Hill if he'd consider selling the land. Imus wanted to build a hotel and coffee shop. Hill sold, but when Imus ran into issues with city management, he called Hill in 2014 and offered to sell the land back for the same price. Hill discussed the idea with his wife, Skye, and they went for it.
"Everything kind of fell into place," he says.
Man with a Plan
The Hills wanted a coffee shop on the property but weren't sure exactly what it should look like. Then Hill had a unique idea.
"We had a couple drawings," Hill says, "and, after a while, I looked at it and said, 'Let's just make this thing a lighthouse.'"
The Hills are longtime Starbucks fans and, surprisingly, Blaine didn't have one. It took some real work to get connected with the right people but the Hills eventually got the company's attention with the location's possibilities – especially in terms of potential border traffic.
Then Hill began the search for a contractor. After the first couple of deals fell through, he contracted with Northwest Commercial Construction and fell in love with the company's plans.
"They could see our vision," he says. "They knew what we wanted."
In addition to the drive-through coffee shop, there is a visitor center with restrooms and a small conference room. Space for a taco truck stands between the two buildings. With plenty of outdoor seating and a large outdoor fireplace, it's the perfect place to hang out.
Hill has never questioned himself or the plan. "I haven't had a day where I've said, 'What have I done?'" he says. "Not at all. It's exciting."
Hill will lease the space to Starbucks, who will run the coffee shop. He originally wanted to create a "Bat signal" in the lighthouse, with the Starbucks logo rotating at night, silhouetted by a real lighthouse light. Starbucks took a different path, with plans for color-changing lights to illuminate each pane of glass.
The project broke ground in October and now, about eight months later, Hill is ready to welcome the masses. With worldwide brand recognition, he knows Starbucks won't have issues attracting Canadians. In fact, the top of the lighthouse is visible from the border crossing; Hill knows because he sat in a border crossing line to make sure. The structure is also easily visible from Interstate 5.
Hill hopes his dream will make people happy, from locals to visitors. "This will be a big shot in the arm for the whole community," he says. "The rest of the town's starting to perk."