Submitted by: Bellingham Farmers Market
The days are getting colder and darker, but there is still plenty of light and warmth at the Bellingham Farmers Market each Saturday! There are four more Markets before the end of 2018. And there is plenty to choose from, too, with over 60 farmers, crafters and food vendors at the Market from 10:00 a.m. to 3:00 p.m. on December 1, 8, 15 and 22.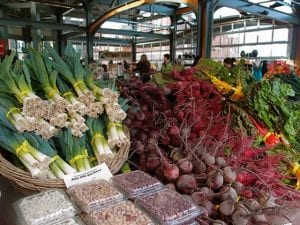 The Market is continuing their new annual tradition of 4-weeks of Local Gifting Giveaways – each week customers can stop by the Information Booth to enter their name for weekly market prizes, culminating in a grand prize of $50 in Market Bucks to be given away on December 22. The more customers shop the Market, the more times they can enter. Prizes include everything from jewelry to ornaments – all produced locally by Market vendors.
The Market started running till Christmas over ten years ago to shine a light on the amazing local food still available during this season. "Many people don't realize that it is possible to create a local holiday meal, even after the main growing season is over," said Caprice Teske, Market Director. "If you'd like to feature local poultry, beef, pork or salmon for your holiday meals, you'll find them here, as well as local cheeses, yogurt and other dairy products." Meals can be rounded out with hand-crafted breads, gluten-free baked goods, relishes and jams, chocolate, nuts, shrubs, beers and more.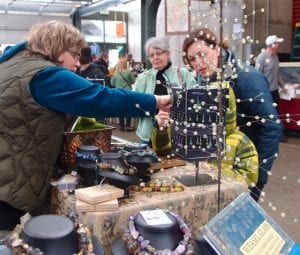 Many of the food items make excellent gifts, as well, but if you'd prefer something non-edible, check out the soaps and lotions, apparel, jewelry, hats, purses and bags, pottery, cards, yarn, home accessories, artwork, and so much more. If you just can't choose, Market Bucks, in $5 increments, make an ideal stocking stuffer for anyone! They can be used like cash at any market stall and are good indefinitely.  "For more inspiration, we'll be featuring local gift suggestions from the Bellingham Farmers Market daily through our social media sites throughout December," Teske noted.
Most vendors are located inside the Depot Market Square pavilion, which provides the romance of an outdoor market with the comfort of heat, holiday tunes, and shelter from wind and rain. When the weather cooperates, there is plenty of seating in the sunshine, where customers can enjoy musical entertainment by local buskers and musical groups.  And customers can shop while sipping on warm cider, coffee, hot chocolate and other offerings from our prepared food vendors. It's a holiday tradition that, not only keeps dollars in our local economy, but also makes shopping for loved ones fun and memorable. Make some memories at the Bellingham Farmers Market this season!
Bellingham Farmers Market – Downtown
Depot Market Square, 1100 Railroad Avenue
(Corner of Railroad Avenue and Chestnut Streets)
Saturdays thru December 22, 2018, 10:00 a.m. – 3:00 p.m.