Creative vision matters to Clarito and Kristina Zapanta. The husband-and-wife team and co-founders of IAj Multimedia know it's possible to harness your creative side and turn your passion into a full-time job. After all, that's what they did.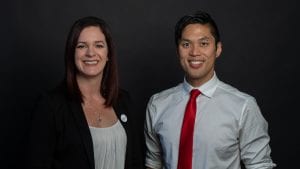 IAj has been in business a little over four years – that's how long it's been since Clarito plunged into becoming a full-time creative. A musician, videographer and sound designer, Clarito spent years in sales and retail before he was a paid filmmaker.
His first foray into serious filmmaking came when Kristina got pregnant with their first child. Clarito wanted to capture the entire nine-month journey on video, for what else could be more real? What else could be more memorable and emotional?
For the pregnancy film, Clarito did it all: sound, filming, score and editing. Not only did it create a completely unique and memorable experience that Kristina, Clarito and their family and friends can look back on, but it fostered new belief within Clarito; maybe this filmmaking thing was for him after all.
"Every time I watch that video, I cry," Kristina says. "I remember immediately after he finished that project, he told me, 'This is what I want to do. This is what I need to do.'"
Clarito knew he wanted to apply his skills to others' stories and projects. It was time to leave retail and focus on using digital media to accurately portray the important stories people wanted to tell.
Kristina and Clarito began brainstorming names for a company and landed on IAj Multimedia, an acronym that has dual meaning. For one, IAj stands for the names of their three children, Isiah, Ariana and Jeliza. But they gravitated toward the name even more because of its second meaning: "Inventing Artistic Journeys." As Kristina says, not only are they inventing artistic journeys for their team, but for their clients as well.
"We knew we wanted to be the gold standard in video production," Clarito says. Their mission statement is "paving roads for digital creatives and connecting industries to their consumers with digital storytelling.
Now they had a name, but no business license. Kristina changed that one day while Clarito worked his retail job. An entrepreneur since she was 18, Kristina is no stranger to management positions. She went in to get their business license and surprised Clarito when he came home from work.
Business license obtained, it was time for the hard work to begin. The Zapantas invested everything they had in the company and started from scratch. It was heavy lifting time.
In the beginning, the staff was just Clarito and Kristina, and the office was their family home. Clarito did all the music, film and editing. Kristina handled managerial and account management duties, all the while still working full-time as a bank manager.
Eventually, as the company increased its project load and good reputation within the community, they hired other creatives to work with them. Last year, Kristina quit her bank job and works at IAj full time. The company now has nine employees.
"There's such an influx of talent and creativity in Bellingham," Clarito says. "We want to foster that creativity and help those creatives grow."
Currently, the team works with a lot of nonprofit organizations, helping them raise just over one million dollars this year alone. They've worked with the Sean Humphrey House, Lydia Place and USO Northwest, among others.
"Using video to tell these types of stories helps engage the audience with the organization's mission," Clarito says. "It pulls all your senses together and makes them work. From the cinematography to the music, everything works together."
Many memorable moments happen during a shoot, especially when the team gets to work with such a diverse array of organizations and creatives.
While filming a piece for USO Northwest, they met veterans of the World War II, Korean and Vietnam Wars. USO Northwest is a nonprofit that takes care of military and their family members in Washington, Oregon and Idaho. In 2017, they helped more than 800,000 individuals.
IAj had the privilege of capturing the moment veterans arrived home at SeaTac airport after their "Veterans Honor Flight" to Washington D.C., where they toured the monuments free of charge.
Clarito's most memorable moment was a Kickstarter campaign they filmed for Bellingham Dance Company. He filmed their "Dance Lesson on the Village Green," a free public event, when he saw something worth capturing.
Clarito told the camera operator to hover in on a younger African American man and an older Caucasian woman partnered up as dance partners. He was fixated on that moment. It beautifully illustrated the unity that can be.
"I felt it was my duty as a storyteller to capture this and make sure it was seen," Clarito says. "I pointed at our monitor and said, 'Look how beautiful this is; we need more of that.'"
This is personal for Clarito, as he and Kristina are a mixed-race couple; he is Filipino and she is Caucasian.
Community and unity are important to the Zapantas and the rest of the team at IAj, so much so that they're hosting the first annual IAj Mission Warm Up, a food and clothing drive for the homeless. At the Warm Up, they'll collect coats, hats, socks, ramen, apple cider packets, soups, protein bars and anything else that can help warm up the homeless as the months grow colder.
November 26 is the big kick-off and you can drop off donated supplies all week long.
After all supplies are received, the IAj team will stuff them into red Santa sacks and, in partnership with the Lighthouse Mission's Street Connect Program, deliver them directly to Bellingham's homeless population.
Come see what IAj Multimedia is all about at this year's IAj Mission Warm Up on November 26, and don't forget to bring a donation to help someone less fortunate than you this holiday season.
IAj Multimedia
112 Ohio Street #101
Bellingham
Sponsored