It's been 14 years since Sehome High School's football program has seen a winning season, but the drought is finally over. The Mariners finished the season with a 7-3 record, and are moving on in the playoffs after a dramatic come-from-behind victory against Bellingham High School at Civic Field on Friday, October 26. Sehome will face Archbishop Murphy in Everett on Friday, November 2 at 7:00 p.m.

There are many factors as to why the Mariners are winners this year, Head Coach Kevin Beason says. Coach Beason will be the first to tell you it's all about the kids, and not about the coaches. He isn't discrediting himself by any means, he just wants to emphasize the kids are the ones who make the plays; they're the ones that play together and act as leaders both on and off the field.
One of those leaders is sophomore Jacob Kaepernick, the starting quarterback for the Mariners, who has taken the reins to help lead his team to victory. Although Kaepernick is still an underclassman, nobody treats him as such. He has the trust and respect of the whole team, and that's helped propel them to where they are today.
"I switched to quarterback freshman year," Kaepernick says. "And it helps there's no one on this team who thinks I can't do it; there is so much support from all the coaches and players."
Before becoming the starting quarterback, Kaepernick played tight end, but Beason knew he had the natural ability to perform well in the quarterback position.
"From day one as a freshman we knew we wanted Jake to be our quarterback, and start molding him into that position," Beason says. "I knew of his athleticism from the other sports he played, and knew he could become a great quarterback."
Kaepernick had the natural motions, and Beason saw that. Since then, Kaepernick has exceeded their expectations, throwing for 21 touchdowns and 2,000+ yards as a sophomore.
But Beason says Kaepernick's impact goes beyond the numbers,
"Kap's leadership and smile on the field is huge for our team," Beason says. "It's infectious and it sets a great tone for everyone."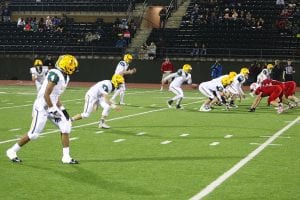 When I ask what's been working, Beason says it's all the players. Kaepernick laughs, points back at the coach and says it's been the play calling.
It's apparent it's been both, working symbiotically to achieve Sehome's first winning season in quite some time.
On October 26 against Bellingham, Kaepernick and the Mariners tried throwing the ball, but Bellingham knew of Kaepernick's prowess and practiced specifically to stop the pass game. The Mariners adjusted and used a strong run game to come from behind and grab the victory. Beason and Kaepernick agree that against Archbishop Murphy, the Mariners will need to use the same strategy, their ability to be able to make adjustments on the fly.
"Archbishop Murphy is big and strong," Kaepernick says. "We'll know better how their defense is going to play us after the first quarter, but then we have to be ready to make adjustments if we want to win the game."
Beason says the team needs to be physically and mentally prepared to do their job on Friday November 2, and they want to bring home a win.
"[This winning season] is a good first step, but we aren't satisfied where we are at just yet," Beason says. "We want to continue to elevate our program."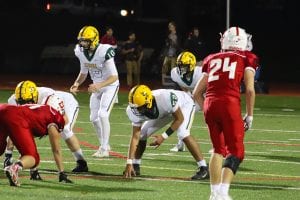 Football isn't the only sport Kaepernick plays at a high level. In fact, he's a dual-sport athlete; he plays baseball for the Mariners, which is his primary sport.
"I focus so much on baseball," Kaepernick says. "It's the sport that I'm best at, for sure, but I have so much fun playing both baseball and football."
Kaepernick says it's great to play football for Sehome, this way he isn't focused on baseball all 12 months out of the year.
Plus, there are known benefits for two-sport athletes.
Beason says every recruiter he has known in his lifetime always asks student-athletes what other sports they play, or if they are coachable in other sports. He says recruiters want to know you can learn a new skill set, and show them athleticism and coachability in other capacities.
"Kap is going to make some college or baseball organization very happy one day," Beason says.
Although Kaepernick plans to play baseball in college, and not football, he's having fun being a leader and a huge part of Sehome's winning strategy. Beason, the rest of the staff and the players are all glad he's behind center throwing the ball for them.