Six years ago, when I was a fifth grader at Lowell Elementary School, my class went on a field trip to the Mountain School. None of us knew anything about it except that it was a three day, overnight field trip and the older kids said it was, "The best thing ever." This sentiment held true when it was our turn.
We left home in the morning on a chilly fall day, loading our bags (including the requested rain gear, coats, cameras and pajamas) and sleeping bags underneath a school bus before piling in. What followed felt like the longest drive ever, even though it couldn't have been more than an hour. We were just so excited! I remember passing the time talking to my friends and the bus driver about the movie Pirates of the Caribbean which, at the time, was coming to theaters.
When we finally reached the location, we climbed out of the bus and saw a bounty of wonderful nature. There were trees everywhere, along with rocks, logs, trails and trademark Pacific Northwest mountains, all more beautiful than I had ever seen them. We were awestruck at the sight of this unadulterated nature and thus our Mountain School experience began.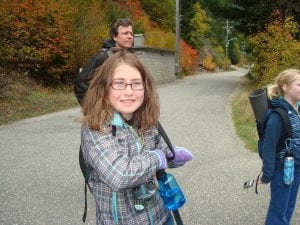 Over the past 28 years, the North Cascades Institute has provided the nationally recognized Mountain School program for fifth graders in Northwest Washington. Annually, the program serves about 2,400 students from the Bellingham, Sedro Woolley, Anacortes, Mount Vernon, and Concrete school districts. Typically, a school will bring their whole class of fifth graders up to the Learning Center, where they will stay for three days and participate in various outdoor activities like hiking.
"The goal of Mountain School is interconnectedness," explains Kimber Burrows, Mountain School manager. "The whole idea is to build that bridge to your home community and understand that we're all connected and things happening up here in the mountains have an effect, because we're all connected by a waterway."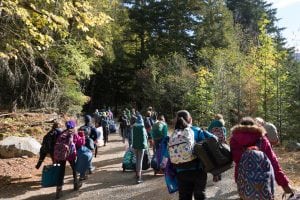 Over the course of three days, students participate in activities that go with each day's theme. Day one focuses on abiotic or nonliving nature (like rocks), so students complete activities like looking at the watershed, learning about orographic effect or going to the beach to learn about alluvial valleys. Day two focuses on biotic or living organisms, so activities range from learning about living elements of the ecosystem to Each One Teach One, where each student becomes an expert on a biotic subject and they teach each other about their respective areas of expertise. The culmination of the curriculum is on Day three, when students learn about how biotic and abiotic species relate to each other and finally, how each and every one of us is connected.
"Then, at the closing ceremony, we allow students time to either just think about or verbally share what we call an unselfish wish," says Burrows. "As they leave Mountain School and they reflect on their experience here, what is their unselfish wish? For some of them it's very personal and something specific to them but for others it can be something that they wish for all people. It's a really touching time and it's really magical."
Something that also makes the Mountain School program unique is its reach. Burrows moved to Washington after working for an environmental youth outreach program in Denali, Alaska. She was interested in coming down here because of the impact that the program could potentially have given the larger population to size ratio in Washington. "I really was compelled to put my energy and my compassion into a program that has more reach," she says, "and that's what Mountain School has. Mountain School has longevity, so you can talk to adults that come even as parent chaperones that were mountain schoolers." She has found that in the Pacific Northwest, this program has quickly become a fifth grade rite of passage because of that longevity.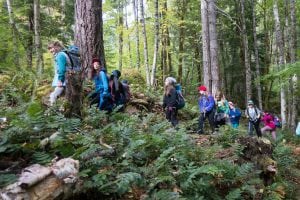 The program also involves more people than just the students. Many Learning Center instructors are graduate students who are completing their teaching residency with the institute. "I'm working with a grad student right now who is doing his master's work through Western Washington Huxley," Burrows says. "He attended Mountain School so it's interesting to get his perspective." She knows several graduate students who were once mountain schoolers and are now pursuing a career in teaching or environmental education.
In its many years of operation, Mountain School has touched numerous lives like mine. In recalling my Mountain School experience and all the fun I had there, I remember this was the first time I felt like I was part of something bigger. This is due to the all-encompassing unity that nature provides and, of course, the opportunity that Mountain School gave me.