Tucked away on a quiet street near Boulevard Park in Bellingham is a cozy haven, perfect for a winter getaway. Whether you are planning an anniversary celebration, girls' weekend or even a corporate retreat, The Chrysalis Inn & Spa is the perfect location.
The Chrysalis is the ideal place to snuggle up by a fire and escape both daily stress and dreary winter days. Their "Living Room" is a cozy, communal space with a beautiful view of Bellingham Bay. This area offers guests a variety of comfortable chairs, a roaring fire, games to share, stunning sunsets and access to the full bar at Keenan's at the Pier.
A Night Away
If you need a night or two away for a recharge, any one of the four room types offered at The Chrysalis will leave you feeling rested and refreshed. Plus, instead of spending time on the road, it's just a short drive down State Street.
At The Chrysalis you will have everything you need from the moment you check-in. Each room is outfitted with luxury linens and down comforters, aromatherapy amenities, microfiber robes and a two person soaking tub – perfect for a romantic night away. One guest happily commented that their room smelled like a spa.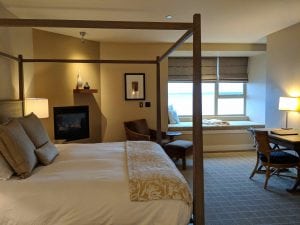 Hotel guests can order room service from the full menu at Kennan's at the Pier, including wine. Or they can enjoy a delightful dining experience at the restaurant. The menu changes seasonally and includes fresh seafood. Their culinary variety is sure to please even the pickiest of eaters. The restaurant is open for three meals every day and features waterside views from each table. There is also seating on their heated patio – a truly memorable dining experience.
The Chrysalis regularly updates their special packages for holiday weekends. If you're looking for a deal, winter rates are the most affordable. With free Wi-Fi and complimentary covered parking, you won't even need to leave your room during this winter escape. You'll be free to enjoy your private view of Bellingham Bay, take in breathtaking sunsets and luxuriate before the gas fireplace no matter what the weather has in store.
Relaxation at the Spa
If you need extra pampering during your time away, a trip to the Spa at The Chrysalis is in order. All hotel guests have complimentary access to the steam room and additional services are available. This quiet oasis on the hotel's ground floor offers a relaxation lounge, massage, facials, manicures and pedicures, professional makeup and waxing. This would be an ideal location for a ladies weekend away or bachelorette party.
They also offer monthly specials that many Bellingham residents stop in to enjoy on a regular basis. The spa is open every day of the week to hotel guests and the public. The 10 treatment rooms tend to book up, so reservations are recommended. You can make appointments or discuss treatment options by calling 360-392-5515.
Off-Site Meetings and Retreats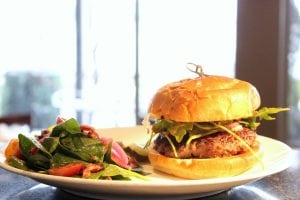 The tranquil atmosphere at The Chrysalis is an ideal location for off-site meetings. The hotel has a flexible meeting room that can be tailored to your needs and has all of the technology you need to conduct business. Or uplift your work team by booking a multi-day corporate retreat.
Stepping out of the office may be just what you need to finish an important project, conduct a planning session or reward your employees. Groups have access to a full catering menu from Keenan's at the Pier. The hotel's Living Room is also a great location for corporate cocktail receptions, dinners and parties.
Even More Rooms with a View
This locally owned boutique hotel is about to undergo a remodel. Every room will get completely refreshed with new carpets, bedding, furniture and televisions. The remodel will also include the addition of two new rooms, for a total of 45 guest rooms and suites.
The unique location of The Chrysalis, just between Boulevard Park and Fairhaven, gives you the chance to leave home without wasting time driving. And if you'd like a breath of fresh air, access to the overwater boardwalk and Taylor Dock are situated just steps from the hotel. You'll soak up some of Bellingham's finest views while strolling over the water.
You can book your own winter escape now or call directly to discuss special packages at 360-756-1005.
The Chrysalis Inn & Spa
804 10th Street
Bellingham
Sponsored