The Bellingham Farmers Market is a magical place where you can show up empty-handed and leave with all the ingredients you need to make a delicious meal, all grown within Whatcom and Skagit Counties. But did you ever stop to think about the farms where these ingredients are grown and harvested? In the dead of winter, as Mount Baker is enveloped in snow and everyone in town is longing for another sun break, local farmers are working hard. They want to ensure they have all of the fresh produce shoppers have come to expect as soon as the Bellingham Farmers Market opens for the season.
Farming Never Stops
"For me, winter means less scheduled time but I am not vacationing," says Nick Guilford of Sunseed Farm. He has a very short window to order seeds and prepare the greenhouses for seed starts. Guilford says, "As soon as we are cleaned up and winterized then we start right up again." Sunseed Farm in Acme, WA sells organic produce and garden starts, which need a two or three month head start in their greenhouses in order to be ready when the Bellingham Farmers Market opens in April.
"While the winter months are definitely a slower pace, it is the time to get all of our prep work done," says Nick Spring of Spring Time Farm in Everson, WA. Spring explains, "Once the days warm up and the growing season really is in swing there is no time to be fussing with tractor repairs, bookkeeping, crop planning or business planning. We try to get as much of that laid out ahead of time as possible."
Winter on the Farm
Despite the shrinking daylight hours and colder temperatures, local farmers manage to stay busy through winter. "For Twin Cedars Farm, the cold season was ushered in with planting cover crops, garlic planting, weekly markets, farm maintenance and planning, along with the daily time tending our birds and sheep," shares Briana Buck. This year Twin Cedars Farm had another chore to add to their list. In addition to pruning orchards, placing seed and supply orders and daily tending to animals, they had to clean up fallen trees and mend fences after the ice storm that had a big impact on Whatcom County.
Twin Cedars Farm, located in Deming, WA uses the winter months to prepare and plan for the growing season. Buck says, "Farming is intrinsically connected to the cycle of the seasons, every season has its purpose, needs and tasks. Farmers invest themselves year-round in maintaining the health of their farm and facilitating the success of the current and future seasons. As we spend less time in the field, we spend more time working in the office – building projects and infrastructure, CSA organizing (Community Supported Agriculture), conducting product research, furthering education and strategic planning."
Preparing Crops for Market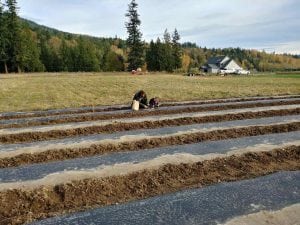 Greenhouses allow local farms to start seeds early on, in a protected environment. Mike Finger of Cedarville Farm says, "The trend in market farming is pushing the season in both directions, so the market can remain open as long as possible, even in very cold climates." Luckily we have a relatively mild winter with our temperate and damp climate. Greenhouses can protect the delicate seed starts before spring and we can enjoy fresh, local produce earlier in the market season.
"Farming at Cedarville never stopped this winter," says Finger. "Our customers love the product and that keeps us pushing on." Cedarville prepares CSA produce boxes all year long, including a winter storage crop offering that keeps the farm busy. Finger echoed the sentiment that many other farmers shared – winter is for planning, maintenance and strategy. He adds, "There is a lot more number crunching than you realize. We also do crop planning and analyze what worked and what didn't in the last year." Even on the days when it is too wet or cold to be farming, he says he can always turn on the light in his workshop and work on maintenance to prepare for spring.
Our local farms are working diligently to bring us all healthy, local produce. You can stop by and say hello to these local farmers at the official opening day of the downtown Bellingham Farmers Market in April.
Saturdays, April – December, 10:00 a.m. to 3:00 p.m.
Depot Market Square
1100 Railroad Avenue
Bellingham
The Winter Market will take place the third Saturday of January, February and March from 10:00 a.m. – 3:00 p.m. at Depot Market Square.
Wednesdays, June – August, 3:00 p.m. to 7:00 p.m.
Fairhaven Village Green
1207 10th Street
Bellingham
Sponsored