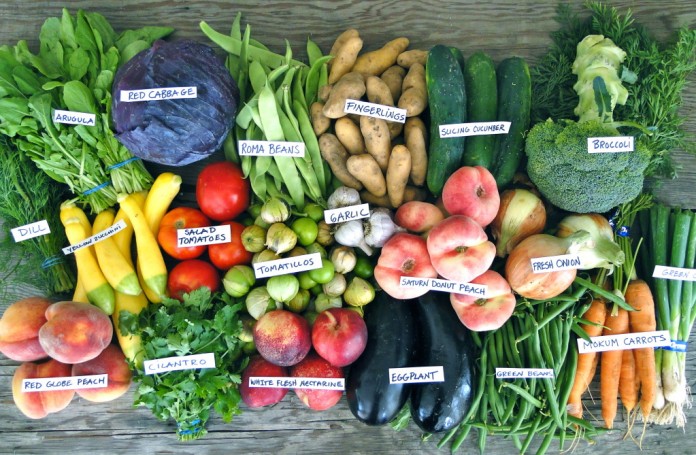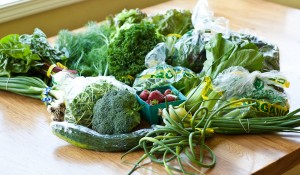 Community Supported Agriculture (CSA) is nothing new. But the number of Whatcom County residents buying CSA shares grows greater with each passing season.
Fortunately for us, Whatcom County CSA options abound – with nearly 20 area farms offering shares of their wares – allowing non-gardeners who want to eat organic, locally grown fruits and vegetables to get a delicious (and nutritious) weekly dose from spring through fall. Many CSAs offer eggs, meat and a variety of other items, as well.
While most CSA farms provide a pick-up spot that's centrally located, a handful of our local farms offer workplace CSAs, meaning you and your co-workers can have a bounty of beautiful produce plopped down right where you work.
Looking for a farm share of your own? Read a bit about these local farms to help decide which one you'll welcome into your kitchen this year.
ACME Farms + Kitchens
1309 North State Street, A101
Bellingham, WA 98225
360.383.6716
A bit different – and a whole lot bigger – than a traditional CSA, ACME Farms + Kitchens offers a year-round online shopping experience and a huge variety of farm fresh products from meats and cheeses to pasta and baked goods – and seemingly everything in between.
Visit www.acmefarmsandkitchen.com to check out their offerings and to learn about different options for pick-up or delivery.
Cedarville Farm | Mike & Kimberly Finger
3081 Goshen Road
Bellingham, WA 98226
360.592.5594
Cedarville Farm has been offering CSA shares for over a quarter of a century and lets customers choose spring, summer, fall and/or Farmers Market programs, depending on what best fits their needs. With pick-up locations in Bellingham, Ferndale and at the farm, Cedarville also offers workplace delivery to locations with six or more shareholders.
Summer shares run June through October at $269 for a half share (11 boxes total, delivered every other week) and $528 for a full share (22 weekly boxes). Fall season shares run between $74 and $144. Visit www.cedarvillefarm.com for lots more details.
Crop Circle CSA at Vine Maple Acres | Pam Felke & Thomas Sandblom
East Smith Road
Bellingham, WA 98226
360.223.4900
Crop Circle CSA gives its shareholders the option of selecting produce from a weekly order guide or picking their own from a catalog. Its season runs from late June through late September, with a variety of farm share packages delightfully named after the farm's chicken flock leaders.
Vegetable share prices range from between $420 and $840 with the option of adding a dozen eggs to your weekly bounty. Delivery is included in the price, with a discount for groups of 6 or more.  Much more information found at www.vinemapleacres.com.
F.A. Farm | Walter Haugen & Toni Lyons
5890 Barr Road
Ferndale, WA 98248
360.312.0335
F.A. Farm grows over 60 different fruits and vegetables and offers two programs for those who want to buy fantastic food straight from the farmer – in full or half share amounts.
Theirs is a smaller CSA program compared to some others, so they simply offer on-farm pickup for CSA boxes on Wednesdays between 4:00 p.m. and 6:00 p.m. Their website explains why nicely and succinctly: "So the farmer can keep farming."
A full share costs $550 and provides a weekly box for 17 weeks, beginning in June, while a half share, for 8 weeks, is $300. Visit their website at www.fafarm.org for more details.
201 South 17th Street
Lynden, WA 98264
360.961.4061
Started in 2008, Five Loaves Farm offers a broad variety of fruits and veggies, as well as eggs, bread, and more – all grown, laid or crafted in Lynden. Local meats are also an option. Tuesday afternoon pick-ups are at 514 Liberty Street in downtown Lynden; in-town delivery can be arranged for a fee.
Five Loaves Farm organizes the Lynden Farmers Market, which is supported by its CSA program.
A full share of at least 18 pick-ups is $475; a half share of at least 9 pick-ups is $250. Find more information at www.fiveloavesfarm.blogspot.com.
Growing Washington's Local Choice Food Box | Jay Dennison & Clayton Burrows
P.O. Box 30282
Bellingham, WA 98228
360.927.4845
Growing Washington brings together small-scale Washington farmers with consumers looking for fresh, locally grown, chemical-free food. Two Everson farms – Alm Hill Gardens and Hopewell Farm – partner with Growing Washington to offer CSAs abundant with local vegetables and berries.
With 20- and 25-week programs, Growing Washington allows members to choose every item in their weekly box or go the more traditional route of letting the farmer choose for them.
Visit Growing Washington's website for details on its array of Local Choice Food Box and Farmers Choice Food Box options.
Holistic Homestead and Spring Frog Organic Farm | Gretchen Norman
5709 Putnam Road
Everson, WA 98247
360.303.3711
Spring Frog Organic Farm at the Holistic Homestead specializes in fresh-cut salad mixes, strawberries, heirloom tomatoes, peppers, potatoes and more.
They offer three CSA pick-up locations: at the Saturday Farmers Market in downtown Bellingham, the Wednesday Farmers Market in Fairhaven, and at the Holistic Homestead farmstand not far off the Mount Baker Highway in Everson.
Holistic Homestead offers a CSA early bird discount for those signing up before March 17. Learn more at www.holistichomestead.net.
Jordan Creek Farm | Jon Gergen
4933 Elder Road
Ferndale, WA 98248
360.653.3005
Jordan Creek Farm has been growing vegetables and sustainably raising pigs just outside of Ferndale for six years. You'll find them every Saturday at the Ferndale Farmers Market.
The small family farm produces vegetables, eggs and meat throughout the year and includes a whole or half pork option with its CSA. They offer three different levels of shares, ranging from $225 to $525.
Learn more and get in touch directly with Jon and Sarah Gergen at www.jordancreekfarm.net.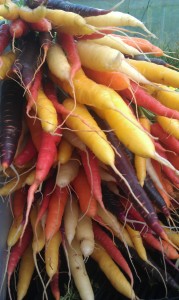 Moondance Farm | Billy Tate & Nicole Brown
460 Innis Creek Road
Acme, WA 98220
360.595.0155
Another small family farm, Moondance Farm rests in the foothills of Mount Baker. Offering vegetables, fruits, herbs and flowers, their CSA can either be picked up in Bellingham or at the farm.
Moondance Farm is one of ACME Farms + Kitchens partners, offering another way to sample their produce. Its full season, 20-week share is $440.
Get in touch with famers Billy Tate and Nicole Brown at www.facebook.com/MoondanceFarm/info.
Osprey Hill Farm | Geoff & Anna Martin
5800 Saxon Road
Acme, WA 98220
360.595.9134
Offering three different 8-week sessions June through November, Osprey Hill Farm mixes it up with harvest box shares, farm fresh egg shares, and chicken meat shares.
Folks can sign up for one, two or three sessions, with pick-up locations throughout Whatcom and Skagit Counties. It takes just six shareholders to create a drop site in any area neighborhood or workplace.
Learn more about 2014 CSA prices at www.ospreyhillfarm.com.
Rabbit Fields Farm | Roslyn McNicholl
Everson, WA 92847
360.393.8747
In its eighth season of farming independently, Rabbit Fields Farm offers an array of produce during the early, peak and late seasons. A main season share costs $400 with pick-up locations at the farm, Wednesday's Fairhaven Farmers Market and Saturday's Bellingham Farmers Market.
They also offer "Bunny Bucks," a separate program that can be purchased on top of CSA shares, which tacks an extra 10 percent to a shareholder's account. Bunny Bucks can then be used at the Rabbit Fields Farm booth at the Fairhaven and Bellingham Farmers Markets.
Get all the details at www.rabbitfieldsfarm.com.
Sage & Sky Farm | Andrea & Sam Roper
3002 East Smith Road
Bellingham, WA 98226
360.255.0757
On top of a variety of verdant vegetables and herbs, Sage & Sky Farms also offers grass-fed lamb, pastured eggs and pastured chicken.
Sage & Sky Farm's 2014 season will focus on staples such as carrots, beans, cucumbers, lettuce and tomatoes – and they promise to add a few other items to "spice it up."
Full shares run $425, with half shares (delivered every other week) costing $225. Sage & Sky Farm is one of the area CSAs that offer drop-off locations in Bellingham and also at participating workplaces.
Visit www.sageandskyfarm.com for more information.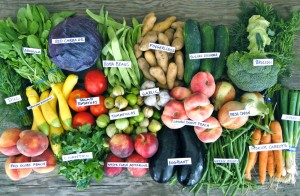 Sumas River Farm | Helen Solem
4289 Rock Road
Sumas, WA 98295
360.319.0895
Leave out a bucket, and then return home each Wednesday to find it replaced with one filled with fresh fruit and vegetables grown by Helen Solem at Sumas River Farms.
Sumar River Farm is quite small – less than an acre – so only 12 CSA shareholders each season get to enjoy Solem's sensational peas, broccoli, lettuce, corn and carrots – with samplings from 40 additional crops thrown in to round out each week's delivery.
Check out www.helenssumasriverfarm.com for all the Sumas River Farm CSA details.
Terra Verde Farm | Amy & Skuter Fontaine
806 Chestnut Street
Everson, WA 98247
360.393.2520
Spread out over seven acres in Everson, Terra Verde Farm offers full or half shares of its vegetables, rhubarb, strawberries, herbs and flowers. Three distinct seasons are offered from June through September with full share costs ranging from $142.50 to $382.50.
This year, Terra Verde Farm's CSA will also include the option to add a pound of whole coffee beans from Hammerhead Coffee Roasters to a weekly box. A loaf of fresh Bread Farm bread can also be added.
Pick up your share at the Saturday Bellingham Farmers Market or Terra Verde's mid-week drop site. For more information, contact farmers Skuter and Amy Fontaine directly at the number above or via email.
WakeRobin Farm | Brigget LeClair
2660 Thornton Road
Ferndale, WA 98248
360.815.1190
Just west of Ferndale, WakeRobin Farm grows an abundance of farm-fresh foods in its sweet loam soil and also offers eggs, chicken meat and purebred Icelandic sheep for meat and wool.
Weekly CSA pick-ups at the farm are shared in charming wicker baskets, generously filled with a sampling from more than 40 different vegetable crops harvested during the season at WakeRobin Farm.
For more information, email Brigget LeClair at wakerobinfarm@gmail.com.
All photos courtesy Growing Washington.