By Stacee Sledge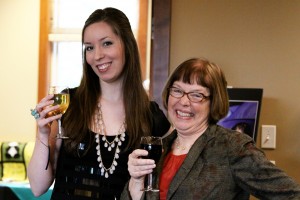 "Our young children with developmental delays need help to thrive, to learn and to overcome challenges for full, happy lives," says Peggy Zoro, interim executive director of Whatcom Center for Early Learning.
WCEL's provides comprehensive family-centered early intervention services to children ages birth to three with developmental delays, offers family resources coordination services, and is the sponsoring agency for Whatcom County's Parent to Parent Support Program.
Since 1973, WCEL has provided therapy, early childhood education, and caring family support to infants and toddlers with a 25 percent measurable delay in at least in at least one area of development: speech-language, cognitive, motor, adaptive and/or social-emotional.
"Eligible families receive early intervention services regardless of their ability to pay," says Zoro. "There's no cost for services, and no eligible child/family is turned away."
This year marks Whatcom Center for Learning's 10th annual auction fundraising gala, which will be held Saturday, March 15 at 5:30 p.m. at the Bellingham Golf & Country Club.
"Fundraising is essential to our sustainability," says Sandy Berner, who recently stepped down as WCEL's longtime executive director and is now the organization's fund development director.
"Our early intervention services costs are high," Berner says, "and our work is extremely important to the 110 families we currently serve each month – and to those we will serve in the future."
A decade ago, WCEL served 40 children and families each month. As the need for its services has risen, so have costs to keep the program going.
"Current funding sources include various government, public, and private agencies, in addition to generous individual and business donors," says Zoro. "And WCEL is proud to be a United Way of Whatcom County Partner Agency for over 20 years."
But these dollars are not enough to cover costs and sustain WCEL programs.
That's where you, supportive community members, step in.
"This year's gala brings a fun-filled evening featuring scrumptious hors d'oeuvres, a cocktail hour to enjoy while perusing the Silent Auction selections, and listening to the soothing jazz sounds of the Ray Downey Trio," says Zoro. A delectable dinner with hosted wines will follow – a choice of New York strip steak, wild cedar plank salmon, or butternut ravioli – and then the auction itself.
"We promise our guests an extraordinary, fun-filled evening," Berner says.
Auctioneer Manca Valum will present this year's live auction packages, including a Sun Valley getaway, Dunham Cellars hosted wine party, Seahawks club-level tickets, signed memorabilia, and much more.
A delectable dessert dash will close out the evening.
A highlight of the evening will be the premier of the short film, You Never Stopped, created and produced by Max Kaiser and Hand Crank Films. A teaser of the film can be seen here.
"Max has captured the essence of WCEL through the personal reflections of our families and community members," says Berner.
Max Kaiser knows the power of film in fundraising. He and his Bellingham company have generated it time and time again, as their productions are used to effectively fundraise in both for-profit and non-profit sectors.
"Our sincere gratitude goes out to Hand Crank Films for acknowledging the value of WCEL programs and services to children and families in need," says Berner. "And for their willingness to give by donating this film."
Whatcom Center for Early Learning welcomes community support at any level.
"WCEL is a local non-profit with a very big heart," says Berner. "We're asking this community to open their hearts and to invest in the future of our children and families."
This year's platinum sponsor is Edward Jones/Tony Pechthalt. Gold sponsors are Bellingham Nanny Connection and Samson Rope. Silver sponsors are Alcoa Intalco Works, Barron/Smith/Daugert PLLC, The Bellingham Herald, Brooks Property, NW Pathology, PeaceHealth St. Joseph Medical Center, SuperFeet, Cascade Dafo, and Whatcom Educational Credit Union. And finally, partner sponsors are Barkley Company, Bellingham Cold Storage, Moss Adams, Windermere Real Estate/Kim Thompson, NorthCoast Credit Union, Peoples Bank, and The Unity Group/HUB International.
For more information, visit www.wcel.net. To purchase a ticket to this year's auction, please call 360.671.3660 or email info@wcel.net.
Whatcom Center for Early Learning
2001 H Street
Bellingham, WA 98225
360.671.3660
Whatcom Center for Early Learning Annual Fundraising Gala
Saturday, March 15 at 5:30 p.m.
Bellingham Golf & Country Club
3729 Meridian Street
Bellingham, WA 98225
Ticket price: $75.00