They all have experienced violence and disasters. They have lost family members and friends, struggled without food and water. But every one of them, each with their own extraordinary tale, has endured. Alain Murhula and Songa Katanga are both from war-torn Congo. Fahat Yogol is from Kenya, a country with a long-running history of political turmoil resulting in violence. Jerry Mervielle is from Haiti, a nation still trying to recover from its 2010 earthquake and last year's Hurricane Matthew. Kandjoura Tandia is from Mali, which has experienced several military coups with the most recent occurring just five years ago. And Elijah Moon is from Ghana, where most villages lack quality drinking water, hospitals and even basic sanitation.
Six individuals who now call Bellingham home. Six refugees seeking out a better quality of life. Their cultures differ greatly, but one aspect is consistent throughout each of these amazing personalities – soccer.
"My village was always in a war with other villages," said Moon, whose home didn't have a single soccer ball while he was growing up and instead would use rolled up bags as a substitute, "but when we stop shooting each other, at the end of the day, soccer was the only thing that kept our minds together. When you're playing the game nothing else matters at that moment because you don't need to speak the same language to play it. When you're on the field everyone is speaking the same language."
Moon and his five teammates are all members of the Whatcom Community College men's soccer team, a program which has flourished under head coach Jason Jorgensen and his staff this year.
The Orcas went unbeaten during the regular season, posting a Northwest Athletic Conference-best 16-0-3 mark, including a 13-0-2 record to claim the North Region's top seed into the conference tournament.
WCC has netted a conference-high 63 goals this season, paced by freshman Tandia's 10 goals, while surrendering a mere 13 on defense. They closed out the regular season on a six-match winning streak, outscoring the opposition a combined 31-3 over that span.
What started out as a group of players unfamiliar with their teammates and their surroundings have evolved into a championship squad.
"Playing soccer is a union of people," said Murhula, a sophomore, who lived in a refugee camp without electricity in Uganda for eight years after the murder of his father before moving to Boise, Idaho with his mother and siblings in 2014. "Playing at WCC has promoted my experience of living with people I didn't know, and [they ended up turning] into my family."
It was Jorgensen who recruited each player to Whatcom. The criteria for joining the program included athletic ability, but much emphasis was placed on the player's passion for both life and the game, as well as the willingness to put the team above all else.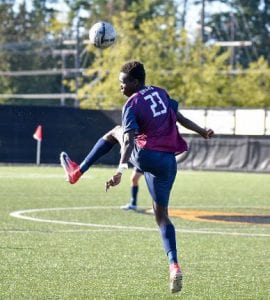 All six more than fit the conditions.
"Each carries unique characteristics that enhance the value of our program," Jorgensen said. "Each player brings a vast range of knowledge and life experiences. It is unique to have one with these characteristics, but to have six is incredible. Their life stories are a reflection of them as individuals. They have constantly battled struggles in their lives and always have a positive attitude towards the outcome they are striving for."
In addition to winning a NWAC championship, the ultimate goal for each player is to parlay their success with the Orcas to a potential scholarship with a four-year university.
"It is great for our players, coaching staff and community to have many different backgrounds and stories within our programs at WCC," Jorgensen said. "We pride ourselves on Orca love and being a family through thick and thin. We try and help the student athletes be successful for years to come and help them to one day reach their dreams and aspirations five to ten years down the road.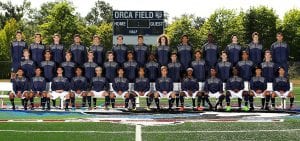 "We want the players to look back and be proud of where they came from and the program they helped build. All players have stories. [They] bring energy, team chemistry, dedication. Each player helps create the team's identity and helps to shape who we are and what we strive to be … an Orca nation, a family and a place where their individualistic greatness can be recognized and nurtured and pushed to be the best version of themselves daily."