When you walk into Binyon Vision Center, you quickly realize you're in for more than your typical eye care experience. Binyon offers top-notch vision care, but they also offer an extensive, thoughtful selection of eyewear brands and styles – and a belief that the right frames can be fun and confidence-building.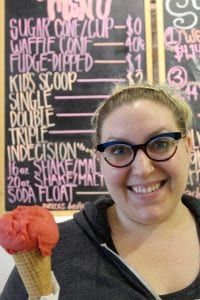 "We love working with like-minded businesses and are excited to bring unique frame options to Bellingham," says Binyon Office Manager Caitlin Bruno. Her father, Dr. Mark McEathron, has owned the practice since 1980.
Caitlin exudes a genuine friendliness and deep knowledge as she assists a patient in choosing his next pair of glasses. He tries on several options from a line of French eyewear newly offered at Binyon: Anne & Valentin.
Caitlin's excitement about the bold, creative line is contagious as she later shows me the display case and talks about the practice's upcoming Anne & Valentin Trunk Show, open to the public on November 14.
Caitlin pulls out Anne & Valentin Eyewear frames in style after style, describing Binyon's relationship with the company, as well as the history of this chic, high-quality line of eyeglasses.
"Anne, the artist, and her husband Valentin, the optician, have been in this business for over 30 years," says Caitlin. "It's a family owned business based in Toulouse, France that focuses on one thing: beautiful eyewear that's as wearable and practical as it is stylish."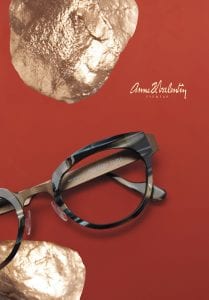 The frames are unique, visually, but also go to great lengths to be of the highest quality. Particular care is given to the types of hinges and screws used, as well as materials that are easy to work with. The finishes truly pop. "There's always a thought for quality and long life in their products," says Caitlin.
Not just any optical shop can carry Anne & Valentin Eyewear. In fact, Binyon went through a rigorous process to ultimately be approved as a distributor. Caitlin first completed a written application that included an essay explaining why Binyon would be a good fit to distribute Anne & Valentin Eyewear. Next, Binyon met with a company sales representative from Vancouver, British Columbia. "We took a look at the line and the representative gave us the background on the company history and the eyewear concepts," says Caitlin. "It was like we were interviewing each other."
Intensive training was the final step. Caitlin shows me a board full of information-filled sticky notes under each category of training topics, including the company's history, manufacturing processes and concept descriptions.
Ultimately, Anne & Valentin Eyewear looks to work with distributors that share the same values – as well as the opportunity for exclusivity. Binyon proved themselves to exemplify exactly what Anne & Valentin wanted through the application process.
"We do what we feel is best for our patients," says Caitlin. "And that's what Anne & Valentin Eyewear does, as well. They have a passion and it shows. Unlike a fashion designer who dabbles in eyewear, this is their focus – all they do."
The sophisticated yet fun designs use durable materials ranging from veneer to plastic to metal. Each has its own style, which exudes a practical and wearable intelligence. A collection guide written by the Anne & Valentin designers provides colorful, fun descriptions of the person in mind behind each frame model. The style "Arcade" is "an appeal to esthetes, to retro-modernist architecture enthusiasts."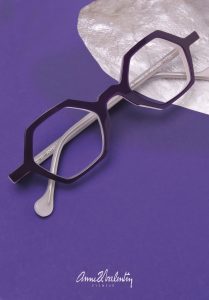 "It's such a fun way to express your own personality," Caitlin says. "These frames are like buying a really nice piece of jewelry for yourself. And there's just something about the right frame that inspires confidence."
The Anne & Valentin Eyewear Trunk Show at Binyon Vision Center will feature over 550 different designs in a variety of styles and colors. Meet Caitlin and the rest of the Binyon Vision Center crew – as well as a representative who recently returned from visiting the eyewear designer in France – at the event. You'll also enjoy cookies from Morgan G. Cookies and other snacks, as well as a chance to win prizes.
Anne & Valentin Eyewear Trunk Show
November 14 from 10:00 a.m. to 4:00 p.m.
Binyon Vision Center
411 East Magnolia in Bellingham