Seeing a show at Mount Baker Theatre (MBT) feels like a once-in-a-lifetime experience. But with over 400 events spread between the building's three public spaces during each 365-day year, every "timeless" environment is in fact constantly changing.
Who at MBT turns the Main Stage from a full production of Rodgers + Hammerstein's Cinderella with semi-trucks full of sets and magical pumpkins into a full performance of O Christmas Tea? The hard work and talent of hundreds of skilled tradespeople and crew who work tirelessly behind the scenes—most of whom the audience will never see.
Although the number of crew needed varies depending on the scale of each production, it's a lot more than you might think. Let's meet them.
Production Stage and Event Managers
A stage manager juggles it all on the fly, making sure that the audience only sees the smooth, magical theatrical production. Most shows travel with their own stage manager who then communicates with MBT Event Managers to make sure every aspect of the show meets a high standard of quality before "curtain."
Carpenters, Electricians and Riggers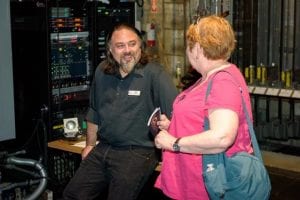 For a typical traveling show, such as a Broadway show passing through MBT, about 60 local Stage Crew including carpenters, electricians and riggers are hired by MBT to work with the six to twelve professionals traveling in the Road Crew. They arrive early in the morning on the day of the show to start the "load in" process. Together they mark out the floor, unload and install the semi-trucks full of rigging, stage lighting, set walls and backdrops, and flooring unique to each show.
Carpenters are stagehands that check and make modifications if needed to ensure that the traveling sets and other moving parts of a show work properly in the space.
Theater electricians include the lighting supervisor, master electrician, deck electrician, light board operator, moving light programmer and followspot operator, as well as basic electricians. Each has separate responsibilities but they all work together to pull off the show.
"We have a list of about 300 crew that live and work between Bellingham and Seattle that we can call to work on a show. They all also work at other theaters as well so not everyone is available," explains MBT's Facilities Director, Jim Zoehrer. "The number we hire depends on how large the show is. I exhaust my local people first before calling Seattle."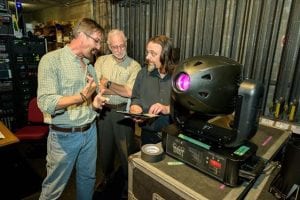 Many are so experienced that they can do their work with little supervision and the crew works together like a well-oiled machine. By the lunch break, two-thirds of the local crew depart, returning later after the show is over to help break down or "load out." The remaining third, called the Show Crew continue the load in process throughout the day.
Around 10:00 p.m., the morning Load In Crew returns during the show's finale to become the Load Out Crew. "The last things to be unpacked are the first to be packed up again. We disassemble in the reverse order that we used for set up so that the trucks can be packed up again two trucks at a time," explains Zoehrer. "That all happens within two to four hours after the show ends depending on the complexity of the show."
The Load Out Crew will return MBT to a show-ready state, with lighting and sound in place for the next performance. Some members of local crews will work a total of 15 hours in a single day.
Lighting and Sound Technicians and Property Masters
Throughout the day, light and sound technicians, as well as the rigging crew, continue to work hard to make sure that the vision of the original sound and lighting designers is presented in high quality for the audience. "Lights are focused, hand props are laid out, they'll fine-tune the fly and rigging systems, and get the sound system dialed in," explains Zoehrer.
A fly system is a system of ropes, counterweights, pulleys and other such tools designed to allow a technical crew to move set pieces, lights and microphones on and off stage quickly by "flying" them in from a large opening above the stage known as a fly tower or flyspace. "You wouldn't believe it, but with all that crew, the entire show is set up in about six or seven hours," adds Zoehrer.
The Sound Technicians and Show and Road Crews work with the cast, music director and orchestra for a sound check in the afternoon before the show. "The Production Stage Manager works with the leads and the cast to make sure the microphones work properly and that everyone is clear about any changes to the show," notes Zoehrer. "These shows play at venues of all sizes so each show is a little different and those details need to be worked out on a daily basis for local conditions."
Around 6:30 p.m. on the night of a show, the Show Crew (many of whom were part of the morning Load In Crew) get their "Tracks" which is a list of cues that tell them what their jobs will be during the show. That might include bringing props on and off and moving set pieces throughout the show.
Wardrobe Technicians
Many shows must leave a venue soon after a performance to head to the next location, so between four and ten wardrobe technicians launder and repair costumes, shoes and wigs during the day of the show. They work with production photos and as a team with the traveling wardrobe masters to keep costumes looking fresh.
The amount of support needed varies widely depending on the show. "MBT is the right size for a three-and-a-half to four truck show, but we often get five truck shows," explains Zoehrer. "Some shows like Beauty and the Beast and Hair had an entire semi-truck full of wardrobe and wigs."
Wardrobe begins packing up while the show is still being performed so they are ready to hit the road for the next location.
Behind-the-Scenes Teamwork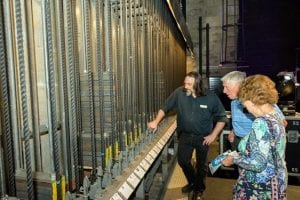 Keeping the hive that is MBT running in top form to host luxurious traveling shows is a big job for Zoehrer, his leads, volunteers and the huge team of hard-working, self-driven crew. But the show wouldn't go on without them and they're up for the task for the sake of the art form. "I delegate to my team and make sure we stay on budget and stay safe," says Zoehrer who must always look ahead. "In that same day, I also have to think about the other 14 shows coming up."
In a single week, MBT may host ten other public and private shows, rehearsals, rentals and events across their three venues in addition to a major mainstage production.
Now that you have had a glimpse of what goes on behind the curtain, order your tickets to an MBT show and imagine all the bustling that occurred throughout the days and weeks beforehand to bring you such a memorable spectacle.
MBT has an incredible array of nationally touring shows that showcase talent both on and off stage.  Explore the brilliant coupling of human and high-tech with Japan's answer to the Blue Man Group, Siro-A Techno Circus on October 21 and then indulge in your favorite Halloween classic, The Rocky Horror Story Picture Show on October 26, 27 and 31.
Let off some steam and come ready to laugh with The Capitol Steps on November 4 and then laugh some more at the 39th Annual Seattle International Comedy Competition Semifinals on November 17!
Find your foot tapping along to "pop music in a time machine" with Postmodern Jukebox: Back in Black and White Tour on November 29 and then gear up for the holidays with a contemporary take on your childhood favorite, Rodgers + Hammerstein's Cinderella, on December 8 and 9.  
None of these amazing productions could occur without the talent and dedication of those working tirelessly—and without the accolades—behind the scenes. Be sure to witness their work this season at MBT.
Mount Baker Theatre
104 North Commercial Street
Bellingham, WA  98225
Phone:  360-733-5793
Tickets:  360-734-6080
www.mountbakertheatre.com
Sponsored