Everyone has their favorites. Some like pepperoni. Others just want plain cheese. Some want everything but the kitchen sink. What we can all agree on is that pizza is delicious. And we in Whatcom County are blessed with many great options. I polled my family and friends and came up with this Whatcom County Pizza Round-Up. Read on for the best cheesy deliciousness around!
Rudy's Pizzeria
1232 N. State Street, Bellingham
360-647-7547
Dan, Soren and Finn's favorite: Rudy's Pizzeria. We typically go Wednesday nights when a large one topping is only ten bucks. $10.00! Since Finn only likes cheese, it's a no brainer. We like the basic pizzas the best. If we're starving, we'll add a cheese breadstick. Dad gets the outside piece. Dan also likes the Mama Rudy covered in delicious veggies. The salads are high quality, simple and bountiful. Balsamic Vinaigrette, please! They have good beer variety as Rudy's is coupled with the Up and Up. A local IPA, please! They also have free delivery locally in Bellingham. Reserve an area for a party or group for free. We also dig the custom wood booths and the mosaics that adorn the walls. It's a great, classic, college pizza joint.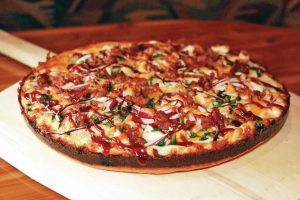 Coconut Kenny's
2220 James St, Bellingham – 360-647-9273
1740 Labounty Dr #1, Ferndale – 360-656-5974
8122 Guide Meridian, Lynden – 360-392-8435
Kori likes Coconut Kenny's best. "Their gluten free (GF) pies are the best in the County," she proclaims. The GF crust is buttery and crunchy – taste like real pizza, not cardboard. Toppings are delicious and so is the sauce. Friendly service, fun atmosphere. They have three locations. The original on James Street comes complete with a Hawaiian-like feel just south of Kulshan Brewery.
Cindy told me about her new summertime tradition going to Coconut Kenny's for their Mac 'n' Cheese pizza. "When my twin nephews visited from the east coast last year, I took them while the rest of our group was at Kulshan. Coconut Kenny's will actually walk over to Kulshan with your order – or you can call in and they will deliver! The boys were seriously interested in the mac 'n' cheese pizza and since auntie's are allowed to spoil, I agreed with the condition that half be without bacon (so us non-bacon eaters could try it). The staff conferred and agreed only to do so with a warning that it could change the integrity of the pizza We agreed." The boys polished it off with forks at Kulshan while we enjoyed a leisurely afternoon. Cindy continues, "My nephews couldn't wait to get it again this summer! This time they each got their own personal sized mac 'n' cheese pizza (with bacon, of course) and ate with gusto, allowing the adults to pick only tiny bits of the buttery, pastry-like crust from their pies."
Soren likes the Spicy Hawaiian – spicy meat with sweet pineapple is a great combination. Although we're supposed to be on point about pizza, the Pipeline Sandwich is the bomb. Au jus and roast beef with island sauce on sweet Hawaiian bread rolls is a unique and delicious combo. It's enough for two or three!
Övn Wood Fired Pizza
1148 10th St, Bellingham
360-393-4327
Melissa's fave is Övn Wood fired pizza. "The crust is simply the best," she describes and their GF curst is hands-down the best she's tried. They do a thin crust perfectly cooked pizza that is right up this east coast girl's alley! Their pizzas have the most delicious and original topping combos. To top it off the first Monday of the month they do family-style all you can eat where they just keep bringing around pizzas as they come out of the oven and include a simple help-yourself salad bar. "I think it's like 12 bucks!" Melissa exclaims.
Stacee, WhatcomTalk's Community Manager agrees. It's her favorite place too!
And if you need to work off that pizza you just ate, check out Melissa's new yoga studio: Flux Power Yoga 1140 10th St. Suite 101 in Fairhaven right next to Övn. Infrared floors and a quick, full body workout will strengthen and revive you.
Cascade Pizza
2431 Meridian St, Bellingham
360-671-0999
Cascade Pizza has been a Bellingham institution for decades. Greek style pizza with cheese over a buttery crust is tough to beat. Old fashioned sit-down service is nice. Their GF crust is a favorite in the neighborhood. I admit, growing up on Greek style pizza from the likes of Pizza Bank in Kirkland, Pegasus Pizza in West Seattle and Olympia Pizza in Arlington, you can't and don't want to avoid it. Simply delicious. Cascade Pizza has this old school feeling to it that I can't describe. If you're missing your 1970s to 1980s childhood Greek pizza place, this is it! Their pasta menu also pleases. Again, stay on target (pizza) but, pepperoni baked lasagna? A must try.
LaFiamma
200 E. Chestnut Street, Bellingham
360-647-0060
LaFiamma provides downtown Bellingham with delicious wood fired pizza. My favorite is the Sofia. Fresh rosemary, thinly sliced prosciutto (salted ham, thinly sliced) and red onion. Game on! This place is great with little kids. When it opened, the original pies were named after the children of friends. Does that make Sofia about 18 years old? To pass the time, they give kids a hunk of pizza dough to play with. Signature cocktails are a not so recent update (remember Boundary Bay Reefnetter?!) which can also calm the mom or dad caring for the kids. Outside on the deck is great with the smell of the salt air off the Bay. Lunch specials are a great value with the pizza and salad combo or the Chicken Panini (oops, there I go again, off pizza point.)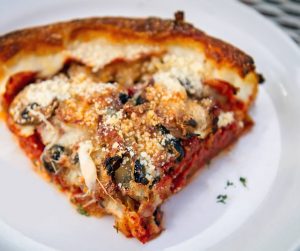 Fatpie Pizza
Fairhaven: 1015 Harris Avenue, Bellingham
360-366-8090
Fatpie Pizza offers three crusts. The Chicago deep dish round crust, the Detroit medium crust in a square shape and now the Brooklyn, a New York style thin crust pizza. My favorite is the Lake Erie with roasted tomato confit and artichoke hearts. The kids will enjoy the crust variety and can choose their own toppings. Mom and dad will enjoy it all on the rooftop balcony at sunset.
Fairhaven Pizza
Fairhaven: 1307 11th St, Bellingham
360-383-5449
Fairhaven Pizza has some fun combination pies. My favorite is the Border Patrol which mixes Canadian (Aye!) with Mexican (Caliente!) inspired toppings to make one great pie. The location in historic Fairhaven complete with brick building built in the late 1800's provides an old school atmosphere with modern and classic topping choices. Add local beers and presto! A great option for the family or first date. Outside seating on the sidewalk in summer is especially great.
Pizza'zza
Fairhaven: 1501 12th St, Bellingham
Alabama Hill: 2418 Alabama St, Bellingham
360-218-7012
Pizza'zza satisfies the New York style folks with two locations at the bottom of the hills (Alabama and South Hill). My favorite is the Little Italy with fresh basil. It's one of the few pizza places to also have burgers (sacrilege to purists but saintly for families with a picky eater.) It's also a great take-home place after a day at the park or beach with their convenient locations. And don't forget their mobile location, Pizza'zza Mobile!
Plus they've recently remodeled their Fairhaven location and now have 74 seats and 18 taps plus a bottle shop featuring handmade live-edge tables. The company also purchases 85 percent of their food from Whatcom and Skagit producers including pizza cheese made by Ferndale Farmstead.
Goat Mountain Pizza
211 W. Holly Street, Bellingham
360-510-6336
Goat Mountain Pizza started in a hole in the wall location across from the Wild Buffalo a block west of where it is now. It's now in the old Film Is Truth building which is spacious and inviting. Pizza by weight! Cut square? Unique combinations of caramelized onions and arugula? Yes please! Potato and bacon – unique! Locally sourced vegetables add to the flavor of the pizzas and organic salads. Top it off with a local brew or artisanal cocktail. If you've still got room, their cookies are almost famous. Plan for them!
Gusto Wood Fired Pizza
According to WhatcomTalk reader, Amy, Gusto Wood Fired Pizza offers the only true Neapolitan pizza in Bellingham. She and her sons have been eating their pizza almost every Saturday at the Bellingham Farmers Market for nearly six years. "Sometimes we go just for lunch!" she said. "We've even been part of a wedding dinner that they catered. A few months ago Gusto Pizza was mentioned in Bellingham Alive as the must have food when you go to the farmers market."
Make Your Own
A Sunday night tradition since my kids were babies is homemade pizza night. Over the years I've developed an easy dough recipe. Add marinara sauce (yes, I can grow my own tomatoes but cheat by adding tomato paste, but Costco has a great two jar pack), shredded mozzarella, parmesan and whatever toppings you want. In fall, fresh picked chanterelle and prince mushrooms. In summer, fresh sliced tomatoes and oregano leaves. Always, fresh diced rosemary. Twenty minutes at 420 (dude) degrees and BAM! Homemade pie.
Give it a try! Tinker! Develop your own signature pie.
Cindy's son Jack has had the summer of making pizza. He is pretty "freaking" proud of it. He actually cut out cardboard in circles and made his own frozen pizzas this week. He'll be delighted to make it for friends so I'm hoping for an invite to pizza night soon.
Dan's Pizza Crust Recipe and Process
1 ¼ cups tap water
2 tablespoons olive oil
1 ½ teaspoons breadmaker yeast
1 teaspoon sugar (white, brown, whatever)
Mix a bit to activate yeast
Add 2 cups all-purpose bread flour
Add about 1 cup whole wheat flour maybe more
Mix until dough is balanced between stuck to bowl and peeling easily from the bowl.
Let sit 2 – 8 hours in cool place.
Rework as you have time and like.
3 teaspoons salt (+/-) just before final working and thinning.
Roll out to fit pizza pan (roller with flour or toss it!)
Precook dough if you like it crispy, about 5 minutes
Add marinara sauce
Add toppings and cheese
Bake, 420 degrees, about 20 minutes – cheese a bit brown and bubbling.
Let rest 10 minutes, cut and serve
Did we miss something great? Drop me a line at submit@whatcomtalk.com and let me know what your favorite pizza place is and why. It just might make the list!