Whatcom County winters might be known to be a little glum and drizzly, but talk to any local and they'll tell you how beautiful our summers are. Long days make for warm evenings and stunning sunset views that pair well with the region's tasty bites. Given that Bellingham is known for utilizing the local farm fresh foods and delicious seafood, there are plenty of great outdoor dining options for every palette out there.

Outdoor Seating 
Let's get the important things out of the way first – pizza. I know what you are wondering. Where in town can I eat some of the best pizza of my life on the roof of a building? Consider FatPie Pizza to be the only answer. With sweeping, high-up views and heat lamps to keep you comfortable even after the sun goes down, you'll want to continue eating pizza all night long.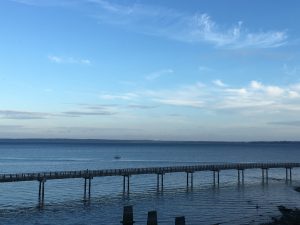 Pepper Sisters is another fun option with outdoor seating. The views might not be from a rooftop, but this funky, fun restaurant specializes in delicious southwestern foods with tons of vegetarian and vegan options. Located in the Alley District, Pepper Sisters is also near the Honeymoon and Green Frog, making it easy to extend your day into a festive evening.
Waterfront Seating
If you are looking to catch the sunset on the bay while you dine, check out Keenan's at the Pier. This "casual, yet elegant" restaurant overlooks the bay from the south end of Boulevard Park. Perfect for relaxing with a glass of wine from the restaurant's vast wine list and diving into Steamed Manila Clams with your significant other.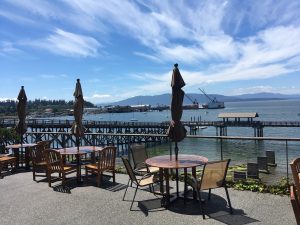 Another great option that provides a similar style as Keenan's is The Lighthouse Bar and Grill. This upscale restaurant makes sourcing local foods a top priority and has plenty of options for those with food allergies or sensitivities. And while the patio is sure to provide views to indulge your wandering eye, the lovely meal presentation is sure to do the same. Give into all your senses at The Lighthouse.
Another option is Anthony's Hearthfire Grill (and Anthony's at Squalicum harbor just down the way!). Known for their steaks and pacific caught seafood, the Bellingham location offers a large outdoor seating area that makes dining extra delightful.
Then, down the street a short jaunt, you will find Nicki's Bella Marina Restaurant and Bar. If you are looking for a gosh-dang-good burger to pair with your bay views, this is the place to be! Enjoy the fish and chips, recently voted best in Bellingham, and maybe a deep-fried Twinkie for dessert. You can't go wrong with their fun atmosphere (who doesn't love place with a good food challenge? Check out their Man Vs Food burger!) and awesome patio.
Outdoor Happy Hour
If you are looking for something new this summer, northwater restaurant has an awesome happy hour and comfortable outdoor patio. Enjoy a yummy cocktail that has been crafted with tender love and care, and share a few seafood corn dogs – a signature dish that you won't find anywhere else. Plus, northwater has not just one, but two happy hours every day: 2:00 – 6:00 p.m. and 9:00 – 11:00 p.m., plus all day on Sundays.
So get out and enjoy all the delicious and scenic places Whatcom County has to offer!