A long-time favorite of the Bellingham food scene, Casa Que Pasa will celebrate its 25th year in business in 2018. This milestone alone is something they should be very proud of, in a town where food establishments go in and out of business so frequently. It is truly impressive that Casa Que Pasa has been a stalwart in the Bellingham food industry for such a long period of time.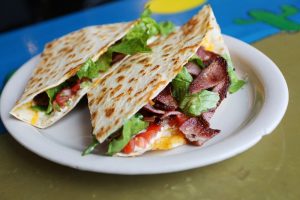 Known for its Potato, Rancho Deluxe and Bean Supreme burritos, Casa Que Pasa is the perfect spot for lunch, dinner or late-night cravings. The Mexican-inspired restaurant is open from 11:00 a.m. to 11:00 p.m. daily. Possibly the most characteristic quality of Casa Que Pasa is their portion size. I am not exaggerating when I say a Potato Burrito can get you through at least two meals. These generous portions, along with their unique recipes, set them apart from other burrito-driven restaurants in Bellingham.
"We serve up 300, or more, burritos a day," Co-Owner Spencer Willows says. The restaurant doesn't only serve burritos though, the menu is diverse and stacked with a variety of different dishes. From the BLT-ski Quesadilla to the Hand-Made Jalapeno Poppers, the kitchen staff at Casa Que Pasa makes sure to keep it fresh and interesting. Some of these new food items started as specials and later became menu staples. "We're constantly trying out new specials and some have become favorites," Willows says. They even offer specific specials depending on the day of the week, such as the popular Saffle's Sassy Tacos on Fridays and the Guacka Flocka Flame on Wednesdays.
In addition to the restaurant side, Casa Que Pasa is also famed for their backroom cantina, otherwise known as the Tequila Research Institute. I can assure you, this is definitely the place to go if you are looking to get schooled in tequila drinking, sipping and tasting. The cantina has over 115 different types of tequilas. If that alone isn't quite your thing, then maybe one of their drink specials (which feature all types of booze) will do the trick.
Still thirsty? "Our Tequila 101 program rewards you for tasting tequila," Willows says, and he's right. For every 15 tequilas tasted there are rewards in the form of free food, and once you have completed all 72 tequilas you will be gifted an exclusive T-shirt and a lifetime discount on premium tequila.
Having been a landmark of the Bellingham food scene for many years, Casa Que Pasa is all about community. The restaurant is always looking for new ways to give back to Bellingham and its people. Recently, Casa has donated proceeds from their sales of Jumbo Potato Burritos to The Alternative Library, Conservation Northwest and The Volunteer Center of Whatcom County.
Willows says community service is an indispensable aspect of doing business and it is a no-brainer to give back to the community that has treated himself and his staff so well. "We live, work, play and raise our families in this great city," Willows says. "Many of our customers and employees directly benefit from the incredible network of social services in Bellingham and we all benefit from a strong and stable community."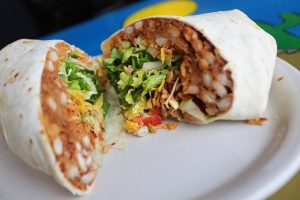 Casa Que Pasa is a uniquely Bellingham restaurant. From the vibrant and full-of-character atmosphere outlined by tons of art from local artists to the funky and wonderful Tequila Research Institute in the back, Casa Que Pasa's oddities make it an enjoyable space to spend time in. "We're the perfect place to go after swimming, biking, hiking during the summer. Our food is delicious, our portions are huge and our prices are reasonable," Willows says.
Don't forget to check out Casa Que Pasa's happy hour which runs Sunday through Thursday from 2:00 p.m. to 6:00 p.m. and 9:00 p.m. to 11:00 p.m. And don't forget, the Tequila Research Institute serves up $1 tacos every day, after 11:00 p.m.
Casa Que Pasa
1415 Railroad Ave.
Bellingham, WA
360-756-8226
Sponsored