As 2017 marks the fourteenth year of the Ferndale Street Festival (on August 25 and 26), the Ferndale Chamber of Commerce is in full swing to make it an event that will be the talk of Whatcom County once again. Attracting as many as 10,000 people, this event is one of the largest in Whatcom County. It brings with it a variety of activities and vendors for all. With easy, clearly marked parking, the Ferndale Street Festival is the place to be the last weekend in August.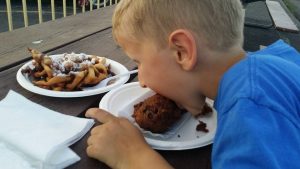 This year the not-to-miss Blueberry Pie Eating contest is perfect for those ready to take on the challenge of fast and fun pie eating. Are you ready to claim the title of Pie Eating Champion in this first annual event? Here is your chance to capture that one-of-a-kind pie trophy.
The dinosaur themed Kid's Street features a children's entertainment stage with entertainers, a reptile exhibit and even kids' Zumba. And, with this dinosaur theme, each child is encouraged to dress up as their favorite dinosaur for the two days of fun in downtown Ferndale. The petting zoo and dinosaur bouncy house are sure to be among the favorite activities for everyone visiting Kid's Street.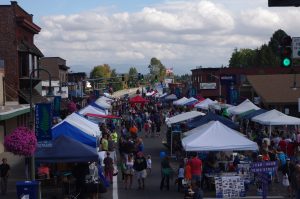 Friday night and all day Saturday are full of live music on the main stage. Catch this array of local talent while you enjoy a beverage in the beer and wine tent. The tent will feature beer, wine and hard cider and is right next to several food vendors making it convenient to enjoy your favorite drink.
Ready to see some of your favorite cars?  Be sure to stop by the car show that is held on Saturday, August 26 in Downtown Ferndale.
So come on down for this year's Ferndale Street Festival and enjoy great music, fun activities and the beauty of Downtown Ferndale. We'll see you there!
Sponsored