April saw the addition of many new and interesting local reads to the pages of WhatcomTalk. Each month we like to take a look back at what most resonated with our community. Here are some of WhatcomTalk's most read stories in April:
This handy guide takes you on a culinary tour of the hidden gems of North State Street. From Pelmeni to Café Rumba, Leaf and Ladle to the Cosmos Bistro, you're sure to find plenty to delight your senses and satiate your palate.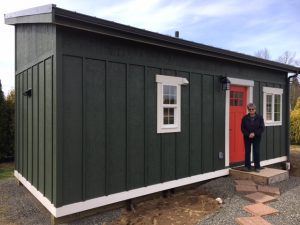 Cascade Tiny Houses have all the charm of a dollhouse and the functionality of a full-size home. In custom building affordable tiny homes, the Cascade team's shared vision serves as a doorway to creative, multi-purpose design which helps their clients discover an altogether different way of defining spatial requirements.
This is a fascinating story about local artist Paul Tuttle. Tuttle uses a transformer he salvaged from a repurposed microwave to conduct electrical current through the wood. The process is slow and methodical. Even though he cannot predict where the burning lines will travel, he continually moves the contact handle around the table until it's covered in one of a kind fractal patterned magic.
A good tomato is hard to come by. Maybe the rarity of tomato perfection is what makes it so sought after and what drives people to want to grow their own. Co-owners of Joe's Gardens, Nathan and Jason Weston, explain the process so you too can enjoy tomato perfection.
WhatcomTalk is a digital media company sharing positive stories about people, places and businesses in Whatcom County. WhatcomTalk offers content marketing and online options to advertise across our community social network in Bellingham, Lynden, Ferndale and beyond. Advertise with WhatcomTalk to reach your target market, grow your brand, and measure results.