Those of us who have relocated to the damp Pacific Northwest climate may not have ever heard the term "sun break" before moving here, but we've all learned how to take advantage of them when they arrive. As the days grow longer and summer slowly draws closer, we're all itching to get outside and soak up whatever bits of sun we can.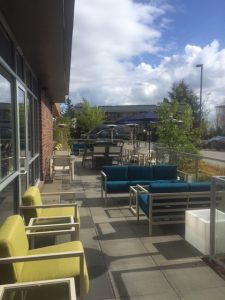 Take advantage of beautiful outdoor spaces in unexpected places at SpringHill Suites by Marriott in Bellingham. From stunning sunsets outside their Chuckanut Lobby Bar to impeccable views of downtown Bellingham from their fourth floor terrace, this hotel has plenty of opportunities for locals and visitors alike to enjoy the changing weather.
Step Outside for a Beautiful Sunset
Outdoor spaces are at a premium in the spring and summer. After a morning buying local produce and handmade goods at Bellingham Farmers Market, going out for a hike, or heading out for a tasty brunch, many locals search for a nice outdoor patio where they can soak in the Vitamin D while enjoying a beer, wine, or a cocktail, of course.
I've often heard friends debate the merits of various outdoor seating areas – Which ones end up shady after a certain time, who has umbrellas, who has the best views of the sunset. The newly renovated outdoor space at SpringHill Suites by Marriott in Bellingham will take care of all of the most important requirements for spring and summertime lounging. Adjustable umbrellas will keep those of us with that "Northwest pallor" safe from harmful rays, the west-facing orientation allows for stunning sunset views, and a toasty fire table and heat lamps will keep you cozy even if the air is a bit chilly.
"It's the great Northwest, so even though it's the spring or summertime you never know what you're going to get," shared Director of Sales, Elisa George. "It's really just an expansion of the great bar."
"We'll have umbrellas out so you can feel the sun but be in the shade," shared Operations Manager, Becky Doll. "Or you can feel the sun on your face, which is what I like to do. The view of the sunset makes it a really great space."
Ready to take advantage of this great outdoor space? The newly renovated patio is scheduled to be open in late spring, but you don't have to wait to drop by for sunset views from the bar. The SpringHill Suites Chuckanut Lobby Bar is open to the public, with a great happy hour from 4 p.m. to 6 p.m. daily.
Breathtaking Views from the Terrace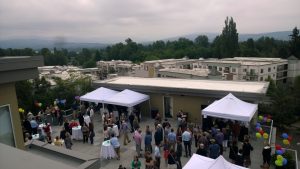 There are many beautiful indoor and outdoor event spaces in Bellingham and Whatcom County but it's not every day you find one with views of downtown Bellingham on one side and Mount Baker on the other. The open-air fourth floor terrace at SpringHill Suites has just such a vantage point.
"It is just a stunning view of downtown Bellingham," said George. "It's the perfect spot for a summer cocktail party or other special event." From weddings and other milestone celebrations to corporate parties and fundraisers, the fourth floor terrace is a great, open spot that is perfectly customizable for your special occasion.
Home Away from Home at TownePlace Suites
Home is important to the folks who work at SpringHill Suites by Marriott and the adjoining TownePlace Suites by Marriott. Every staff person I've spoken to has shared the same common goal: To make guests feel right at home even when they're on the road. Neighborhood-style living with thoughtfully designed communal areas and well-appointed living spaces make any guest feel welcome at TownePlace Suites. Their patio space even includes a well-appointed barbecue for cookouts any time of year.
"We've got all the spices and tools you need," shared George. "Having that barbecue really allows guests to feel like this is their home away from home." After a long week, hotel guests can crack open a few beers and throw something on the grill as if they were in their own back yard.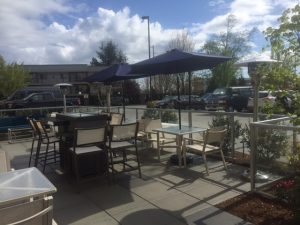 Plus visitors can easily take advantage of the beautiful attractions surrounding Bellingham from the hotel's convenient location and handy amenities for outdoor enthusiasts. "We have a great bike storage space in the parking garage," shared George. "A lot of our visitors come in for the weekend to see the sights on their bike and we have a locked area for them to keep their bikes safe." Guests can take advantage of everything Whatcom County has to offer knowing that they have a secure location to tuck their wheels away when not in use. And when they come back to the hotel after a long day on their bike, they can enjoy the homey, neighborhood feel.
"In the summer we'll have people barbecuing on the TownePlace patio or sipping cocktails just across the way outside the bar," shared George. It's lively and fun, and exactly the vibe they want to provide for guests and locals alike.
SpringHill Suites by Marriott is located at 4040 Northwest Avenue, Bellingham, WA 98225.
Sponsored