Submitted by: Gallatin Public Affairs
The 2017 FedEx Small Business Grant Contest has awarded Scratch and Peck Feeds as a Bronze Level Winner. Since this contest first began in 2013, FedEx has awarded $250,000 in small-business grants to help entrepreneurial companies grow their businesses, and now Scratch and Peck joins these ranks.
"We are honored and grateful for this opportunity," said Diana Ambauen-Meade, founder of Scratch and Peck Feeds. "Our entrepreneurial spirit, dedicated team of employees and passion for quality and wholesome animal feeds made us well aligned for this grant. The generous contribution by FedEx will allow us to further meet the needs of our customers while operating in our new facility."
As a Bronze Level Winner, Scratch and Peck receives $7,500 plus a $1,000 credit toward FedEx print and business services. The company will be honored and join other grant winners for two days of sharing and learning at the Small Business Grant Winner Forum in Memphis September 12-13, 2017. A tour of the Memphis FedEx Global Hub is included.
A family-owned company founded in 2010, Scratch and Peck Feeds was the first feed mill in North America to become both Certified Organic and Non-GMO Project Verified. Products are also Animal Welfare Approved and the company is B Corp Certified. The grant funding will be used to expand shipping opportunities that will increase efficiency and productivity, while decreasing turnaround time to better assist a growing customer base.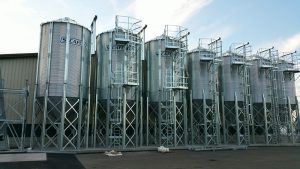 "Reflecting on how far we've come as a company – from starting this idea in my own backyard – it has been awe-inspiring to recognize how many people support our mission toward developing better food, a happy planet and well cared-for animals," said Ambauen-Meade. "We are grateful for our family and friends and for the incredible support we have received from customers who are as passionate about chickens and homegrown food as we are!"
Scratch and Peck Feeds specializes in producing high quality soy free and whole grain feeds for chickens, ducks, turkeys, pigs, goats and supplements and treats for poultry. By buying grains direct from regional farms, their sustainable business practices support local agriculture, the community and the environment.
Learn more about Scratch and Peck Feeds at: www.scratchandpeck.com
Learn more about FedEx Small Business Grant Contest at: https://smallbusiness.fedex.com/grantcontest.html