When:
05/26/2023 @ 11:00 am – 4:00 pm
2023-05-26T11:00:00-07:00
2023-05-26T16:00:00-07:00
Where:
Gallery Syre
465 W. Stuart Rd.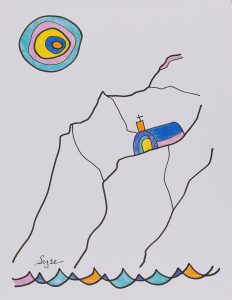 Greece is a land of dreams with stunning views, mesmerizing beaches, and sublime architecture. It was an inspirational dream for artist David Syre, too. During a recent trip through the islands of Greece, Syre documented his experiences through his art with his prolific and perceptive drawing practices.
Drawings From Greece is an exhibition of David Syre's drawings made during this recent trip to Greece. Syre's drawings consistently show "what he sees." They are a visual journal of Syre's travels and take the viewer along on the journey. The artworks showcase the typical Greek Cycladic architecture: arches and vaults, blue domes, crossed spires in a stunning setting of Olympian high cliffs. Iconic windmills and local flora and fauna play a role as visual influences, as well. In this collection of drawings Syre uses new materials and, for the first time, consistently works not on black, but on white paper!
The purposely drawn line remains a constant in Syre's drawing practice. Unlike his painting practice where Syre is driven almost exclusively by emotion, it is through the drawn line that Syre materializes what he sees and hears. Sights, sounds, impressions become tangible. Key subjects are examined from every angle for a deeper understanding.
The drawings in this exhibition also highlight the subjects that Syre is particularly drawn to: buildings, fish and birds, flowers and trees. These elements have played a vital role in Syre's life experiences, and they consistently play a key role in his artworks.
The totality of these new drawings illustrates Syre's journey through Greece step by step so the audience can almost smell the sea and feel the heat of the Mediterranean sun and experience, along with the artist, the magic of Greece.