It is thought that the crepe — the thin French flapjack now found the world over — originated in that country's Western half during the 13th Century. The word itself finds its origins from the Latin word "crispus," meaning curled or wrinkled.
You, however, probably don't care that much, right? I get it. We've all scrolled through a food blog to get to the actual online recipe we're searching for. So, let's get down to business. Bellingham doesn't have a lot of crepe places, but those it does have are certainly worth your time and tastebuds.
AB Crepes – 1311 Railroad Avenue
Providing a steady stream of sweet and savory crepes to downtown denizens since 2012, AB Crepes' extended evening hours make it a favorite among both the sober and the not-so-sober. If you have a random crepe hankering in a non-breakfast time frame, this is where you go to have it satisfied.
AB's crepes are sizeable and not paper-thin, meaning whatever crepe you choose will be fairly filling. The vibe here is also fun and friendly, featuring local artwork on the walls and a very foolhardy food challenge that only six pairs of people have completed among more than 350 attempts over the years.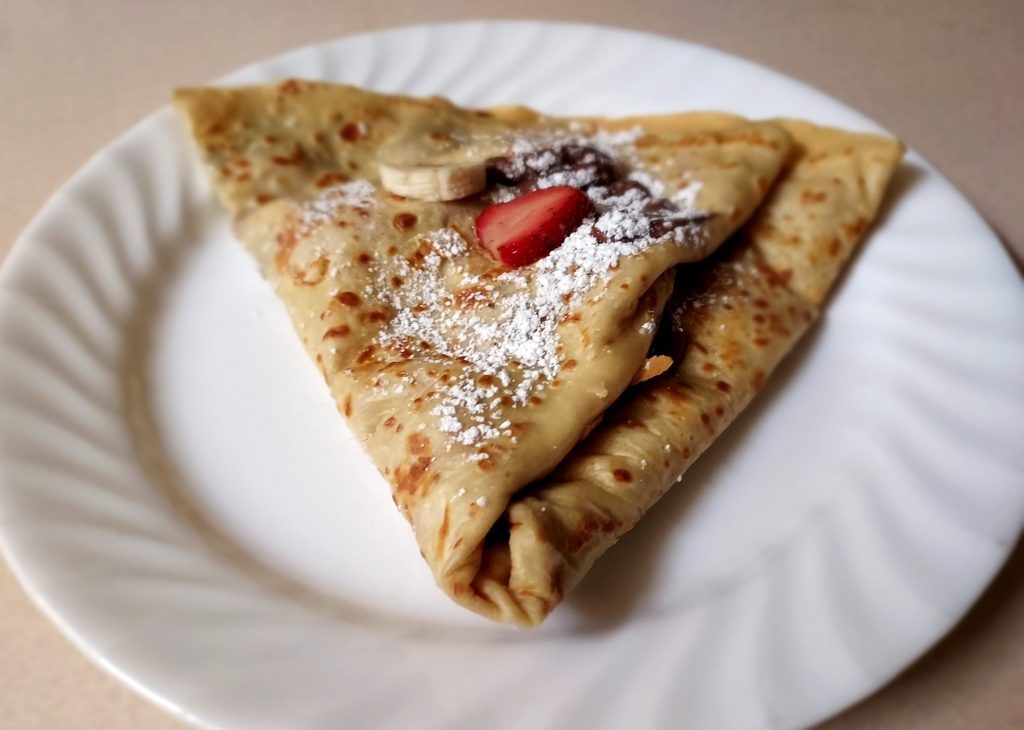 On the sweet side of things, AB is an especially great place if you wish to experience the psychological healing benefits of Nutella: multiple varieties of crepe feature the iconic chocolate hazelnut spread. My last visit there, on a cold winter night, saw me pick up a "Strawnana" — fresh cut strawberries and bananas wrapped in a warm, chocolate-covered crepe blanket.
AB also features dulce de leche, banana cream pie, and strawberry shortcake-inspired varieties, and once had a vanilla pudding-filled option called the "Vladimir Puddin." Some crepes also feature its classic "ABC 'auce," a homemade sauce comprised of cream cheese, vanilla, sugar, and cinnamon.
On the savory side, options include garlic chicken pesto, Hawaiian, the "Harvest Moon" — a crepe filled with butternut squash, sweet potato and onion in a balsamic reduction — and the "Crepe N' Daise" — a breakfast-inspired crepe topped with Hollandaise sauce.
Crepes here are also relatively inexpensive, in the $7 to $11 range, and paying in cash gets you a 4% discount.
Open seven days a week, 9 a.m. to 10 p.m.
Magdalena's Bistro and Crêperie – 1200 10th Street Suite 103
Tucked into a series of shops in the Fairhaven Village Inn building, Magdalena's is the place for a luxuriously flavorful, European crepe experience.
Courtesy of a Polish owner, Magdalena's features several authentic Polish recipes, including handmade pierogis, Paczki — a fruit spread-filled doughnut — and Polish-style soft crepes filled with ricotta cheese, various fresh fruits, and a topping of mascarpone cream cheese. The last time I visited here, my sweet crepe — folded into a non-traditional shape appearing similar to open-ended dumplings — combined strawberries and mango with those aforementioned sweet cheeses. It was delightful.
All told, Magdalena's has about a dozen sweet crepe varieties including the traditional Crepes Suzette. Their version is comprised of a fresh-squeezed orange juice reduction, Grand Marnier, and ice cream. For an extra dollar, any sweet crepe can be made with chocolate batter.
On the savory side, another dozen or so options exist, and patrons can choose between organic whole wheat flour and gluten-free buckwheat flour ($1 extra) for their crepes. Options include breakfast crepes featuring fillings like eggs, apple-smoked bacon, avocado, and Kenai-Red Alaska Coho smoked salmon, and other more lunch-suited varieties including house-roasted pork lion, Italian prosciutto and grilled seasonal vegetables.
My last savory crepe here, a crispy affair featuring Coho, eggs, artichoke lemon pesto, green onion, a mascarpone horseradish cream sauce, and a thorough topping of avocado, was terrific. It was thinner than other crepes I've had, meaning that if you're starving or splitting it, you might need some additional calories to feel full. But it doesn't lack for flavor.
While more expensive than other crepe shops in town, Magdalena's is a great stop for a fancy brunch, date night, or taste of Poland.
Open Wednesday through Sunday, 9 a.m. to 2 p.m.
Mount Bakery Café – 308 West Champion Street and 1217 Harris Avenue
A time-tested brunch spot known for its waffle-based benedicts, the Mount Bakery also cooks ups some great crepes at both its Fairhaven and downtown locations.
Its savory options are quite filling, as I found the last time I visited and ordered a turkey gouda crepe. Folded over just once like an omelet and thoroughly filled with ingredients, a Mount Bakery crepe is wonderfully crispy on the edges and sure to make your belly happy.
Varieties include a Monte Cristo crepe complete with nitrate-free ham and boysenberry preserves, a southern-style "Crepos Rancheros," and an Apple and Pear Crepe with fresh Bellewood Acres apples, brie, and pear butter. All savory crepes come with choice of side salad, soup, or roasted potatoes.
Sweet crepes feature a choice of either fresh fruit folded into a crepe topped with whipped cream and rich chocolate ganache, or a truly satisfying version of the Crepes Suzette — a French standard featuring two small crepes covered in an orange-based sweet sauce and topped with whipped cream. Frankly, you can't go wrong with either.
Both locations open seven days a week starting at 8 a.m. Fairhaven location closes at 2 p.m., with downtown closing at 3 p.m.