The best birdhouses this spring won't be found at the big-box stores — they're at the Whatcom Humane Society! WHS volunteers have been building and decorating birdhouses all winter to prepare for its virtual birdhouse auction to benefit the WHS Wildlife Rehabilitation Center. More than 100 birdhouses will be available for bidding; designs range from traditional to fabulously inventive.
This year's auction features an original piece by local artist Ben Mann, a frequent contributor to WHS events. "Doing good as I do well is surely a high point for me both personally and professionally—partnering my levity with WHS is a no-brainer," Ben says. "Between commercial art, fine art paintings, and whimsical signage, my art touches many surfaces. Similarly, WHS touches countless lives: animals wild and domestic, as well as the humans of all ages who treasure them."
Last year's auction raised over $20,000 for the Wildlife Center, which moved to a new location last summer on donated land with an existing lodge building. Most of the renovations and wildlife enclosures were built with volunteer labor.
The large site has enclosed aviaries, small pools for use by ducks, otters, and other wildlife, and specialized habitats for just about any critter in Whatcom County. Animals are cared for by workers in camouflage so as not to habituate them to interaction with humans.
One of the largest expenses faced by the Wildlife Center is caring for trumpeter swans, many of whom enter the facility in spring with lead poisoning. The primary medication used to treat lead exposure is specialized and very expensive. The birdhouse auction helps finance this, as well as treatment for all sick and injured wildlife in the county, all year round.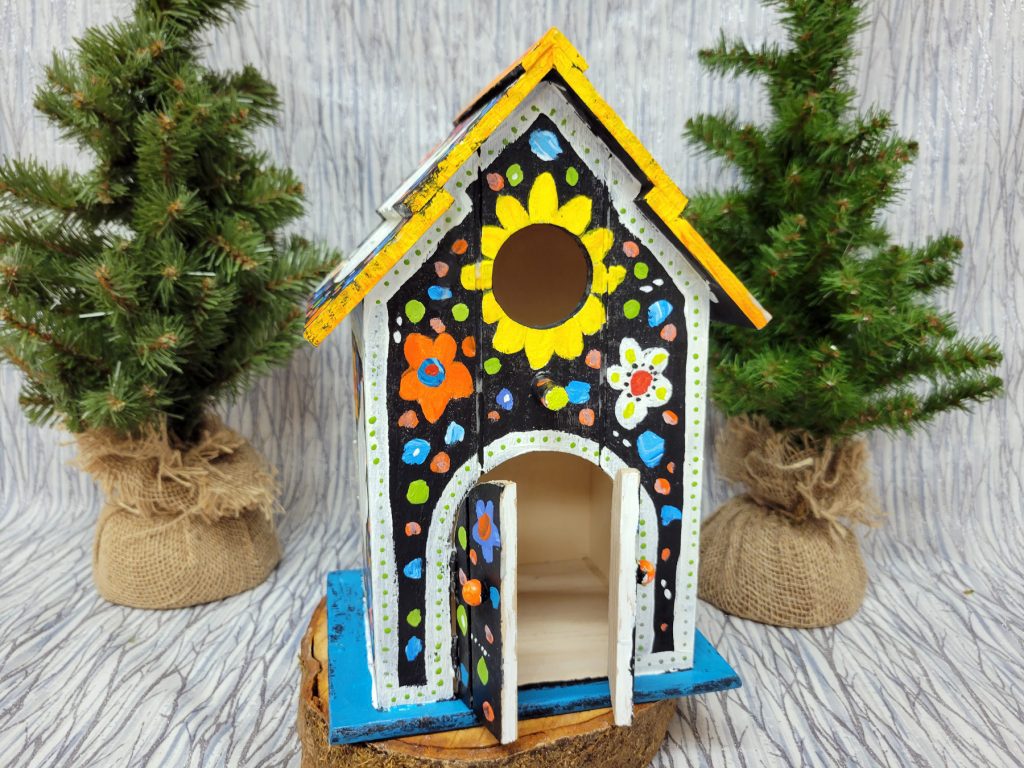 Common wildlife needs at the center include orphaned animals (coyotes, rabbits, possums, raccoons, and many birds), injured deer, and owls. In springtime, volunteers feed orphaned baby birds around the clock. The center has treated squirrels, otters, eagles, and skunks. They are prepared to help any animal or bird in need. Releasing healed animals back into the wild makes all their hard work worth it.
Expanding the Wildlife Center's capacity by moving to the new center has been expensive, and the pandemic has tightened the Whatcom Humane Society's budget all around. Many donors have not been able to contribute at their previous levels. The annual fundraiser gala has been virtual for two years in a row, and revenue has been reduced by not having the live raffles, games, photo booths, and drink sales. The birdhouse auction was introduced last year to help make up the shortfall, and was successful beyond all expectations.
For last year's auction, volunteer Cindy Partlow Whitney painted two adorable birdhouses, one with a barn theme and one that looks like a stone-trimmed cottage. "I have not really painted before, but I like anything creative and artsy," Whitney says. "I just wing it."
Volunteer Saralee Sky built and decorated her house. "I bought a kit from Etsy, and then added a few wooden flowers I had," says Saralee. "Then I painted it bright, happy colors."
Every birdhouse has a unique theme and story behind it.
Birdhouses will be on display at the WHS Thrift Shop (at Meridian and Bakerview, in the strip mall next to the Burlington Coat Factory) the weekends of March 18–20 and 25–27. You can also view the birdhouses online at the auction website. Online registration for the auction began on March 1 and new birdhouses will be added until March 10. Bidding for the auction opens the first day of spring, March 20, and closes March 31.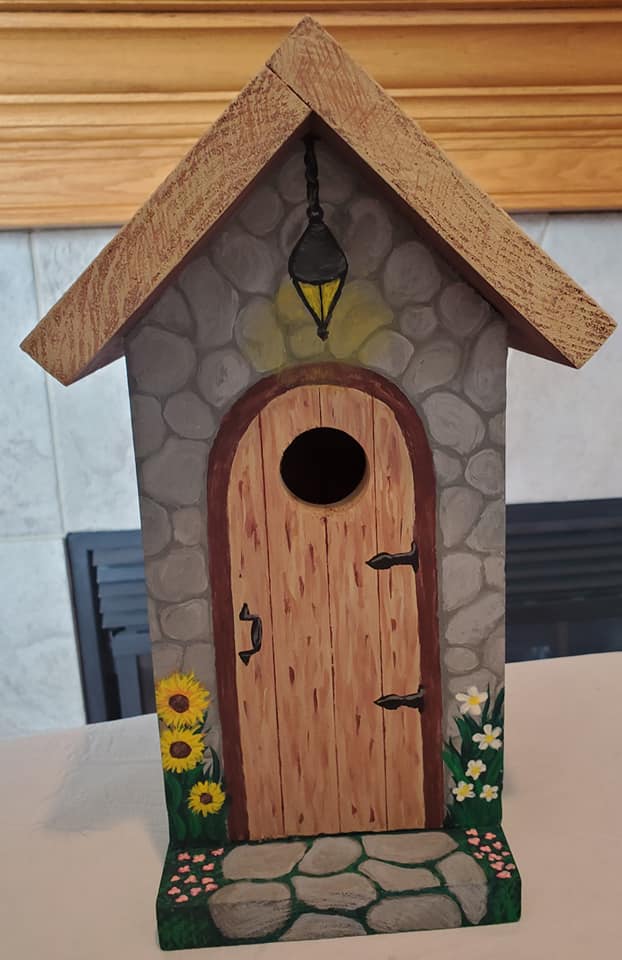 Winners can pick up their birdhouses at the shelter (2172 Division Street) April 7 through 9. Shipping is available for some items within the US only, at the winner's expense.
In a garden-rich place like Whatcom County, it can be hard to make your outdoor decor stand out from the crowd. A one-of-a-kind handmade birdhouse is just the thing — plus, you'll be helping Whatcom County wildlife to survive and thrive.