Over the last nearly 40 years, Bellingham has seen its share of doughnut shops come and go. But through it all, one humble shop—tucked into the corner of a small shopping plaza in the Whatcom Falls neighborhood—has held plain and glazed through thick and thin.
LaFeen's Family Pride Donuts, opened in 1984 by the LaFeen family, continues to crank out countless bear claws and Bismarcks. Since 1996, it has been owned and operated by Chan Samuth, a Cambodian immigrant who learned the ways of the doughnut trade in California.
"We don't do anything special, but we've just kept on going," says Samuth, 58, of LaFeen's longevity. "We're always there."
A Journey into Sweetness
The path to maintaining Bellingham's longest-running doughnut shop began far away and long ago for Samuth.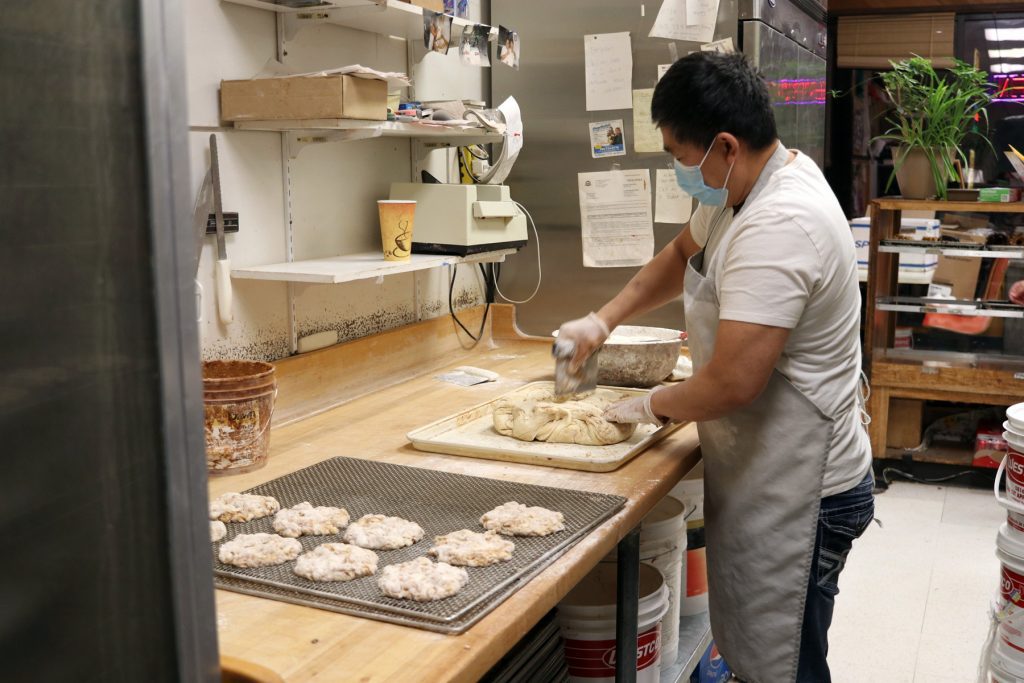 In 1975, the despotic regime known as the Khmer Rouge came to power in Cambodia, beginning an authoritarian rule that would ultimately result in the genocide of an estimated 2 million Cambodians. That year, Samuth's family decided to leave Cambodia, fleeing on foot into Thailand.
The following year, a 12-year-old Samuth found himself in Minneapolis, Minnesota, a place his parents found a bit too cold to raise their family. They moved several more times, to Puyallup, Washington, and Beaverton, Oregon.
After graduating from high school, Chan moved to California. His eventual foray into fried dough was inspired by Ted Ngoy, a Cambodian refugee who built a multi-million doughnut empire in California and became known as the "Donut King."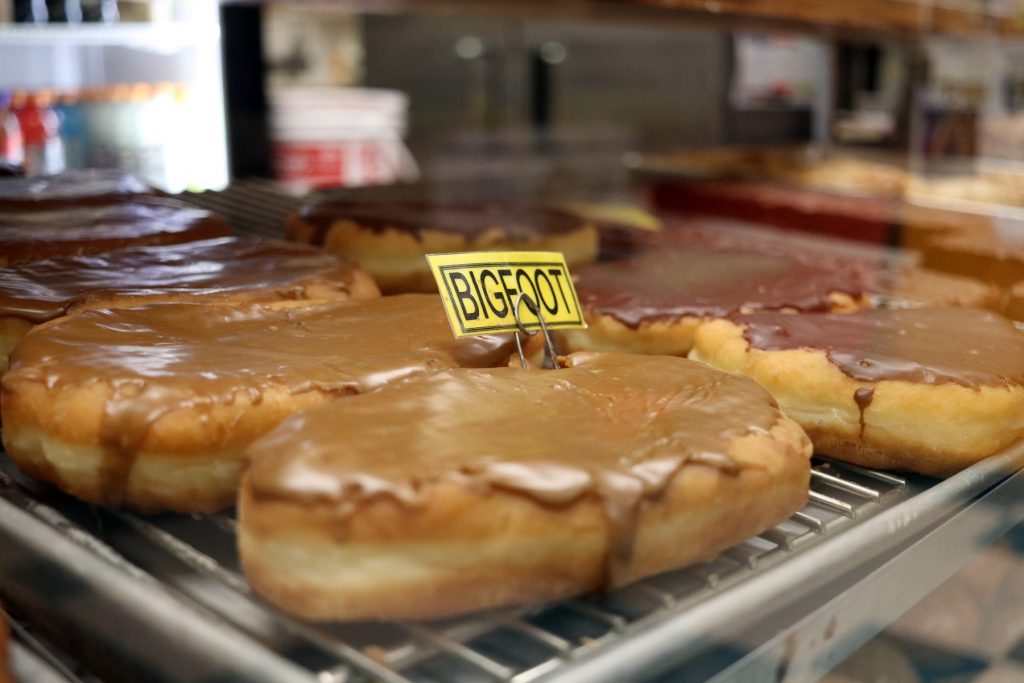 Samuth operated a doughnut business for about five years in the Golden State. While going through a divorce in the mid-1990s, one of Samuth's brothers, then living in Lynnwood, Washington, saw that LaFeen's was for sale and convinced him to move to Bellingham and buy the shop.
Early on, there were setbacks: the eatery was robbed several times in 1997, but Samuth says the crimes actually raised the shop's profile and increased its local support.
Over the years, LaFeen's has remained a city staple. Untold numbers of children and adults have flocked here, at all hours and in all seasons, for legendarily large pinwheel turnovers, fruit-filled fritters, and the footprint-shaped buttermilk bar better known as a "Bigfoot."
Things That Go 'Yum' in the Night
Besides tasty treats, one thing that may explain LaFeen's long-standing community presence is the fact it always seems to be open.
In fact, LaFeen's is open every day of the year except for about four days at Thanksgiving and another 9 or 10 around Christmas, Samuth says. Its doors are unlocked around 6 a.m., and aren't locked again until 10 p.m. most days—and 11 p.m. on weekends.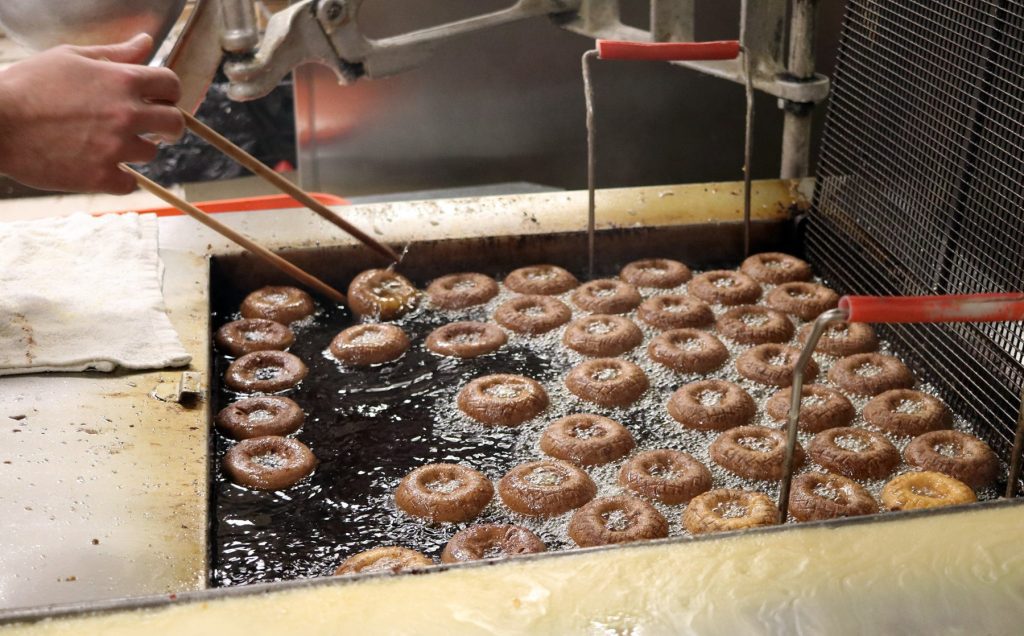 LaFeen's has remained open during snowstorms, and even during power outages, Samuth says. No matter how dismal the weather, if a craving remains and a body is willing, nobody will be denied their doghnuts.
Unlike many doughnut shops, which typically operate on an 'early to rise' schedule of baking fresh pastries in the hours before dawn, Samuth comes in every day around 5 p.m. to make his doughnuts. With help from several of his nine employees, some of whom are high schoolers gaining valuable job experience, Samuth makes doughnuts until about midnight, provided nothing goes wrong.
He strives for consistency in his products, he says, and no—he never really gets tired of making them.
"I didn't like it when I was younger," he says. "Now that I'm older, it's not so bad."
An ardent coffee drinker, Samuth says he has at least one doughnut every day. His choice depends on his mood, but often favors apple fritters, turnovers, or raspberry bear claws. Having remarried, his two children, ages 7 and 10, prefer the classic sprinkled cake doughnut.
LaFeen's goes through several hundred pounds of dough daily, says Devin Sluys, one of LaFeen's long-time employees. And despite the doubling of prices for essential ingredients in the last year due to pandemic and supply chain issues, LaFeen's still pumps out an estimated 2,000 doughnuts a day. From Wednesday through Sunday, they usually sell out.
Samuth's brother—the one who convinced him to buy LaFeen's a quarter-century ago—also owns and operates a second LaFeen's shop in Burlington, which opened about eight years ago.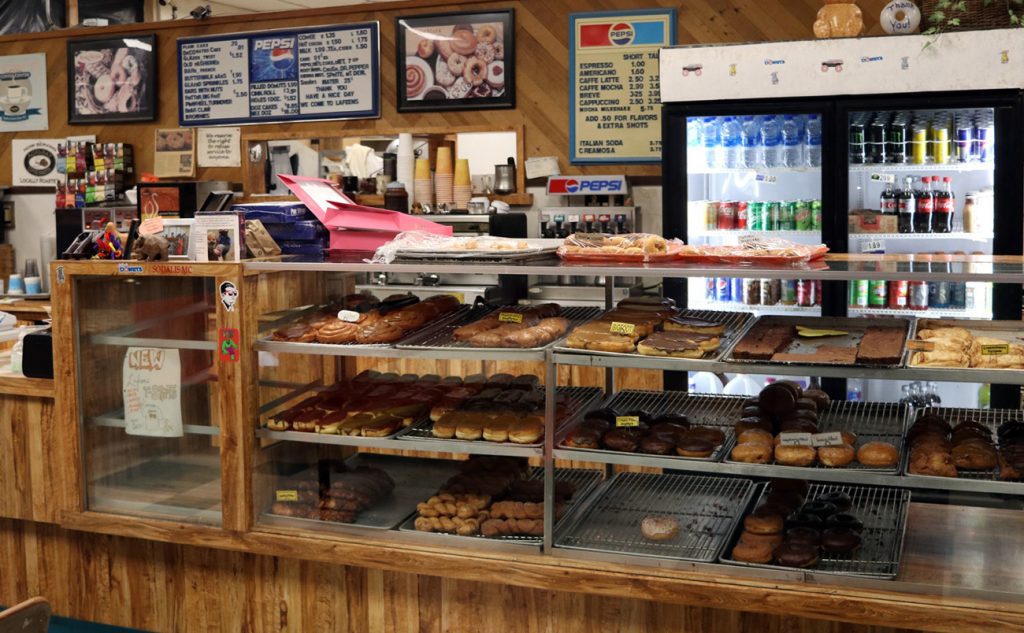 Although LaFeen's may lack the novelty of Portland's Voodoo Doughnut or the high-profile branding of a Krispy Kreme, it is perhaps the quintessential doughnut shop for a city that bills itself as being full of subdued excitement.
Like the constancy of the seasons or the ocean tides, you can count on LaFeen's to offer up a sweet respite from the chaos of a bad or busy day. Samuth knows his customers have come to expect it.
And he doesn't take it for granted.
"I feel very lucky," he says. "Our customers—they're very nice. Very generous. It's just a beautiful community."