At the best of times in sports, a group of individuals comes together and creates something special. It takes a combination of ability, effort, and camaraderie for all the pieces to work harmoniously. When lightning strikes, the result is most likely wins and eventual championships. This was the case for the young group of runners at Squalicum High School last year, and they're putting in the work to repeat that success this season.
The Squalicum Boys Cross Country team won last year's 2A state title — for the first time in school history — with a group primarily made up of sophomores. And they did so by sticking together. The top five runners (which are what score for a cross country team) finished within nine seconds of each other, with finishes ranging from 12th to 21st. Their finishing order was sophomore Owen Voigt, sophomore Tyler Nielson, sophomore Evan Rush, senior Benjamin Latta, and sophomore Chase Bartlett. Their sixth runner, Gabriel Salomon, a junior, was a mere 19 seconds behind Bartlett. This combination of young, clustered speed not only got them the championship but left onlookers excited to see what the future will bring.
To learn more about this group of runners looking to bring additional hardware back to Bellingham, I chatted with junior Tyler Nielson about how the team got to this point and where they hope to go.
Like many runners, Nielson and many of his teammates' first exposure to cross country came in middle school, where the sport is as much about having fun and learning to pace yourself as it is about race results. This is when the bond between teammates formed, and the love for the sport blossomed.
In high school, more teammates came together, creating the situation they're in today. "The coaches they're really good. They really do a lot for us," says Nielsen. "These guys on the team are really hard workers, and we really go after meets and give it our all. We just work as a team really well, which is really nice."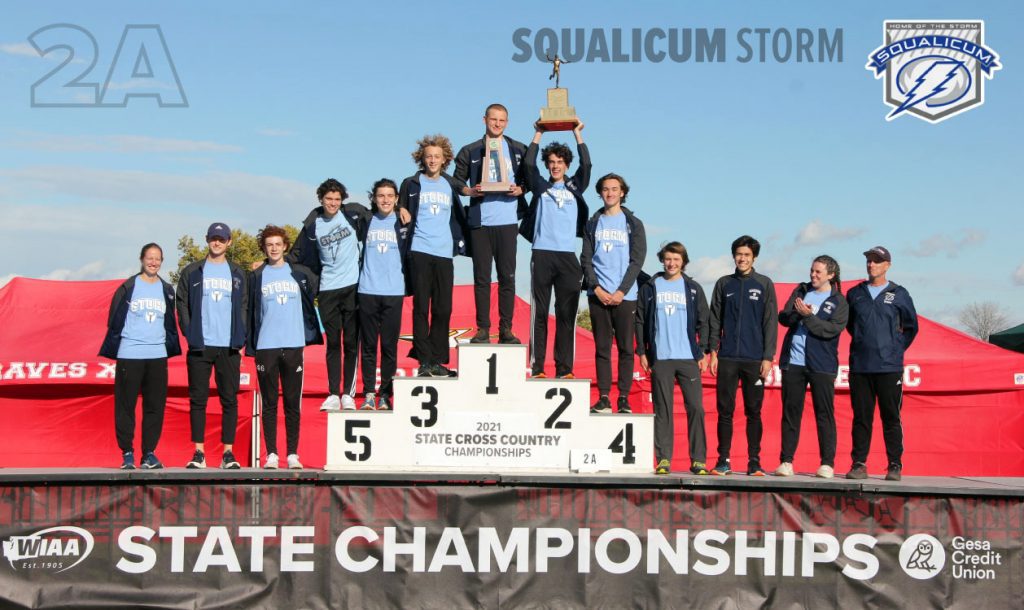 This hard work doesn't just occur during the season, which runs from late August into early November. Many of the team's approximately 40 athletes show up to optional summer practices to be prepared for the season. In a sport that starts off under the hot summer sun and finishes in the sideways rain of fall, it takes grit and determination to push through the sport's physical and mental obstacles.
In what is often viewed as an individual sport, the Squalicum runners understand the importance of a team both for score and motivation. "Low score wins, so all five really, really matter," Nielson says. "If we can have all of us together and just push each other through the race and just be there, it can help pull people along and make sure we all get the fastest times that we can."
Fast times is what each individual is aiming for, which, if pulled off by everyone, will lead to continued success for the 2022 season. With times in the high 16:00s last season, the runners are looking to drop their times into the low 16:00s to high 15:00s, which would place many of the scoring runners in the top 10 and collectively drop their team score. Nielsen and his teammates are putting in the work and setting lofty goals because they know there are a lot of talented runners this season eyeing their top spot from last year.
In their most recent meet at Hovander Park against Ferndale and Sedro-Woolley, Squalicum won the meet by having their scoring five finish first, second, third, fourth, and sixth. Evan Rush finished in a time of 16:27, Chase Bartlett in 16:39, Tyler Nielsen in 16:48, Owen Voigt in 17:13, and Wesley Sluys in 17:50.
The team races weekly from now until November 5th, when they hope to be peaking just in time for the state championship in Pasco. The City Meet, where Squalicum, Bellingham, and Sehome all face off, takes place on September 28th at Lake Padden. Their full schedule and results can be viewed here.
While right now the team is focused on having a successful cross country season, they will be off and running again next spring when the track season begins. This group of distance runners hopes to combine their efforts with the likes of Andre Korbmacher and the rest of the Squalicum track team to succeed at the state level.