Lydia Place is well known in Whatcom County as one of the major forces fighting against homelessness and promoting strong families. Thanks to a long-standing relationship with Puget Sound Energy and the PSE Foundation, they have recently been able to complete the Heart House, a meaningful step forward for an organization already recognized for its consistent growth.
Over her years of involvement, Tally Rabatin has witnessed a lot of that expansion, and is in a great position to share the Lydia Place story. "I was a board member and a volunteer previous to that, so my relationship to Lydia Place is over a decade long, and now I've been on staff as the community engagement director for four years," she says.
October of 2022 marks 33 years of Lydia Place's service and offers Rabatin a chance to reflect on how much has changed and how much has remained the same.
"We started as one communal living house, and now we've grown to four different campuses where we house families and individuals experiencing homelessness. We still follow the same Housing First model, but our three decades of experience have taught us that housing is just the first step," she says. "Families need wrap-around services, including mental health and parent skill building, so Lydia Place now staffs our own mental health clinicians that work with the children as well as the adults in our program."
The vision sounds simple, but the work is complex enough that they need the support of some powerful friends. "Our ultimate goal is that the kiddos in our programs today, who number over 300, will be the last in their family to either experience homelessness or housing insecurity," says Rabatin. "We rely on partners like PSE Foundation to help us expand. They walk alongside us to make sure that families in this community have the resources they need."
The latest project to benefit from the PSE Foundation's investment is a facility that greatly expands the services offered by Lydia Place. "We just completed Heart House, which is our first mixed-service property," Rabatin says. "It brings 11 one- and two-bedroom units for families with children, and within that same apartment building we have a childcare partnership with the YMCA. It's unique to us, and something we're really excited about, because it responds to a major crisis happening to our community: housing and childcare."
Lydia Place has 24 units across their campuses and provides housing support to more the 250 families across the community. They are working with Bellingham Housing Authority, private landlords, and private property managers to satisfy the housing needs of all of those families. And while there are still more families that can use help, they continue to partner with teammates like the PSE Foundation. "It goes beyond dollars," says Rabatin. "It's also about advocacy and work. Their people are incredible and we're so grateful to have them working with us."
Lydia Place partnered with the PSE Foundation and works directly with PSE's local Senior Community Engagement Representative Liz Purdy, who brings a decade of nonprofit experience. She also served a brief stint with the City of Bellingham, helping distribute funds meant to fight the effects COVID was having on the community. "I got the chance to get some of the CARES grants out," she says. "There was a really fantastic collaborative effort, with so many different local entities, to make that happen."
The PSE Foundation operates independently of Puget Sound Energy. It was created in 2006 after a $15 million endowment was received from the proceeds of Puget Energy's sale of InfrastruX Group, an unregulated subsidiary. None of the PSE Foundation's funds will ever come from PSE's utility customer rates. Since its inception, it has been charged with the mandate to empower communities.
"We're always trying to find ways that PSE or our Foundation can solve local community needs, whether that is energy-specific, or even more creative than that," says Purdy. "Lydia Place is a great example; we know that homelessness and the housing crisis is an issue in Whatcom County, along with childcare."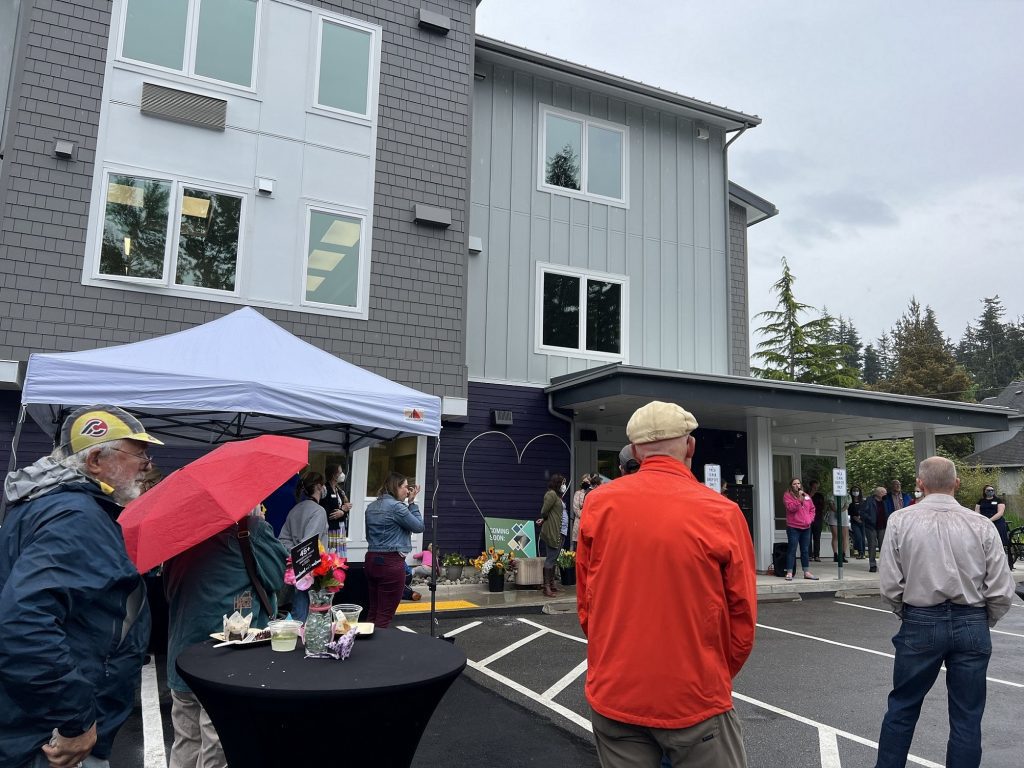 Purdy sees the Heart House as uniquely positioned to address those concerns — and that PSE and PSE Foundation can help.
"If we're talking about projects that meet community needs, like permanent affordable housing with childcare, and then being able to put a solar array on top of that, you're addressing three huge areas of need in our community in one building," she says. "A partnership like that is exactly the type of thing we want to see over and over again."
Rabatin is happy to see the relationship continue, and to serve even more of the population. "I think we have a unique opportunity in this community," she says. "If we unite, we have options. We're not too big to put families first, so our hope is that the community continues to rally."
Sponsored