At the time of this writing, Andre Korbmacher is ranked the number one men's high school 60-meter hurdler in the world. You read that correctly: Korbmacher, a junior at Squalicum High School, is currently the fastest high school athlete in the world at running the 60-meter hurdles. And there were no judges or panels helping to make this determination — it was just Korbmacher, the other racers, and the clock.
The New Balance National Indoors meet took place March 11th-13th at The Armory in New York City. The top-ranked high school athletes from around the country came together so the best of the best could compete against each other on the brightest stage.
In the finals race, which can be viewed here, Korbmacher stands out with his bright pink hair. Lining up next to the nation's top 60-meter hurdlers — many of them seniors — he didn't let the moment overtake him. "With hurdles, anything can happen, but I put a lot of trust in my training," Korbmacher says. "I know what my coaches taught me and how to apply it when I run. I can keep my stress level pretty low so that I just get out and perform."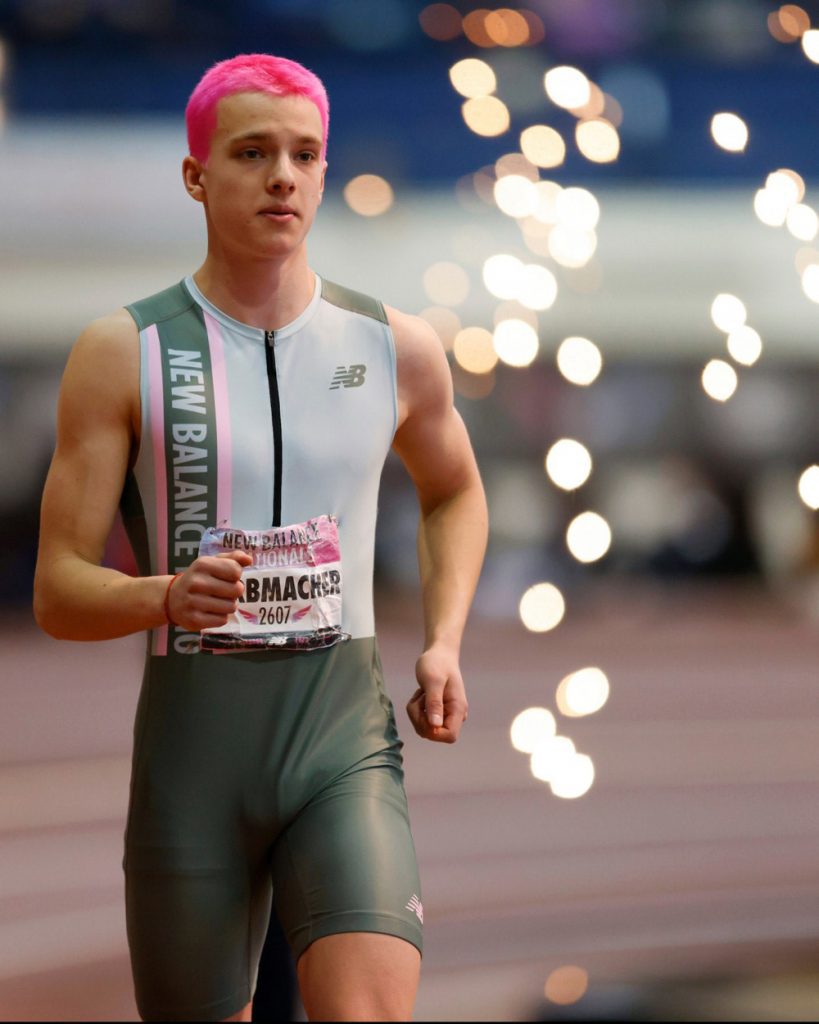 Korbmacher led the field to the finish line, securing his top spot in the race and, with a time of 7.70 seconds, the fastest high school time in the world for 2022. For a frame of reference, that time would have put Korbmacher in 6th place in the NCAA men's collegiate championship final, which took place a few days before.
Korbmacher was first exposed to track in 5th grade at the All City Track Meet, organized by Bellingham elementary schools at Civic Field. "I didn't win, but I loved it and stuck with it," says Korbmacher.
In addition to running track in middle school and now in high school, he also runs club track through Ready-Set-Go Sprinters. There is no offseason; there's outdoor season through school, indoor season through club, and regular training. Track is a five-to-six-days-a-week endeavor, depending on when meets are held.
Korbmacher is trained by Coaches Dena and Laurent Birade through Ready-Set-Go. His hurdle coach at Squalicum High School is Molly House, who ran track at Western Washington University.
Training for hurdles involves speed training, sprint endurance training, technique, and weight training. "My favorite workout is pretty much anything to do with hurdles because I love it, but then once we get into sprint endurance and we're running 300 repeats…" Korbmacher trails off as he thinks about the brutal workout.
With the high school outdoor track season in full swing, Korbmacher has turned his attention to the 300-meter and 110-meter hurdles. His goal for 300-meter hurdles is to run sub 40 seconds, which he thinks could get him on the podium at state. For the 110-meter hurdles, his goal is first place at the state meet and a state record. The current record is 13.86 seconds and Korbmacher's target is 13.7 seconds.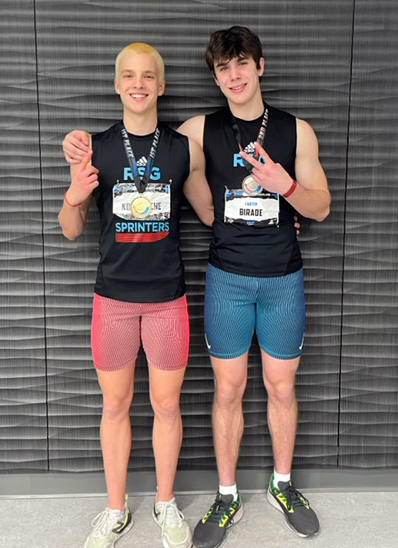 While Korbmacher is living in the now, focused on each race and training session, he's also looking towards his future and wants track, specifically hurdles, to be a big part of that. With race results that can't go unnoticed and a GPA of 3.7, Korbmacher is already in discussions with multiple universities, including the University of Washington, University of Tennessee, University of Southern California, Purdue University, and the Air Force Academy.
Korbmacher is interested in studying sports medicine to do all he can to make hurdles a part of his life for as long as possible. He wants to continue to perform on the track, competing at the highest levels by running in college, the pros, and — if all goes according to plan — the Olympics.
He gives a lot of credit to his coaches, who believed in him and helped elevate his racing to where it is today. Korbmacher hopes to one day find himself in a coaching position, helping other track athletes reach their goals.
Korbmacher knows he couldn't have reached this point on his own and says he's grateful to have had so many people around him who believe in him, including his parents, Heather and Arnold Korbmacher, who support him in pursuit of his dreams.
Korbmacher — not one to hide in the crowd — says he'll have some new hair colors on full display at upcoming meets. Tune into the Arcadia Invitational, which takes place April 8th-9th, and the Washington Outdoor State Championship meet May 28th-30th to watch Korbmacher on his quest for records and titles.
Andre and his RSG relay team at an invitational in Spokane this past January. Photo courtesy: Dena Birade

Heavy snow doesn't mean training gets to wait. Photo courtesy: Heather Korbmacher

Andre poses with his coach Laurent Birade after an event in 8th grade. Photo courtesy: Heather Korbmacher

Andre (center), coaches Dena Birade (left), and Laurent Birade (right) along with teammates at an invitational during Andre's 8th grade year. Photo courtesy: Heather Korbmacher