Submitted by Whatcom Transportation Authority
Imagine if your commute to work or school could provide not only an alternative to driving but did so in a vehicle that produced less noise and zero emissions. This is the future of transportation that Whatcom Transportation Authority (WTA) hopes to make a reality for all of our riders.
Whatcom Transportation Authority is excited to announce that we have received an $8.86 million Federal grant through the U.S. Department of Transportation's Federal Transit Administration's Low or No Emission (Low-No) Vehicle Program to purchase eight new electric buses and related charging facilities. WTA's competitive grant application was one of 150 to receive funding, out of 530 eligible project proposals from throughout the country.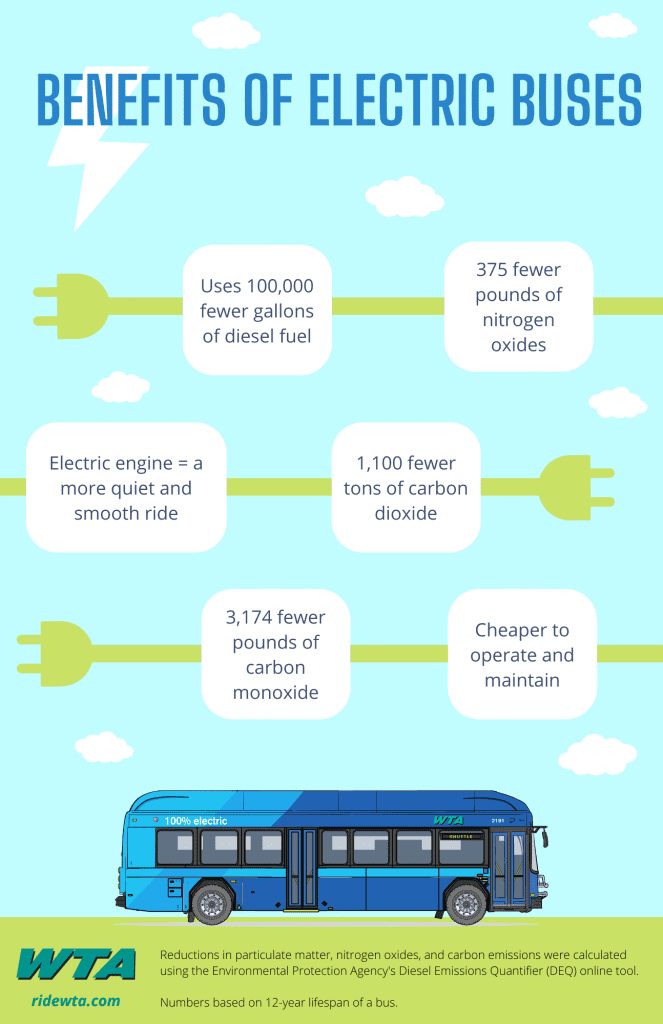 Funded by the President's Bipartisan Infrastructure Law, this grant is part of $1.6 billion awarded to transit agencies across the country to invest in low- and no-emission transportation. This year's funding alone will nearly double the number of no-emission buses on America's roadways.
"When a transit door opens, whether it is a bus, train, or ferry, it is a great equalizer for everyone in our nation," said FTA Administrator Nuria Fernandez in a press release. "With this tremendous amount of funding, the President's Bipartisan Infrastructure Law gives more Americans access to the opportunities that transit creates, more often, in more places. These investments also help us meet our goals of cutting transportation emissions, creating good-paying American manufacturing jobs, and helping America's transit workers prepare for new vehicle technology."
Compared to a standard diesel bus, one electric bus will reduce harmful emissions over its 12-year life on the road by roughly:
100,000 gallons of diesel fuel
1,100 tons of Carbon Dioxide (direct carbon emissions)
375 pounds of Nitrogen Oxides
30 pounds of Fine Particulate Matter
3,174 pounds of Carbon Monoxide
In 2021, WTA received its first two electric buses, our first step towards a zero-emission fleet. An order of two more electric buses is currently being fulfilled and will enter service in Winter 2023. WTA will receive the eight new electric buses funded by the Low-No Grant in 2024, bringing our electric bus fleet to 12, out of a total of 62 buses.
WTA aims to convert to 100% zero-emission vehicles no later than 2040, as highlighted in WTA's long-range plan, WTA 2040. The three priorities of WTA 2040 include equity, efficiency, and environment, and act as pillars for intentional growth and planning over the next 20 years. Additionally, the long-range plan aligns with the broader City of Bellingham Climate Protection Action Plan, which seeks to reduce emissions within Bellingham city limits by 40% in 2030.
"This is great news for Whatcom County," said U.S. Representative Rick Larsen, a senior member of the Transportation and Infrastructure Committee, in a press release. "These critical resources enable WTA to continue to expand its electric bus fleet to reduce carbon emissions and maintenance costs while ensuring a reliable and sustainable transportation option for all."
Within Whatcom County, the Lummi Indian Business Council also secured $1.87 million in Federal grant funding to build a new operations and maintenance facility to improve connections to jobs, schools, healthcare and off-reservation services.
Find a link to all projects funded here.
WTA was supported in our grant request by: U.S. Representatives Larsen and DelBene, U.S. Senator Patty Murray, the City of Bellingham, Whatcom County, Whatcom Council of Governments, Western, NW Clean Air Agency, and the Chuckanut Health Foundation.