On June 25, 1920, little Katherine Korthauer was celebrating her birthday with friends when disaster struck. As the Bellingham Herald later reported, "the milk of human kindness turned to ice cream" when "prowling boys swiped" the party's ice cream. News of the theft reached Bellingham post office clerks and carriers celebrating their annual picnic at nearby Fairhaven Park. Feeling sorry for Katherine and her friends, they carried over enough ice cream for all to the grateful kids.
As this story shows, ice cream was a favorite food in early 20th century Bellingham. While ice cream is now easily available at every grocery store and ice cream specialty shop, it was much harder to get back then. Though ice cream has a long history, advances in refrigeration made it more available and affordable.
"Hot weather is with us," the Bellingham Herald wrote on August 4, 1921. "Ice cream is not a luxury but has good food value as well as a cooling effect."
Someone could find the delightful treat at area ice cream parlors and soda fountains, which were in their heyday during this time. Many pharmacies had attached soda fountains, which often made more money from ice cream and soda pop concoctions than from medicine. According to a Collins & Co. Drug Store ad in the August 4, 1911 issue of the Bellingham Herald, for five cents customers could buy an ice cream soda made with a big scoop of any flavor from the Ford Creamery Company and "crystal pure water, filtered twice, carbonated and left in refrigerator tanks."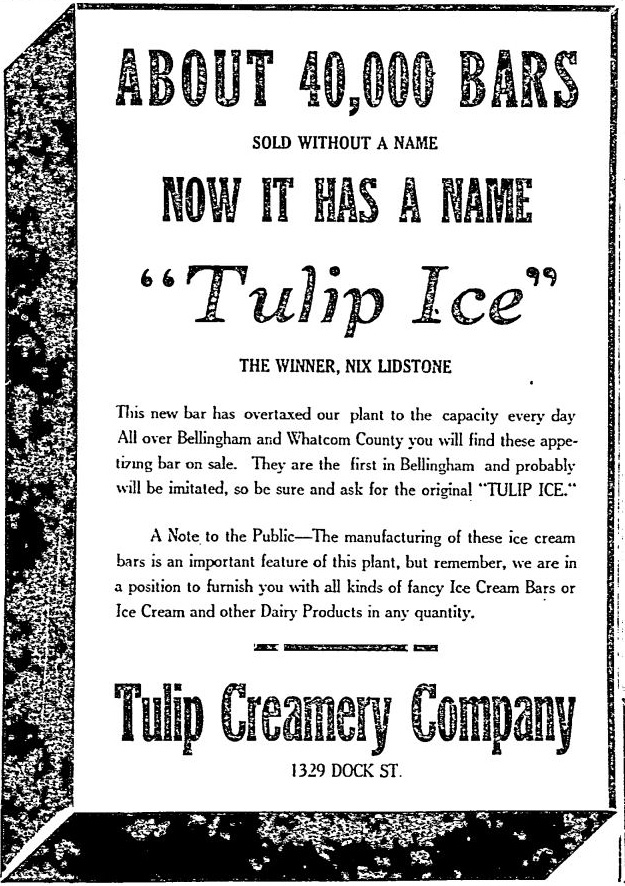 As for ice cream parlors, people could find Silver Beach and the Artic next to the entrance to Silver Beach amusement park in 1907 or try an ice cream soda at Engberg's ("You know the kind we serve," read a cryptic Bellingham Herald ad from April 16, 1904).
If you wanted to bring ice cream home rather than eating it out, you could purchase ice cream directly from local dairies and creameries (and a few grocery stores). Making ice cream was big business for local dairy producers. The Royal Dairy (on Champion Street) boasted to the Bellingham Herald on April 9, 1911, that it could produce 60 gallons of the frosty dessert in an hour.
But to sell their ice cream, these businesses needed to reassure customers their products were safe, as concerns over food safety grew while regulations remained limited. "The word quality is stamped on every particle of ice cream that leaves this dairy," promised the Royal Dairy in a Bellingham Herald ad that ran on April 9, 1911.
Ice Cream was not the only product available at these dairies. The Ideal Dairy (at the corner of Holly and Prospect Streets), for example, also sold a wide variety of other dairy products including cheese, cream, butter, cream cheese, Limburger cheese, milk, buttermilk, and cottage cheese, as well as eggs, cakes, cookies, candy, pies, and fresh fruit in season. Their ice cream cost five cents per dish "cafeteria style," 15 cents per pint, and a quarter a quart according to an October 31, 1913, advertisement in the Bellingham Herald.
Perhaps the most convenient way to buy ice cream (including ice cream cones) was from peddlers. The industry took a blow in the summer of 1909 when the city passed an ordinance forbidding peddlers from loudly advertising their wares. But as the Bellingham Herald reported on July 5, a man named John Cissna was able to get around this new ordinance by naming the horse that drove his delivery wagon "Ice Cream and Buttermilk." There was no law, after all, against someone directing their horse by name.
If you felt creative in the early 20th century, you could try making your own ice cream with a hand-cranked ice cream freezer, which retailed for two dollars at The Jenkins-Boys Co. according to a July 2, 1921 ad.
The Bellingham Herald published a number of recipes for different flavored ice creams. Perhaps the most unusual recipe was for "brown bread ice cream," published on December 15, 1922, that suggested mixing brown breadcrumbs into the ice cream. Recommended "oddities on ice cream" from the Bellingham Herald on September 23, 1905, even included topping it with popcorn.
Wherever you got your ice cream, it was a popular thing to serve at picnics and events. "Coffee, punch, and ice cream were as free as water" the Bellingham Herald wrote of a July 31, 1918, Puget Sound Traction, Light and Power Company employee picnic at Fairhaven Park where over a thousand people scarfed down 125 gallons of ice cream.
Groups could also use ice cream to raise money for charity. In July 1913, the Whatcom Falls Park Club held an "ice cream boosters picnic" at the park to raise money to buy more land along the creek in. York's band played while the public enjoyed ice cream all afternoon and evening.
How we get ice cream today has become far more convenient than during the early 20th century — and there are now many more choices for people with dietary restrictions. There's no question that ice cream remains a popular treat. From grocery stores and ice cream shops to creations made in our own kitchens with new-fangled appliances, Bellingham's love of ice cream continues on through summer and, truly, all the seasons of the year.