Mother Nature loves toying with our emotions in our corner of the world. Warm temperatures last year lingered into November, followed by a brutal winter. Sunny warm days in March teased an early spring, only to unfold into a dreary April. After months of either hiding away or getting pounded when I went outside, I can't wait for some spring camping. Waterways are full of rushing water, plants show off their elaborate colors, and animals put on a show as they work to fill their bellies after a long winter.
It's easy to head out in the summer knowing that, even if hit by a rainstorm, temperatures won't dip to dangerously low levels. In the winter, you can bet on being cold and prepare accordingly. Spring is a different beast. To prepare for comfort and safety in the spring, I load up all my camping totes because it's hard to know what the weather will be like 15 minutes from now, let alone tomorrow. In the lowlands, rain and hail seem just as likely as sunny t-shirt weather and are often separated by minutes — if not occurring simultaneously. In the mountains, surprise snow is not uncommon.
To add an element of control this time of year, my family and I often start the season by camping in familiar places. If we're going to head up into the mountains, Bridge Campground is one of our favorites for its close proximity and relatively easy access. Coastal camping is a great option this time of year as often the socked-in mountains leave clear skies along the water. Birch Bay, Larrabee, Bay View, Deception Pass, and Fort Ebey are all coastal state parks. Don't forget your Washington State Discover Pass, which is required in all state parks.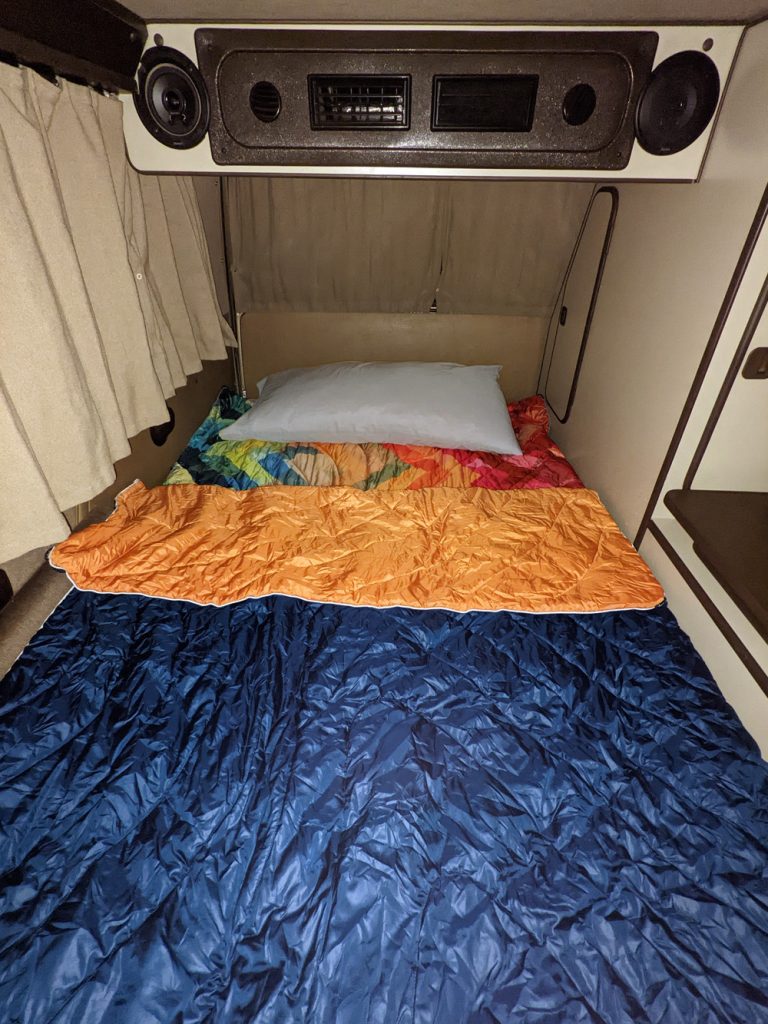 If tent camping, be sure your rainfly is in good working order. If you're in a van or some other type of camper, staying dry shouldn't be an issue (if it is, you may have a more significant problem on your hand!), but you still need to make sure to keep warm. Layers that are breathable but water-resistant are perfect for spring. However, I admit I'm more often than not caught in the rain wearing a cotton sweatshirt. The next must-have piece is a good sleeping bag or proper blankets. Rumple Blankets have served us well, whether used for bedding or wrapped around our body while hanging out in a camping chair with a good book or your favorite WhatcomTalk article.
We do most of our camping in our Four Wheel Camper Project M, which is a no-frills pop-up camper on the back of our truck. While it does keep us dry, there's no heating component. To solve this problem on cold spring nights, we bring along our Little Buddy propane heater, which heats the space quickly, but because of off-gassing, we do not sleep with it running, which results in chilly mornings. Some of the spaces at the state parks offer hookups that allow for an electric heater option.
A favorite part of spring camping is hanging out around the campfire. With a low likelihood of a burn ban being in effect, fires will be permitted at most locations, providing warmth and a great cooking option. From hot dog roasting sticks that look like fishing poles to grates that collapse down to fit into a backpack, there are a plethora of options for cooking efficiently over the open flames.
We often cook over the fire but also always have our Coleman camp stove and Jet Boil in tow. With the two-burner stove, a complete meal is easy to prepare, and the Jet Boil makes it a breeze to heat water for some pour-over coffee or cook a freeze-dried meal. We always keep a few freeze-dried meals handy for an easy meal to address a hunger emergency — or laziness. My personal favorite is the Mountain House chicken teriyaki; my daughter prefers the beef stroganoff.
While camping light is always our goal, during spring trips, we find ourselves loaded down with extra gear to make it more enjoyable. We have a simple pop-up tent to extend our dry area in case of wet weather. We bring along dry firewood and extra lights since dark comes much quicker now than in the summer months.
While the weather can be a challenge, spring camping is a great time to enjoy popular camp spots without a crowd. Camping has seen a boom in the last few years, leading to fully booked sites and lots of people out and about to share the outdoors with. So, if you want a little more elbow room and access to the best spots, brave the weather and head out on some spring camping.