Watching David Bennett work his craft of bladesmithing is like stepping back in time. Using steel, heat, and, as Bennett describes, an "oversized right arm," he forms functional art. Standing close to the action, you can feel the intensity of the forge, smell the process of the metal softening, and hear the steel giving way as Bennett pounds the over 2,000 degrees Fahrenheit billet. Sparks fly with each strike as Bennett methodically and powerfully begins the process of creating a Damascus knife by hand.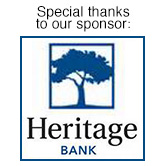 Bennett started his business, North Border Blades, eight months ago after retiring from a 20-year career doing intel for the Navy. Forging blades began as a hobby three years prior, and his passion for the trade continued to grow. He created an Instagram page and began taking orders. "I just like making knives," Bennett says. "I absolutely love going to work every day, which is not something most people get to say."
His small workspace is filled with tools that facilitate making knives that take a combination of science and art to pull off. One can easily get lost in the sound of his hand-made forge whirring and its orange glow. The anvil, forced to take all of Bennett's blows, tells a story of every blade formed with its nicks and scratches.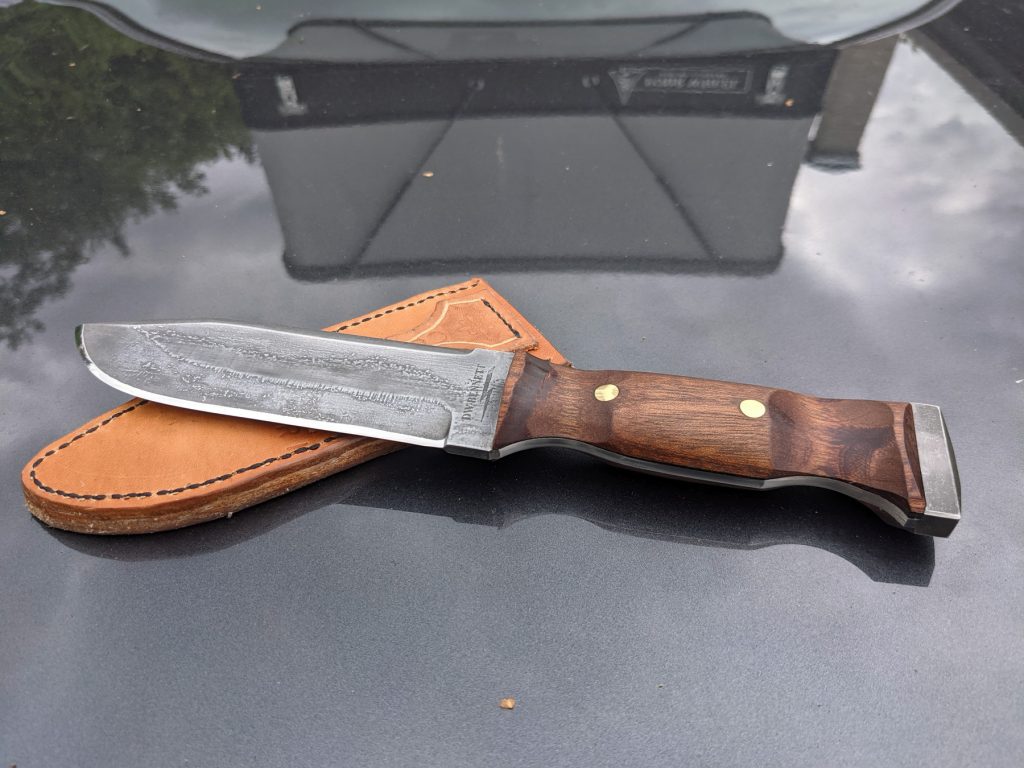 While Bennett loves that he is practicing one of the oldest trades in the world, he is not crazy and has brought in some modern tools to accompany the ancient. His grinder, which he built himself, is used for sharpening and, at times, shaping blades and handles. He also has a modern kiln to heat a blade to a precise temperature for heat treating, the process in which the steel becomes hardened.
Bennett first became interested in blades at age 11. Growing up in rural Whatcom County, he spent his days outside running through the woods and playing on the North Fork of the Nooksack River. Slashing brush and sharpening sticks were a part of each day's adventure, held back only by his imagination. By night, as an avid reader of fantasy books, Bennett would see the blades in the stories come to life through the authors' words.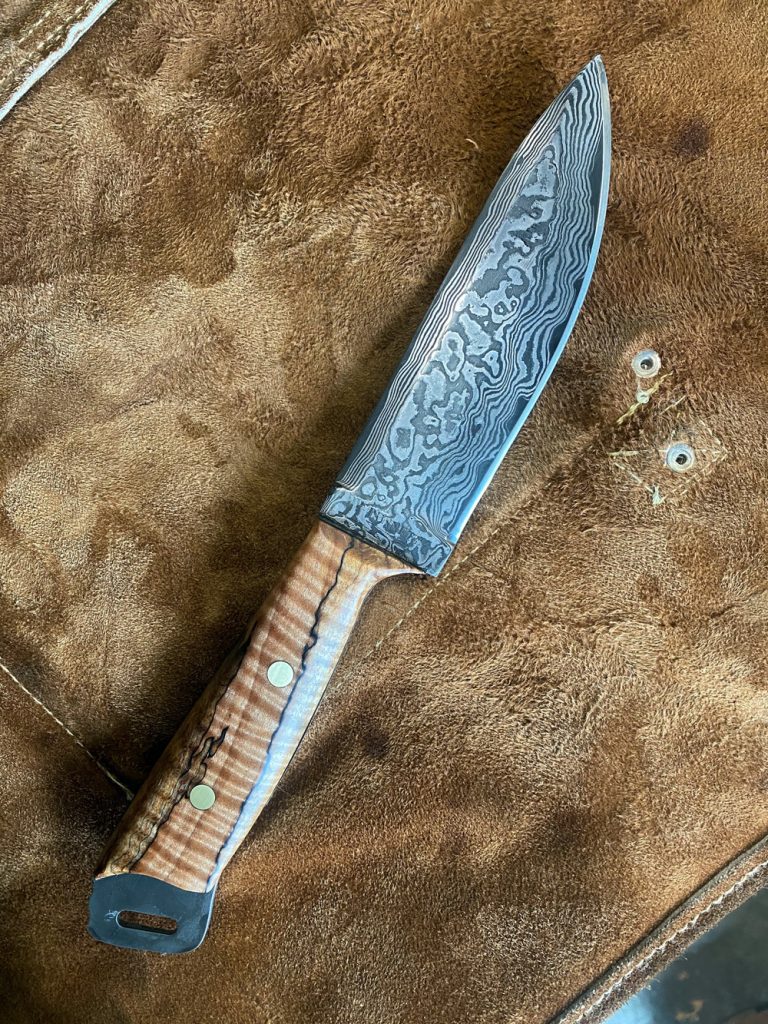 It wasn't until Bennett grew older that he realized he could create knives himself and learned that he loved the process as much as the finished product.
"My favorite type of knife to build is anything challenging that I have not yet done," says Bennett. "I like making myself work hard, problem solve, and learn more things."
It's good that Bennett likes hard work because it becomes clear, while watching the process, that hard work is necessary for bladesmithing. He acknowledges that the profession is physically demanding, and often has burns on his hands as a reminder of his most recent creation. But he makes light of this, saying, "I don't need a gym membership, and I have managed to keep my eyebrows."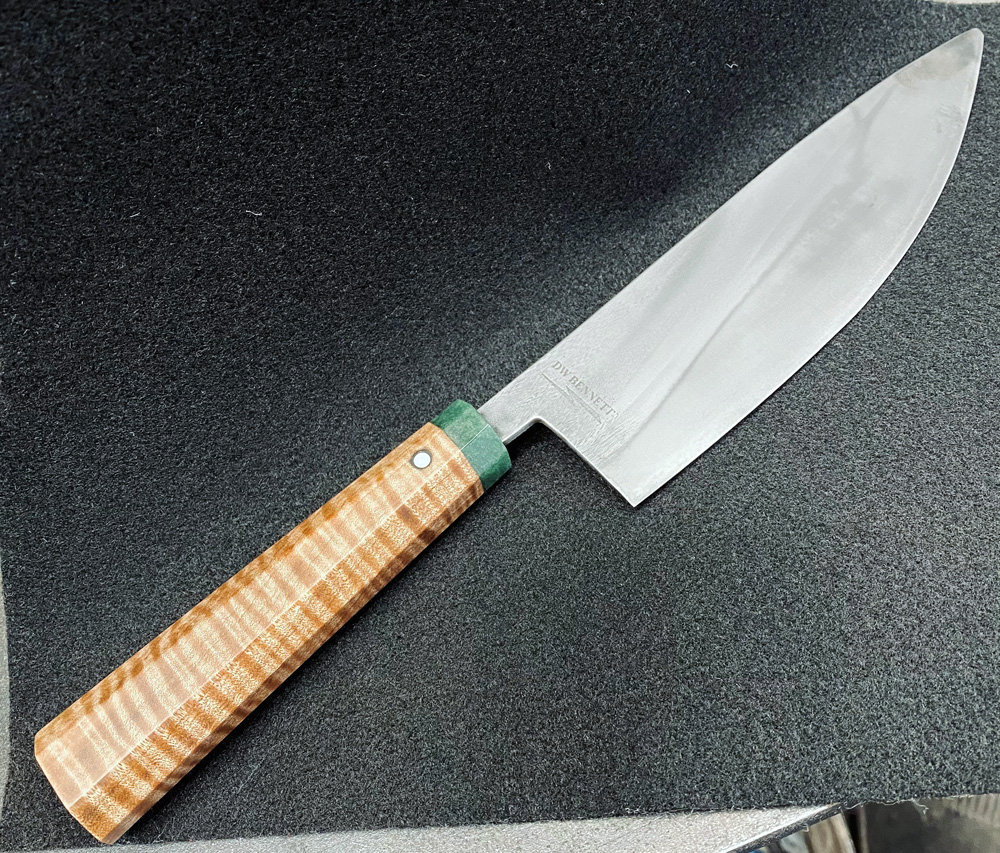 Largely self-taught, over the last three-plus years, Bennett has done a lot of research to get himself to where he is today and relishes in the fact that there is always something more for him to learn. YouTube, Google, and libraries have been the source of much of his knowledge, in addition to questioning other smiths.
Bennett has joined the American Bladesmith Society and is working towards his goal of becoming a master smith, which takes a minimum of eight years and involves blades of his making passing a rigorous series of tests similar to those seen on the TV show "Forged in Fire."
Bennett's passion for bladesmithing has crept into his home life, and his oldest son, Nathaniel Bennett, has also taken an interest in the craft. Nathaniel eagerly awaited his tenth birthday, because his dad told him that's when he could begin creating a knife. The date finally arrived this past summer. Under the supervision of David, but without his help, Nathaniel is now in the process of building his first knife, from design through final polish.
Bennett is looking to grow his customer base. The best way to get ahold of him is through Instagram @northborderblades.
Each knife is custom, and the process involves design for both function and form. As I went through the process of having Bennett build me a camp knife, the options I found on the internet became overwhelming. With a line of questioning, Bennett will narrow down your purpose and guide you through a process that ends in him creating a design and, ultimately, your knife.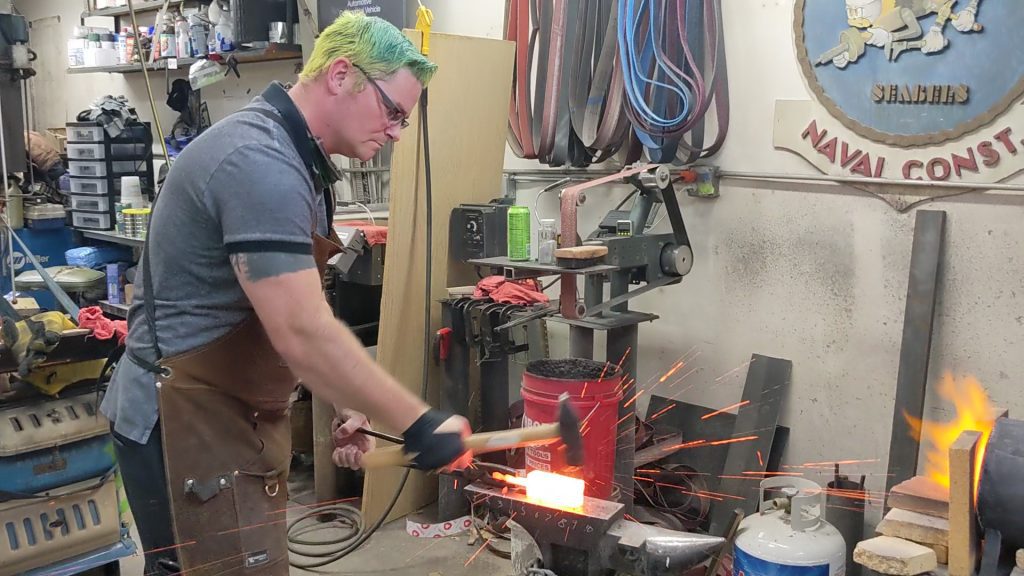 When I received my final product, I was hesitant to put this piece of art to work, but Bennett assured me it would be a waste not to use the knife for its intended purpose. The blade has now accompanied me on multiple camping trips, and Bennett's creation has held up beautifully.