The team that cooperatively owns and operates A1DesignBuild believes they have a responsibility to the community they serve. Their architectural designs, interior designs, and construction practices don't just reflect on the company but also have the potential to improve the lives of their customers, as well as the population around them.
In addition to focusing on environmentally sound, sustainable design and building practices, A1DesignBuild also strives to be good financial partners. I spoke with General Manager Patrick Martin, Estimating and Contracts Manager Justus Peterson and Project Manager Thad McGowan about the ways this vision is incorporated into everyday operations.
The company's deep local roots gave a sense of belonging that helped steer the decision of a group employees to purchase the company and operate it as co-op. "A1 has been around since 1955 as A1-Builders, and I think it was around as Washington Builders even before that," Martin says. "The former owner purchased it in 1976 and had it until we took over the company in 2017."
As they continue to offer home-building and remodeling services to the area, the cooperative effort doesn't end at the office doors. "It's not just the 20 of us that are making it happen," says Martin. "It's the other specialty trades, local vendors and small shops that we're buying from or hiring to help us get projects done—electricians, plumbers, cabinetmakers, tile setters and drywall installers."
One of A1DesignBuild's guiding principles—and what they'd like to see in future buildings, is what Martin calls smart materials and partnerships. "When people are working with us, they're really working with an extended community, and we try to access local craftspeople and buy materials from local vendors," he says.
Shopping local at any level makes a difference, and when a business that receives and spends millions of dollars every year chooses to keep that money in the local marketplace, the difference is certainly noticeable.
"One of our jobs can impact well over 700 people. If you do that 25 times over the year, the financial effect on our community is great," says Peterson. "I think that keeping everything that we can in-house, in our communities, is the real value of working with local contractors. And staying close to home is doing a lot of good for us right now."
In addition to keeping all of that spending in the community, the efficiency gained by working with the same team can keep costs—and stress—more manageable.
"I hold what we refer to as a 'marathon meeting' for every project, Peterson says. "We meet with all the subcontractors on site, and give them all the specifications, drawings and everything they need to know for that job. They love our efficiency and the preparations—they just understand what they're going to do. I think our process is so solid for them that it's kind of second nature."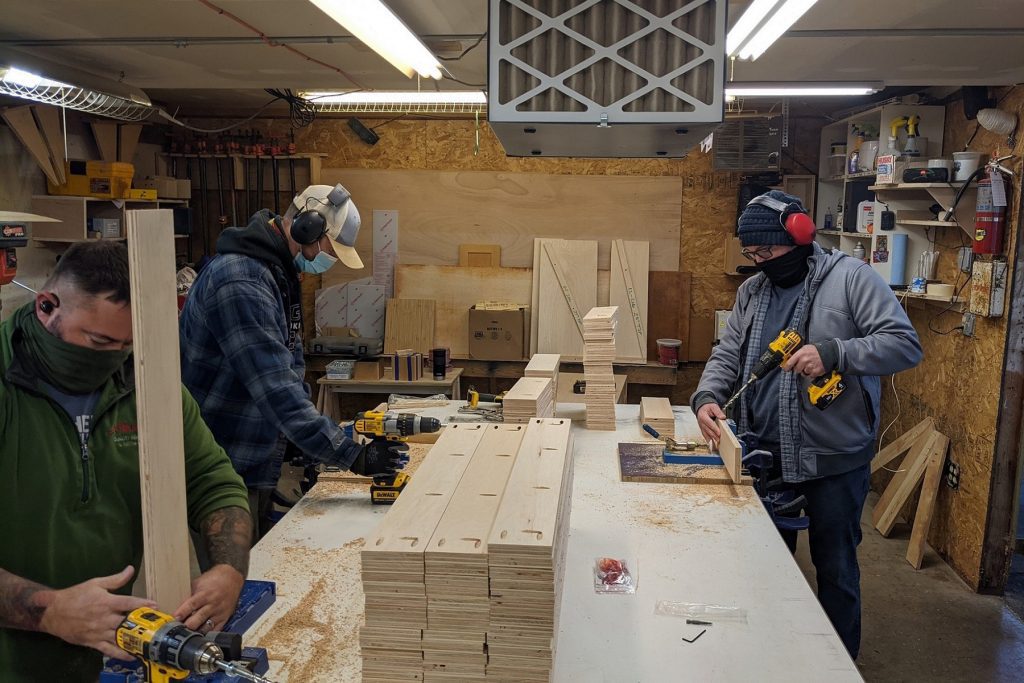 As a result, they have one partnership, with Greggerson Painting, that's been active for nearly 25 years. Most others, like Spectrum Plumbing and Bellingham Millwork Supply, have lasted at least a decade. Even their newest teammates have been working with them for years.
A1DesignBuild finds that these close partnerships pay off when it's time to break ground and get the job done.
"We treat our subcontractors like partners," McGowan says. "So, when I call, they answer the phone. I get to work with the same few plumbers and electricians, and if I have a question, I can just call them up. They might not even be on site yet, but I can be ready for them with a quick phone call. Those partnerships really help us be effective in the field, and good at what we do."
While being good at what they do is a common enough goal in business, the A1DesignBuild team has decided that they also want to feel good about how they've done it.
"We occupy this place inside of the Bellingham community, and I think other members would agree that there is a sense of responsibility and stewardship," says Martin. "When we're working with a client and we're using their money to build a project, their money is directly impacting their local community. I think that's a really interesting cycle, and requires a high level of responsibility from our team.
Sponsored