We all know that telephone scams are nothing new, but AARP Washington has seen the need to ramp up its efforts in recent months to help keep people from falling for them.
In the year 2020, Washington residents lost nearly $70 million dollars, just to schemes that reached them by their phones—and that was over twice the amount lost the year before. In response, AARP has teamed up with organizations like the Bellingham Police Department and the call blocking service Nomorobo to help consumers better track these crimes, and better yet—avoid them in the first place.
AARP has also been engaged in community outreach to educate the public about what they've been learning, calling their program "Tip-Offs To Rip-Offs." One valuable tool they offer is a website dedicated to alerting users to the most common scams of the moment. Visitors to the site can even click on a link to listen to recordings of the fraudulent calls, so they know what to expect—or verify that the call they received was, in fact, a rip-off.
As far as scams in the local area go, the number one position right now is held by the Medicare Genetic Cancer Screening scam. When you answer the phone, a pleasant, businesslike woman introduces herself as Becky, and says she's working with Medicare. She informs the listener that Medicare recommends everyone over the age of 50 undergo a cancer screening.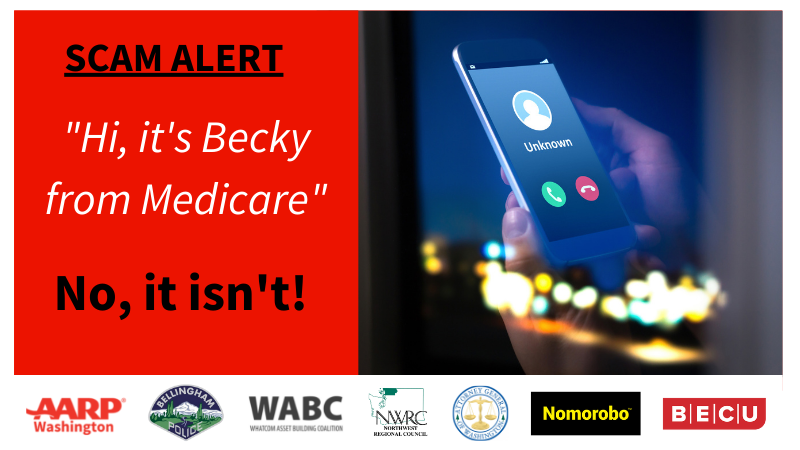 After she has captured your attention in this way, she goes on to say that the test is covered by insurance, so there seems to be little danger of losing any money. But then comes the warning that, if you do not act soon, Medicare will label you as ineligible. Since no one wants that to happen to them, it's a relief when she invites you to speak to a representative, so you won't miss your chance to take advantage of this opportunity to safeguard your health.
This trick obviously takes advantage of the fact that people want to stay healthy and will want to take advantage of a free test that will help them take a peek into the future. It relies on the fact that many people will not know that this kind of testing is only ordered by a doctor, and only when the patient's situation is advanced enough to warrant it.
If you do talk to Becky or one of her associates, the person on the other end of the line will ask for your Medicare number and home address, so they can send you a testing kit. But the real goal is to learn your Medicare number. Once they have that, they abuse the system in ways that cost billions of dollars every year. And, unfortunately, having all of those charges linked to your account can lead Medicare to deny you services you might actually need down the road.
The best advice is simple: Don't talk to Becky, or any of her friends. As with most other frauds, Medicare won't actually call you out of the blue this way, and you should only share your personal details with a trusted health care provider.
Other scams include alerts from online retailer Amazon, an offer to lower your credit card rate, and the well-known Publisher's Clearing House sweepstakes. The City of Bellingham also recently made regional news when fraudsters called residents to tell them they had missed jury duty and were facing a fine—but they could pay that fine right away and not get into deeper trouble.
The same advice applies to these calls as well: Simply hang up. If you are concerned, there are ways that you can get in touch with your bank or the local courts and ask if there truly is an issue.
If you're not sure whether a call you've received is legitimate, AARP has established a Fraud Watch Network Helpline, at 1-877-908-3360. This service is also available on a national website that offers more information about a wider range of scams, as well as education for steering clear of them.
Sponsored