Leland Zender comes from a big baseball family.
His great-grandfather, Dick Zender, played semi-professional baseball for the Deming Loggers in the 1950s. Since then, generations of Zenders have filled the rosters of local high school baseball and softball teams.
Leland also loved playing baseball when he was little, but would eventually decide to forge his own path—in basketball.
It's a path that recently culminated in the high school senior's appointment to the United States Coast Guard Academy, a U.S. service academy in New London, CT.
"It's definitely a breath of relief," says Leland, a 6-foot-8, 195-pound power forward. "We put in a lot of time and work and money. We looked at it as an investment. The money we spent on basketball tournaments and traveling…we got to that goal, and I'm excited to continue my basketball career in a unique way," says Leland. "I wanted a small, intimate school with a strong basketball program, where I could receive a strong, life-long education, and the Coast Guard Academy provides just that."
Leland started out playing tee-ball as a young child, and first tried basketball at the YMCA in the second grade, but switched solely to playing basketball in sixth grade. Before long, he was being told he had a natural talent for the game. Although he still loved baseball, he listened to those who told him to stick with hoops.
"It seemed to just fit who I was," he says of the game, "both as an athlete and a person."
Leland began playing for D-Block Hoops, a Bellingham-based 5-on-5 boys' basketball league that's part of the national Amateur Athletic Union (AAU) created and run by Reggie Powell. Leland's assistant coach, Andy Hart, saw potential in him, although at the time both Leland and his parents anticipated no real future beyond high school basketball. "I didn't even think about playing in college until a few years ago," he says.
After playing six seasons of AAU ball in three years, Leland expanded his horizons, and tried out for the Washington Elite. Under head coach Anthony Slater, Leland found even more encouragement.
"He was the first one to think I could play in college," says Leland. "I give a lot of credit to him."
"Anthony Slater really was the first coach to say, 'Hey you can do this in college, you know,'" says Leland's mom, Amy Zender. "It was eye-opening indeed."
In his first season with the 17U-level team, Leland was the only high school freshman, playing alongside juniors and seniors. He held his own and played on the 17U-level Elite squad for his second season, the team's only sophomore on a roster of upperclassmen.
Slater arranged for Leland to attend highly competitive basketball camps to be seen—and constructively reviewed—by other coaches. Leland attended camps at Gonzaga, as well as a high academic camp at Columbia University in New York City, which garnered him a lot of interest, including the U.S. Coast Guard Academy, who reached out shortly thereafter.
In his freshman year at Squalicum, Leland hit the hardwood for the school's varsity squad and was a starter by his sophomore year. He recently broke a long-standing Squalicum record for rebounds, grabbing 19 in one game.
Entering last year, Leland tried out for the Rotary Style Select Basketball Program, a highly competitive Nike-sponsored program in the Seattle area. The team was full, but the team's coach managed to help Leland get a tryout for Team LaVine, a nationally ranked club team representing NBA player Zach LaVine in the Adidas Gold Gauntlet. The Gauntlet is a travel circuit of Adidas-backed teams, who compete against each other and help their players receive college and professional exposure.
Leland made the team, but COVID-19 upended everything before he could hit the court. He didn't see any of his new teammates for months, and the season was postponed indefinitely. Still wanting to ready himself for an advanced, college-level of play among new teammates, Leland undertook his own training before he headed out of state for summer tournaments.
Tall and lean throughout his basketball career, Leland—with help from his father, Anthony Zender—set up a workout shed at their house. Leland bulked up, adding 25 to 30 pounds of muscle. Fascinated with the mission of the Coast Guard from an early age, he considered applying to USCGA, which is one of the most selective colleges in the country. He readied himself for a rigorous application process.
"I really wanted to change my body and get ready for the next level, whatever that might be," he says.
Another part of getting ready for the next level was getting film sent to colleges, to help prepare for a Plan B or C, should the USCGA not work out, which was easier said than done. The pandemic made things especially challenging for this year's batch of high school seniors, whose season was delayed until May.
Leland says the tendency of college teams to consider both transfer students and fifth-year seniors ahead of incoming freshman in 2021 meant fewer spots would be available for new players than in a traditional year.
"I knew this season was going to be really fun and really good, but there was nothing I could do if nobody could watch," he says of trying to get film to send to prospective colleges. "For players who want to play in college, this has been a very frustrating year." The Academy relied less on game film and more on leadership, grades, and overall athleticism.
Fortunately, Leland did get footage out, and received interest and offers from a number of schools, giving him options. His strength as an athlete was buoyed by his 3.7 overall GPA, as well as being ranked 27 on a Top 100 list of Washington State boys' basketball players and named to the state's top 6 power forwards.
Leland says it was a humbling experience to be able to commit to a military service academy when many other seniors aren't able to pursue athletics in college. Inspired by his grandfather, Sam Raines, a retired Army Colonel who specialized in counter terrorism through special operations, and his father, Anthony, who flew single-seat F/A18s off an aircraft carrier for the Marine Corps, Leland felt the Coast Guard path might be too competitive but persevered with his application, nonetheless. Leland says he always knew there was life beyond basketball, and the USCGA provided a clear idea of his future. He will be studying government, intent on working within national security.
"When he took interest in the USCGA, I thought it reflected perfectly on his desire to gain an elite education combined with the opportunity to serve his country," says proud dad, Anthony Zender.
"When the Coast Guard Head Men's basketball coach called with the news, I could hardly believe him. It was such a long wait. I had to say goodbye to some really good schools," says Leland. "To my Omi and Opa, I want to say thanks for cheering for me at every game, and Opa you will beat cancer's butt to see me in a uniform. To my parents, I love you. Thank you for loving me through it all and for always buying all the merch."
Currently, as he waits for his academy report date, Leland is nearing the end of a long-awaited senior season at Squalicum. As the pandemic subsides and life gets back to something resembling normal, Leland is thrilled to be able to continue his basketball journey and begin a new adventure. "It's been a roller coaster, for sure," he says, "but I'm happy about where I am."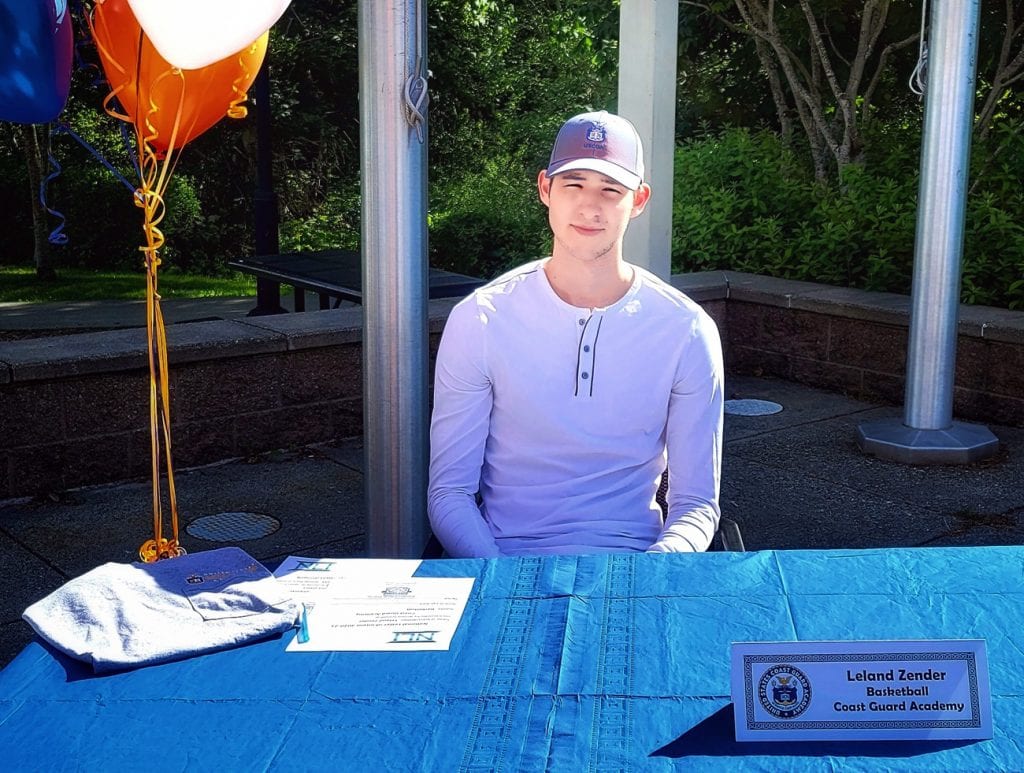 Featured photo by Kim Lincoln Photography