Whatcom County boasts access to world class paddling. And just about anywhere you find yourself here, you won't be far from a lake that's just waiting to be explored. Whether you're a kayaker, canoer, or rower, the following spots offer easy access points to hours of outdoor adventuring with a low barrier of entry.


While I mix up my personal watercraft at times, my preferred paddling method is on an inflatable stand-up paddleboard because of its ability to easily pack and go. As you get out and explore Whatcom Counties lakes, remember to rinse your watercraft between dips to avoid species contamination. Always check the weather before you go for any small craft advisories, and remember to bring along your life jacket.
Lake Whatcom
Lake Whatcom's large size means you can paddle until your heart's content ,taking in the beautiful homes along its shore and watching fish jump as you make your way up the water. Lake Whatcom is the closest lake to downtown Bellingham, making it a popular recreation spot for residents.
Early in the morning, you'll see fishing boats heading out to their favorite spots and on summer weekends, the lake is a flurry of ski boats creating chop, which makes paddling conditions a bit more challenging.
If you're lucky, you might spot the Rikkole Cree Canoe Club training for an upcoming race as they slice through the water in their 11-person canoes. Lake Whatcom can become very choppy when the winds pick up, so stay aware of weather conditions. But on a calm day, you can paddle from one end to the other if you feel the urge. This large lake offers multiple entry points, with Bloedel-Donovan Park being closest to the city center.
Lake Padden
Located on Bellingham's south end, this lake on the hill is a popular paddling spot. No gas-powered motors are allowed, so the scene is always calm. On a sunny day you'll be accompanied by people out on the water or walking the trail around the lake, but there's plenty of space for you and your fellow paddlers to stay out of each other's way.
The east entrance offers easy access to the boat launch and a parking lot that generally has plenty of room. The wind can pick up a bit on Lake Padden, but most days this patch of water provides a serene surface for you to explore.
Lake Samish
Lake Samish is another large Whatcom County lake that's popular for both living on and playing in. The southernmost lake in the county, it offers different weather patterns than other area lakes, making it both a good option and one that can serve up a surprise. With many residences surrounding the shore, it's common in the summer to see morning paddlers before the day fills up the lake with ski boats. Samish Park offers a boat launch and a little beach, making it easy to get your personal watercraft in the water, and provides plenty of space to hang out and play in and out of the water.
Mirror Lake
The smallest water spot on this list, Mirror Lake is a hidden gem. Located along Park Road, this little lake is small enough to do laps around and you may be accompanied by people fishing, but many days you'll find you have the lake to yourself. Across the lake, you can paddle along railroad tracks that were once the route for trees heading from the hills to Bellingham Bay. More sheltered than many local lakes, Mirror Lake often offers calm waters, even in inclement weather. And should the wind pick up, you'll never find yourself far from shore.
Silver Lake
Head east towards Mount Baker and a slight detour down Silver Lake Road leads you to a recreation paradise. Silver Lake Park offers camping, trails, and easy access for paddling. While often bustling with families playing and fishing, at a little under a mile, the lake has a lot to explore and plenty of room for everyone. There are a few homes on the lake, but overall the area is sparsely populated. With a limit of 10-horsepower motors allowed, you'll never battle wakes as you take in the views of the surrounding mountains.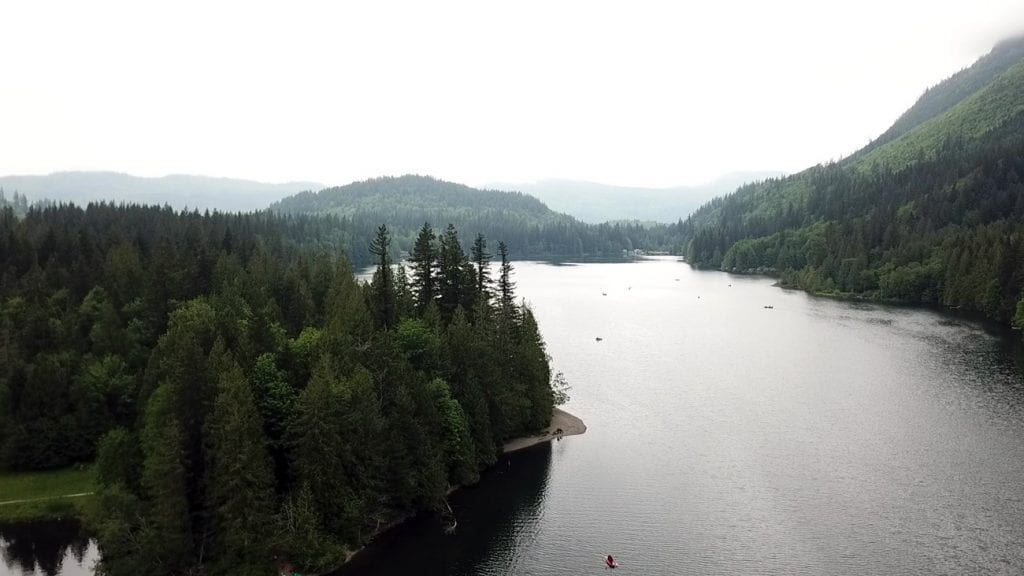 Wiser Laker
Just south of Lynden, in the north end of Whatcom County, you'll find Wiser Lake. Because it's just off the Guide Meridian, you will battle some car noise—but you can't beat the ease of access. The large parking lot and boat launch right off road make getting out and paddling a breeze. The lake is large enough to get up to speed, but small enough that all its waters can be explored. Houses dot its shoreline and on a clear day Wiser Lake offers a magnificent view of Mount Baker as you paddle.