As home to the heart and lungs, a person's chest is also the area most likely to lead to their death in the United States.
Heart disease remains the leading cause of all death in the U.S., and lung cancer tops cancer deaths among both men and women. This is why cardiothoracic surgeons like PeaceHealth's Dr. Nicole Jackson are so critical, helping save lives through treatment of heart, lung and chest wall conditions.
Dr. Jackson, who came to Bellingham's PeaceHealth St. Joseph Medical Center in January 2021 from Olympia's Providence St. Peter Hospital, originally completed her undergraduate studies at Western Washington University. She attended Wake Forest University School of Medicine in North Carolina to specialize in cardiovascular surgery, and has special training, interest and skill in minimally invasive, robotically assisted thoracic procedures.
During such surgeries, Dr. Jackson relies on robotic instrumentation and high-quality video screens to conduct her work. At St. Joseph, she utilizes the facility's state-of-the-art Da Vinci XI robotic surgery device, which offers her additional dexterity and the ability to meticulously operate through much smaller incisions than traditional open surgery allows.
For patients, these smaller incisions and more precise surgical touches mean less pain and scarring, and often a quicker recovery from their procedures. Dr. Jackson says robotic-assisted surgery has gradually increased in recent years within the thoracic surgery field.
"It's continuing to replace the older approach," she says.
Utilizing robotic surgery for thoracic surgeries is especially helpful, Dr. Jackson adds, due to the complexity of the human chest.
"You have to do all this meticulous work around these big vessels," she says of thoracic surgery. "In a traditional approach surgery, you're looking down deep into someone's chest. Whereas with a robot and a camera, you can be right up close and see the tissue planes around vessels very clearly—and you can perform a very complete and precise lymph node dissection. It makes for a really nice, neat procedure. You're not leaning in, spreading the ribs, looking deep into someone's chest. Ergonomically, it's a lot nicer, and it's a lot easier on the patients, too."
Common thoracic surgeries that use a robotically assisted approach include surgery for tumors and masses of the lung and mediastinum, which is the area between the lungs that contains the heart and is located underneath the sternum. It's also used for resections of the lung or other parts of the chest cavity, where nodules, tumors and other tissues are removed.
Robotic-assisted surgery can also be used for pleurodesis—a procedure that seals the space between the outer lining of a lung and chest wall to keep fluid or air from building up, such as occurs with a collapsed lung.
Dr. Jackson says that most patients are good candidates for the robotic approach to thoracic surgery, but certain types of tumors—including those that are excessively large—and a person's individual anatomy may lend themselves better to traditional surgery.
"I try to select the right patients who I think are going to get the most advantage from robotic surgery," says Dr. Jackson. "And it's always going to be a safe approach. I definitely wouldn't risk any kind of safety issue if I felt it was safer to do it the traditional way."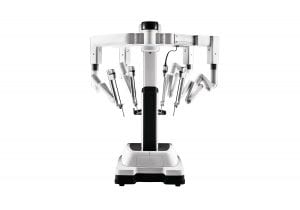 The time from surgery to hospital discharge is always dependent on the procedure and patient, but ranges from the following day to four days after surgery. Once at home, patients are encouraged to be active but avoid overly strenuous activity for several weeks while they continue to heal.
PeaceHealth patients are typically scheduled for surgery as soon as possible following a clinical diagnosis of their condition, Dr. Jackson says, which is just one of many reasons she's proud to be part of PeaceHealth St. Joseph's local team of expert cardiothoracic surgeons.
"Our team works really well together," she says. "The hospital gives us a lot of support.
Sponsored