Nestled among berry fields between Everson and Lynden, Samson Estates Winery has positioned itself to be your go-to spot for summer 2021 fun. Whether you're looking to take in an outdoor concert, enjoy a relaxing wine tasting, or put on an event of your own—they have you covered.
Samson Estes Winery has become known for concerts in its outdoor pavilion. Jazz has been on the calendar in the past (and also returns this summer), but this year kicks things up a notch with the addition of popular local rock bands Still Kick'n and Baby Cakes.
Still Kick'n will perform on June 26, accompanied by Cicchitti's Pizza, so you can grab a slice while enjoying the show. Baby Cakes plug in on July 24 and will be paired with Campfire Chef serving up gourmet hot dogs. Concerts run from 12 p.m. to 4 p.m. Tickets are just $5 and can be purchased on the Samson Estates Winery website.

This summer's jazz concert will be held on August 14 from 12 p.m. to 7 p.m., featuring four different groups playing throughout the day, and is free to attend.
The tasting room is also now on the summer schedule, open Wednesdays through Sundays from 11 a.m. to 5 p.m. Each tasting is five dollars and gets you a sample of five of Samson's award-winning wines.
"We specialize in berry wines because that's what the farm grows," says winery manager Becci Comley. "We grow raspberries, blueberries, blackberries, and black currants. We have a hazelnut dessert wine, which is probably one of the most popular. We also have a really nice cab that's really popular."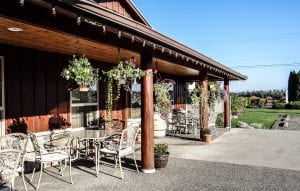 The tasting room has ample room for people to spread out and enjoy their wine and on sunny days the patio offers a place to soak in the surrounding berry field views. Food is available for purchase to pair with your wine and you're always welcome to bring along a picnic lunch.
In the tasting room, Samson Estates Winery team members help solve the riddle wine can be to some folks. "A lot of people like dessert wines, but they don't know what to do with them, so we feature a dessert wine cocktail recipe of the month," says Comley. "We do some fun things with the dessert wines." They also offer a recipe and wine pairings book they created to help people further enjoy Samson Estates wines.
For an even more in-depth experience of its wines, Samson Estates can schedule private wine tastings of up to 10 guests. These tastings can be geared specifically towards a theme, like pairing wine with chocolate. Private tastings can be purchased through the winery, but keep your eyes peeled as they're often donated to charity fundraisers, as well.
The outdoor pavilion is also available to use for weddings or other events. Tables and chairs are provided—and the wine, of course. Local beer is also available, which Samson gets from local partner breweries. The large, covered space has a capacity for 200 people and there's plenty of room to spill out on the lawn. To see if they have space available for your upcoming event, please visit their online calendar.
The winery, which opened in 2002, is an offshoot of family-owned Samson Farms. Owner and winemaker Rob Dhaliwal is excited about the fruit wines he makes and is eager to have people taste and learn more about them.
"We use similar yeasts as making a white wine and a lot of the process is like making a Chardonnay or Riesling," Dhaliwal says, "although we aren't crushing grapes, we're crushing berries."
Dhaliwal learned the craft of wine making at Washington State University and through an apprenticeship at a Canadian winery, feeling it would be a good offshoot for the berry farm. His goal is to get people to try—and fall in love with—both his fruit and grape wines.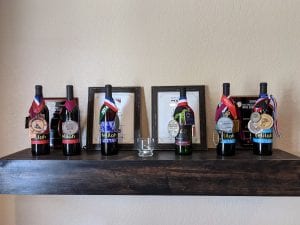 This August, for the first time ever, the Northwest Washington Fair in Lynden will have a wine garden. Samson Estates Winery will be there, offering wine by the glass and wine slushies. Its wines are also featured on this summer's Schooner Zodiac tours out of Fairhaven.
To learn more about Samson Estate Winery and stay up to date on its events, please visit the website or simply stop in. They're located at 1861 Van Dyk Road in Everson. Call 360-966-7787 x2 or e-mail info@samsonestate.com with any questions.
Sponsored