Today, Bellingham's PeaceHealth St. Joseph Medical Center is a 253-bed hospital offering comprehensive regional healthcare and employing more than 2,500 people.


But more than 120 years ago, the Bellingham area was a much smaller, more rural place, and healthcare was far more primitive. It was the religious-backed formation of two hospitals—St. Luke's and St. Joseph—that first brought hospital-based care to Whatcom County.
In the Beginning
The late 19th century was a time when doctors routinely visited their patients, as opposed to the other way around. And in this age of house calls, hospitals served slightly different purposes than they do today.
Jeff Jewell, Whatcom Museum archivist, describes hospitals of the era as places to slowly convalesce following surgery or serious issues, as opposed to a place you'd visit for setting a broken leg or treatment for a high fever. Doctors would come to you in those cases, he says.
It was also common for hospitals of that time to be funded and even operated by churches.
In the summer of 1890, two young nuns from the Sisters of St. Joseph of Peace travelled from Newark, New Jersey to the prospering hamlet of Fairhaven. The nuns—Sisters Teresa Moran and Stanislaus Tighe—came to the area intent on establishing the Bellingham Bay area's first true hospital.
Their early fundraising efforts included selling $10 tickets providing a year's worth of hospital visits, but it wasn't until they approached one of the area's most prominent Catholic men that efforts made real progress.
J.J. Donovan, chief engineer of the Fairhaven Land Company, was an influential man in the area. He soon convinced his boss, Nelson Bennett, to donate a $30,000 block of land for a hospital site, while also helping raise capital necessary for construction.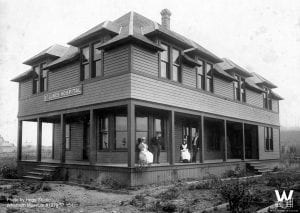 In January 1891, the first St. Joseph Hospital opened just north of Adams Avenue between 16th and 17th Streets. It was a two-story structure, with an office, pharmacy, ward, kitchen, dining room and bathroom on the ground level. The second floor featured another ward and bathroom, a chapel, linen room, two single rooms, and a dormitory for the Sisters.
Detached buildings contained a laundry and mortuary. The facility was staffed by seven nuns and a lay cook; its food included vegetables picked from the Sisters' own garden.
Protestants of the region, though, wanted their own hospital, and got it in the form of St. Luke's Infirmary. Funded by St. Paul's Episcopal Church and spearheaded by Reverend L.W. Applegate, the first iteration of St. Luke's opened in 1892 inside the vacant Grand Central Hotel Building.
A one-year lease was taken out on 46 second-floor patient rooms, still leaving 100 empty rooms inside the massive building. The ground floor of the hotel held hospital offices, a sitting room, laundry, chapel, operating room and—if those operations went poorly—a morgue.
A reception and banquet on February 19, 1892 drew 600 people and saw electric lights inside the building used for the first time. Donations of cash and furniture had nine patient rooms fully outfitted, and head nurse M.A. Carson and two assistant nurses were ready to treat patients.
But things progressed slowly. While more than a dozen area doctors said they'd use the new hospital, far fewer actually did, and the hospital was only serving two to five patients at a time. Keeping operations in a giant hotel building soon became a financial issue, and Applegate began to look for help.
Seeking out both church and public sources for money, initial fundraising efforts included coupons entitling the holder to a full year of hospital services for only $6. Far more lucrative was a 40-city U.S. tour Applegate undertook; he returned to the area with more than $50,000 in pledged support for Episcopal projects.
In 1893, the newly formed Church Charities Association helped find a new hospital location along Elk (now State) Street. But the Panic of 1893 brought further issues, and in October of that year, a different temporary location on State Street—across from the still-standing Morse Hardware Building—was leased.
By late 1894, though, the Bellingham Bay Improvement Company had donated three lots at the corner of Jersey and Chestnut Streets for a hospital, and construction was underway. In January 1895, St. Luke's Hospital officially opened.
Its first patient was a young man from Blaine; its first birth came courtesy of a Dr. Wallis and his wife. In 1899, a court challenge to the title of the hospital's land occurred. About 50 squatters, hoping the hospital would lose, claimed portions of the property, but ultimately a court upheld the land's donation to St. Luke's.
This year also saw St. Paul's end financial support of the hospital, causing Garden Street Methodist Church to assume sponsorship of St. Luke's. A larger hospital was about to open up, however.
Dueling Hospitals
In 1901, a 53-bed St. Joseph Hospital was built for about $21,000. It was opened in a more accessible place than its last, along the borders of New Whatcom and Fairhaven, two towns that would soon incorporate with Sehome to form Bellingham.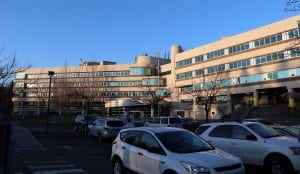 The new St. Joe's was again owed primarily to Donovan, who traded the old hospital property for the new one. The new hospital was the handiwork of architect Alfred Lee, who'd also designed the New Whatcom City Hall.
At this point, both hospitals began a decades-long a series of renovations to expand capacity and services.
In 1905, St. Luke's constructed a two-story wooden building complete with an observation tower and large porches. The expansion became home to St. Luke's nursing school, which trained and graduated nurses through 1952.
In 1926, the hospital added a $100,000 three-story brick north wing. It added a ground floor emergency room, maternity and children's orthopedic wards, 26 private rooms, two operating rooms, kitchens, and an elevator big enough to hold hospital beds, among other improvements. At the time, it was considered among the West Coast's most comprehensive hospitals.
In 1933, church sponsorship of the hospital ended, and St. Luke's incorporated as a non-profit general hospital. In 1947, a two-story brick addition brought capacity to 75 adult and 10 newborn beds. By 1958, its two original buildings had been demolished in favor of a $1 million, three-story concrete wing. This included the addition of an emergency room. Another addition took place in 1967.
St. Joe's, meanwhile, completed an $80,000 south wing in October 1910, adding 44 rooms, a new surgical ward, and nursing school accommodations. A 1927 addition added a five-story brick building to its north side, improving hospital access from State Street via a 90-foot tunnel leading to an elevator to take patients up into the hospital.
In 1950, the hospital added a final five-story addition that allowed 35 more beds, new surgeries, labor rooms, a nursery, and physiotherapy.
Merging, Growing, and Today
Unable to expand further, St. Joe's left its State Street campus in the mid-1960s. In 1966, an 81-bed facility opened at the north end of Ellis Street, the hospital's current location.
St. Luke's, meanwhile, began a slow decline. In 1983, the hospital remained locally managed but was purchased by California-based Health West Foundation for $5.2 million. Two years later, it opened a physical rehabilitation unit. But by 1989, St. Luke's could not ensure its survival through additional expansion, and was purchased by PeaceHealth. It then became known as St. Joseph Hospital's South Campus.
St. Joe's continued its growth with a 2003 expansion, adding a parking garage, new surgical suites, a cardiovascular center, and two more floors to its South Tower. The emergency department was expanded in 2007. After PeaceHealth acquired the assets of Madrona Medical Group in 2008, the hospital and its surrounding medical infrastructure has continued to thrive.
Today, the former St. Luke's and St. Joseph locations have little resemblance to their former selves, but traces of the past can still be found. While the original 17th Street St. Joseph location is now a modern, private home, the 1927 and 1950 State Street additions still stand as the South Hill Apartments.
The site of the original 1901 structure, part of South Hill Apartments, is a 1967-built cinder block building originally used for married student housing by Western Washington University.
Just below that building is an almost medieval-looking sandstone edifice that faces North State Street. The façade features an old, now padlocked door and a series of windows.
A recent photo of the structure shared to a local Facebook photography page stirred up many memories for current and former residents. One man recalled sneaking into the hospital as a teenager to buy cigarettes from a vending machine when the nuns weren't looking.
Others insisted the apartment complexes are haunted, with doors opening and closing for seemingly no reason. An elevator, one woman commented, would sometimes run on its own.
The 1926 brick addition to St. Luke's can also still be seen on Jersey Street, surrounded by the rest of the currently unused and slowly decaying St. Joseph South Campus.
Though much has changed in Bellingham since these former hospital sites had patients, their last remnants represent untold numbers of births, recoveries and deaths in the city's history.